Sometimes you have a theatrical experience which is totally life affirming and tonight's performance of this Willy Russell play was just that.
Performed by fifteen members of the Players Youth Theatre in Cheadle Hulme, it had me laughing (a LOT) but also brought a lump to my throat.
The story surrounds a group of deprived Liverpudlian schoolchildren who go on a coach trip for a day out to Conwy with several of their teachers.
From the moment the curtain went up, the laughs just kept on coming, kickstarted by Les, the lollipop man (Paddy Bever) who set the tone very well indeed. Paddy played three roles in the show, each one equally well and he is certainly an actor with ability beyond his tender years. He mastered the delivery and comic timing of his lines excellently.
All the actors playing the schoolchildren speak with faultless Liverpudlian accents. I did check with Krysy and asked if any of them were Liverpudlian but none of them are. Well done to all of you, your ability to master the accent and stay in it all the time was fantastic – the intonation and ability to stay in the Liverpudlian 'zone' really impressed me.
It seems unfair to single anyone out for a special mention as everyone in this play deserves a special mention. However, I will mention at this point, Hannah Griffiths who played Mrs Kay (a teacher) and Gabe McDermott who played Mr Briggs (a teacher). They both had me totally believing that they were teachers: Hannah playing the good hearted, liberal with total heartfelt belief in the schoolchildren and wanting to give them every chance possible and Gabe playing the starchy fun sponge who put a damper on everything and basically made his dislike of the children very obvious. Hannah particularly came into her own when she had to shout and be passionate about something she believed in, she was fantastic and a real joy to watch. They played the adult roles very convincingly indeed.
There is a lot of humour in this play and without wanting to assume or patronise, I suspect that maybe some of the humour was funnier to the adult audience than the performers but they still totally did every single line justice and executed everything perfectly so that the humour was spot on.
Another special mention should go to Mia Gibson who played Linda. I'm sure everyone knew a Linda at school: she came for a school trip dressed very inappropriately (pelmet skirt and thigh high boots) and was a bit of a wayward bad girl who was in love with Colin, the tall blond teacher. Mia sang "I'm in love with sir" which requires a lot of acting throughout and she absolutely nailed it – from her wistful lovelorn gazing at Sir to the flick of her ponytail, this young lady can act way beyond her years and she has excellent comic timing and understanding.
The songs were very entertaining and funny – my preference would have been for there to be no keyboard accompaniment as I didn't feel it was needed and I think on the odd occasion it muddled the timing for those on stage but this is a minor observation. There was some challenging timing in a few of the songs and everyone did really well to master it.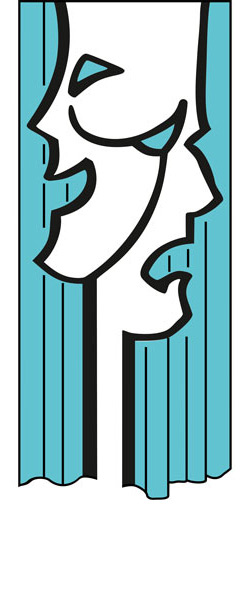 In part two, the party has arrived at Conwy Castle. There are several very funny moments, one of which is when Colin is fawned over by Linda and Jackie (Abby Walmsley). What a double act! They played this scene brilliantly, with an understanding of how to play the role of lovesick minxes which I found remarkable.
The 'Bored Girls' (Danielle Higson-Dibb and Izzy Ekgren) were also a fabulous double act who kept popping up, pronouncing everything to be 'dead boring'. Absolutely hilarious.
I thoroughly enjoyed Max Tittle's portrayal of Reilly, the cocky, cheeky boy (again, I'm sure we all knew at least one of these boys at school) who has his bluff called by Susan (Natasha Dunn). More great acting and insight into how the role should be played.
One of the most touching scenes of the play was between Mr Briggs and Carol (Daisy McDermott), one of the pupils, who decides she doesn't want to go home. Gabe and Daisy deserve a great big pat on the back for this scene. It has tension and pathos which some adults wouldn't be able to pull off. Mr Briggs has a breakthrough in this scene and finally starts to see the children as more than just loud irritations.
Everyone has had a great day out and then as they draw nearer to home, the cast manage to project a real feeling of impending gloom and resignation. It made me feel as if I was experiencing the anti-climax of a great thing coming to an end. Which actually I was.
There was a real sense of pathos and emotion in this performance, which seemed emphasised by the final song which the cast sing in a line at the front of the stage. There was such passion and sheer enjoyment emanating from every single one of them that I found I had tears in my eyes, as I think a lot of the audience did.
I cannot praise this group of young people highly enough and there aren't enough superlatives to do them justice. There is no self-consciousness or overacting, just sheer professionalism. I sincerely hope that all of them continue to act, it would be such a waste and a loss to the viewing public if they didn't.
The Players Theatre is an absolute gem. Tucked away down a side street, you don't really notice it's there which is such a shame. The auditorium is relatively small – 104 seats - but what it lacks in capacity, it more than makes up for in a fabulous atmosphere. There is a real sense of community and genuine warmth and affection from everyone.
The hospitality and welcome shown to me and my theatre companion tonight was absolutely outstanding – a big thank you to Krysy and Anne who made the evening so interesting and enjoyable by providing a complete tour, including backstage. It was an absolute delight talking to both these lovely ladies.
This theatre deserves a massive amount of support, it is run by dedicated, passionate people who absolutely love what they do. This is what community theatre is all about and the Players Theatre is a shining example of what can be achieved.
This was an amazing experience from the moment I walked into the theatre to the moment I left. Everyone involved, in whatever role, obviously cares so deeply and passionately, it is awe inspiring to experience. I left with a really warm glow.
I feel privileged to have been to the opening night of Our Day Out. Thank you to everyone for making it such a wonderful experience. I can't wait to come back.
Reviewed on: 1st April 2016
Reviewed by: Nicky Lambert
Advertisement: