I would imagine that The Hound of the Baskervilles is possibly the most popular Sherlock Holmes mystery: Set on foggy moors with mysterious goings on at the Manor and a murderous canine on the loose. What's not to like?
Tonight's production is a spoof but traditionalists shouldn't be put off by this. This adaptation was devised in 2007 by Peepolykus, a UK touring theatre company and it has played provincial theatres, as well as a season in the West End. It is a similar style to "The 39 Steps" which has recently ended its run at The Criterion Theatre in London.
There are only three actors playing the seventeen roles. I have to say, the three actors tonight (Kevin Siddall, Kerry Morris and Faye McLaughlin) deserve the highest praise for their wonderful acting – none of them would be out of place on a West End stage. Within minutes of the play starting, the fourth wall is broken (for non-lovies, this occurs when the actors acknowledge the audience and address them directly) and this continues throughout, which just adds to the zaniness.
For those taking younger family members: there are a few swear words dotted about but it isn't offensive. There are moments of laugh out loud hilarity: look out for Watson and Henry Baskerville sinking into the mire (this was absolute genius), Henry Baskerville getting into bed and falling asleep immediately (again, so simple but absolutely side-splittingly funny) and Watson shutting the window on Barrymore (hilarious but also a wonderful example of perfect comic timing). These are just a few, there are many more (including an imagined Tango between Henry Baskerville and Mrs Stapleton during which I laughed my socks off). The entire show is just one big bundle of frenetic fun and madcap comedy.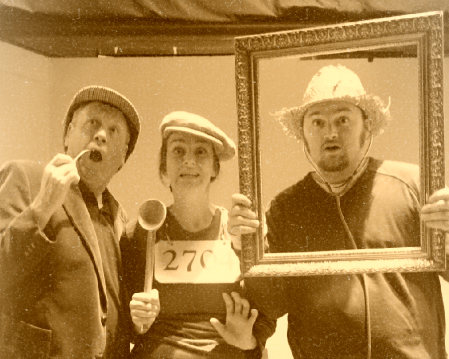 I shall have to mention the actors in turn because they all deserve a great big "well done, chaps" and a hearty slap on the back: Kevin Siddall played Holmes, Mr AND Mrs Stapleton and Mr AND Mrs Barrymore. He has masterly comic timing, stage presence and also marvellous acting ability. Kerry Morris played Watson in the main. He is just so likeable! He provided the stooge to Holmes excellently and had some fantastic comic moments of his own which he absolutely nailed. Faye McLaughlin played Henry Baskerville mainly and she is a bundle of super-talented energy – she has such an expressive face: look out for her and the picture frame, this is one of the highlights and she plays it to perfection.
Put these three talented people together and you have something amazing.
I have only a few minor observations to make and these are in no way a reflection on any of the actors. There is a recap of the first half at the beginning of the second half: whilst this provides an opportunity for some great comedy, I did think it went on a little bit too long. Also, I do feel certain parts of dialogue (when delivering the plot) could be a little tighter as it lost some of the full-on energy which is fuelled by the comedy.
Hats off also to the crew: the lighting was excellent and the set and props were fantastic (perhaps a little too much haze at certain points as it set off a chain reaction of coughing amongst some of the audience!)
This is a hilarious show and I don't think the cast could have been better chosen. They worked so hard and deserve wide recognition.
Just a word about the theatre itself: The Guide Bridge Theatre's external appearance belies its very pleasant interior. From the road, the side that greets you is made of corrugated iron and I have to say it doesn't really look like a theatre. However, inside there is a very nice bar and also a tea bar area. The auditorium itself seats approximately one hundred people and the rake is extremely good so you have an excellent view of the stage wherever you're sitting and no matter how tall the person in front of you is. I very much liked their traditional plush red stage curtains too. The theatre puts on six productions a year.
To sum up, I shall adopt the annotated style of this production: three actors, some fog, a howling beast with glowing red eyes, a family curse, a serial killer, a case of mistaken identity and some disappearing trousers. Get yourself to The Guide Bridge Theatre before the run ends on 9th April and experience all this for yourself. You won't regret it!
Reviewed on: 4th April 2016
Reviewed by: Nicky Lambert