Artful Voices is the name of a hobby choir, based at Sale's Waterside Arts Centre, and are, at present, a group of 48 singers, only 6 of which are men. They meet every Wednesday evening at the theatre and it is a social experience for those who wish to have a go, and have a love of song. They do not audition and everyone is welcome.
It was with this slightly chaotic, slightly endearingly disorganised modus operandi that last night's concert started, and continued throughout.
First of all there was no programme, and so all the names and information about the songs are simply written down here from memory, they were announced and we were given Christian names of the conductors and pianists, but more than that I cannot supply. Since the concert had invited two guest groups along to perform at the event too, one of whom is a professional music ensemble, then I would have thought the least they could have done was to have prepared a programme which credited names etc. However, dizziness and disorganisation ruled. The choir stood on stage without really any order to it. It looked ragged and slapdash. At least they were all wearing the same costume. Black trousers and a black Artful Voices logoed T-shirt. Sadly four of the ladies chose to wear a black skirt and black tights, which, when all the other ladies had trousers on did look a little odd; but the biggest faux-pas was everyone had black shoes except for one lady on the front row who was wearing bright red shoes!
There was seemingly no Stage Manager to bring the choir on and off at the correct time, and the lighting operator wasn't particularly sure as to when either. The choir were allowed to sit at the back of the auditorium to watch the other performers, and chat and intermingle with the audience during the interval. The whole thing being a family and friends event, and all too familiar. I doubt they expected any members of the general public coming along, but if they did, they would have been greeted with some organised chaos and a laissez-faire attitude. No attempt at all was made to try and smarten the presentation up and bring in any small amount of professionalism to the proceedings. This was such a pity since it is things like this which can really make all the difference between someone joining your choir, or walking away in disgust.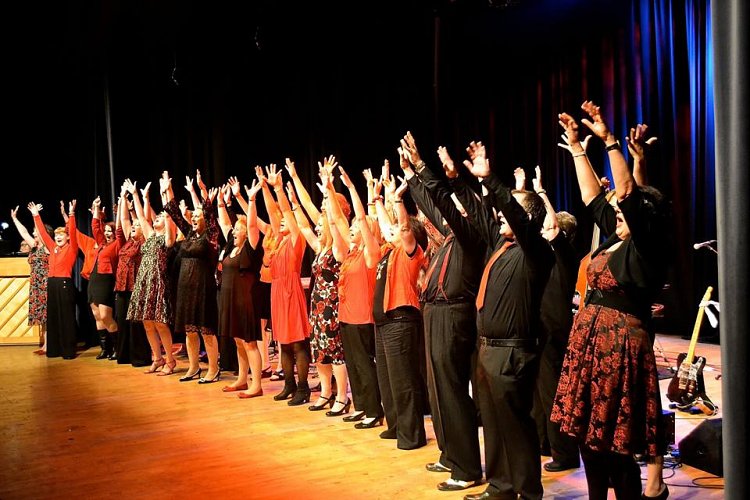 Undoubtedly friendly, approachable and extremely personable. And I can certainly imagine choir sessions on the Wednesday evenings being a lot of fun and it being a jovial social get-together. But this choir is not for those serious about singing and performing.
Back to the evening and the choir sang 5 songs to start the concert. The pianist was Becky and the conductor / MC Susanna, and they started with a long Beatles medley, a rather nice Mr. Sandman, and finished with Simon and Garfunkel's Feelin' Groovy.
Next up was a choir from Altrincham with a similar ethos. The Music Place Choir. Pianist Richard and conductor Claire. This time though just a little more organised, and certainly looking a little more professional with everyone dressed all in black (of their own choosing) with small gold additions (again of their own choosing). It looked good. The standard of singing too was just a wee notch higher. Again, very female heavy, with only four men in their ranks, but they did produce a nice sound quality. Their mistake was to single out three performers to take solo lines in one of their songs. No, that wasn't the mistake in itself; what I mean is, placing them at the front of the stage with only one mic between them was the mistake. If they'd have stayed within the ranks and just sung the solo lines from there it would have been much better.
I rather enjoyed their version of 'Come Softly To Me'.., and they finished their set with a song, although recorded my many and varied artists over the decades, made famous by Amy Winehouse, 'Our Day Will Come'.
After the interval, it was the turn of the music ensemble known as The Trappini Trio to entertain us. A pianist, violinist (who seemed to be the leader and was the one who introduced the items to us), and a cellist. I am not really sure why they needed to be mic'd, since the auditorium isn't that large and surely we can all hear three instruments playing there without the need for amplification. However, they played really quite well and proficiently. Starting with Yiddish Wedding music; through a traditional tango; a beautifully haunting and melodious slow tango; the Jeeves And Wooster TV theme tune (written by Anne Dudley); and finishing with the lovely Tispy Gypsy, a virtuoso show piece and guaranteed crowd-pleasing finale. The penultimate piece though was where they were let down a little. The female violinist also sang here, and, although she has undeniably quite a nice voice, it was too flimsy and not at all right for the rock gospel song she chose to sing.
Nevertheless, an entertaining and capable trio, who apparently are available for wedding bookings!
To conclude the evening, The Artful Voices came back on stage again to sing two more songs, 'Adiemus', and 'Sit Down You're Rocking The Boat' which actually showcased the choir better than they did in the first half. The second piece here having some interesting vocal arrangements and a little more effective choreography, actually suiting the choir better too.
Finally all three groups were invited on stage, and they only just managed to fit. All coming together to sing (and play) California Dreaming. To complete the ad hoc nature of this concert, the conductor had nowhere to stand and so decided to use the steps of the auditorium, but couldn't be seen by the choir and so house lights were put on etc... It was all done in an ever so self-effacing and pleasant manner, but these things should have been sorted long before allowing an audience to be there.
Further detail on tonight's performers can be found below:-
The Artful Voices - http://www.artfulplayground.co.uk/artful_voices.php
The Music Place Choir - http://themusicplace.co.uk/join-a-choir-manchester/
The Trappini Trio - http://www.trappini.com/
Reviewer: Mark Dee
Reviewed: 10th April 2016