This show is described as "the simple story of a simple man: Joe, an ordinary bartender in downtown, New York".
The cast is minimal – one man, Mike Sammon, playing Joe, the bartender who welcomes a newcomer in town ("Mack") into his bar and proceeds to talk at him at length about his life and also Frank Sinatra. (Mack isn't actually there, so the audience really takes the part of Mack).
The monologue is frequently interspersed with Sinatra songs, sung by four vocalists (two ladies, two gents) accompanied by a three piece band.
Mike Sammon played the part of Joe well, his New York accent was good on the whole – just a couple of slips now and then – and I really liked the way he addressed "Mack" with a natural, easy style. I'm not sure how convincing the dialogue was for a bartender, however, as it did become something of an incomprehensible lecture and I think if you went in Joe's bar once, you wouldn't go back!
I liked the set which was laid out with a bar and a couple of tables and chairs which were used to good effect by both Joe and the singers.
The lighting was simple but atmospheric and used well to convey a dark, lounge bar feel.
Thirty one songs were sung throughout the show – this includes two medleys (which I felt went on for too long).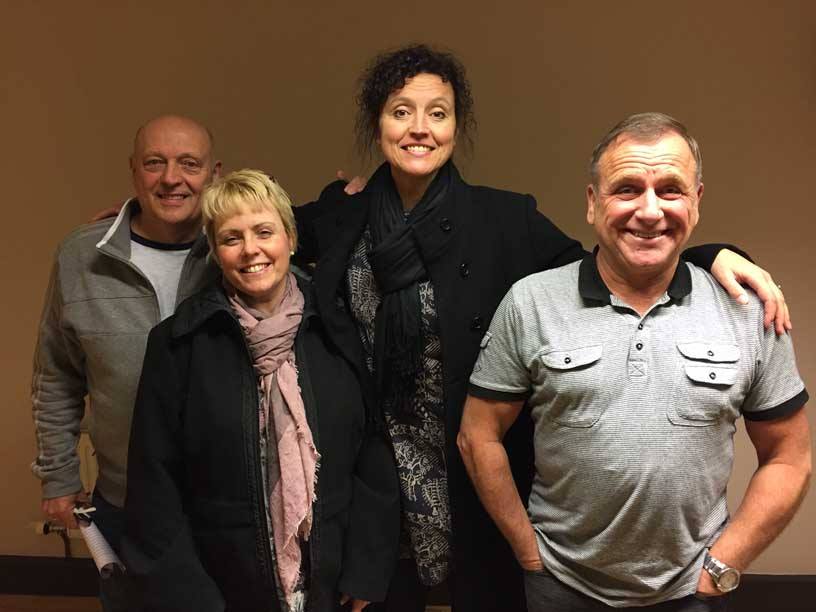 Regarding the singing, I found the arrangement of the songs and the way they were sung to be incongruous for this production. Whilst I appreciate this is not a Frank Sinatra tribute show, I would have expected the songs to bear some resemblance to how he would have sung them (bearing in mind the theme of the play) but sadly, they didn't. No disrespect to any of the four vocalists but I just didn't like the way the songs were sung and I did feel that really, they should have only been sung by the two men. I was very disappointed to see that during "My Way" and "You Will Be My Music", the two female vocalists were actually reading the words off a sheet. I would also mention that during the two medleys when all four singers were on the stage, one of the female vocalists looked extremely uncomfortable and ill at ease and it may have worked better if they had each joined the stage when it was their turn to sing.
Mike Sammon had a heavy burden on his shoulders I feel: it is quite a responsibility to be on stage for almost two hours talking solidly and I'm afraid the dialogue let him down in many places; particularly in the second half when there were long passages of purple prose which to be honest, I couldn't understand and which failed to spark my interest. It just wasn't engaging enough and it became rather self-indulgent and I'm sorry to say, tedious. It has to be said it was also quite depressing.
It is clear that the writer of this production is passionate about Frank Sinatra, his style and his music and let's face it, who wouldn't be. I am very sorry to be so negative about what I believe has the potential to be an excellent play. I do like the concept of it. However, I still don't really understand what it was trying to say because any meaning just became lost in the long and rambling dialogue. I also think the addition of the singing and the way it is done needs to be rethought.
I did read in some of the publicity material that "there is a real twist in the tale" so I couldn't imagine what this would be. Again, I'm sorry to say that when it came, it wasn't really a twist and it wasn't unexpected.
I'm not entirely sure what this show actually is. It's a play but it's also a cabaret and they didn't sit well together.
Sadly – and 'to be frank' - I'm afraid that this show just didn't work for me.
Reviewed on: 14th April 2016
Reviewed by: Nicky Lambert