After a delayed opening evening due to a technical issue, The Lamproom Theatre Company, Barnsley, proudly present Emma Rice's stage adaptation of the all-time favourite romantic film.
"I'm a happily married woman. Or rather I was until a few weeks ago. This is my whole world and it's enough, or rather it was until a few weeks ago."
Your heart dances. The world seems strange and new.
You want to laugh and skip and fall forever….
You are in love.
You are in love with the wrong person.
"That's how it all began. Just by me getting a little piece of grit in my eye."
The original screenplay was written by Noel Coward and is based on his 1936 one-act play entitled "Still Life".
The first adaptation of Brief Encounter, which sourced both the screenplay and Coward's original stage material was adapted by Andrew Taylor and starred Hayley Mills in the lead role. The first national tour took place in 1996 and later transferred into the West End (Lyric Theatre, Shaftesbury Avenue) in 2000 starring Jenny Seagrove.
It was mid 1990's that I last came to the Lamproom Theatre, and I had forgotten just how much of a beautiful theatre it is. A real hidden gem. Albeit a very small theatre, this adds to the intimacy of the performances and regardless of where you sit (there are stall seats only), you a guaranteed to have a good view of the stage.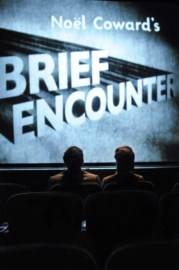 The scene was set in what I presume was the early 1940s England, with one side of the stage set up as a railway cafe whilst the opposite side was set up as a living room. An old upright piano sits within the living room, and this provides the music throughout the performance (played by Garry Hunt). The centre of the stage had steps up either side, and a rear projection screen which was used throughout the performance to project relevant images and video clips. We were introduced to Laura, (Candice Bratley) a respectable middle-class British woman, and Alec, (Richard Caile), an idealistic Doctor. Whilst waiting in the railway stations tea shop, passenger Alec assists Laura when she has something stuck in her eye. The pair soon strike up a close friendship and start to meet regularly and start an affair. Meanwhile, we are introduced to tea shop owner Myrtle, an amorous woman, whom is having a passionate relationship with Albert (Peter Foster), and tea shop worker Beryl (Michaela Rowe), who is also in a passionate relationship with Stanley (TJ Brett). The play follows the ups and downs of Laura and Alec's relationship, Laura's dull life at home with her husband and children and the courtship of the other main characters.
The production was perfectly staged, with a real nostalgic feel to a bygone era. Tina Myrtle provided gags and innuendos a plenty and was a hoot to watch her embrace the passionate and quite raunchy character of Myrtle. The two leading cast members, Candice Bratley and Richard Caile gave a believable performance as the two strangers which had a brief encounter that led to a short romance. TJ Brett as Stanley was vocally superb (this production was also somewhat of a musical).
The Lamproom Theatre Company opened its first season with The Crucible by Arthur Miller in May 1999. It is now in its sixteenth season. The Company perform six plays a year; three at the beginning of each year and three from September through to November.
The company has achieved success in the past at both local and national level, having had winning productions in the Wakefield Drama Festivals and, subsequently, at the British All Winners Drama Festivals.
The next scheduled show (by The Lamproom Theatre Company) is Sister Act: The Musical, one I am really looking forward to seeing, and it will be a nice sneak preview for my visit to see the professional tour in Leeds later this year.
I am delighted to have been re-introduced to Barnsley's long running theatre, and look forward to the rest of this year's productions.
Congratulations to all involved, a delightful production!
Reviewer: Lottie Davis-Browne
Reviewed: 14th April 2016