Almost a year to the day Evita opened at the George Lawton Hall in Mossley and became North West Ends first review to go onto our website. Now 12 months later we returned to see Mossley Amateur Operatic and Dramatic Society at they presented the superb 9 to 5. Reading back on last year's review HERE it was clear that the strength and professionalism this society had has continued and grown further for this year's production.
9 to 5 the musical is a hilarious musical comedy based on the hit movie, which centres on three office workers who turn the tables on their sexist boss. Relatively recently released to amateur companies it is fast becoming the number one choice for societies all over the country.
Outrageous, thought provoking and even a little romantic, 9 to 5 is about teaming up and taking care of business. Featuring original numbers from Dolly Parton's Oscar, Tony® and Grammy Award nominated score including Backwoods Barbie, Shine Like the Sun and the original hit song 9 to 5.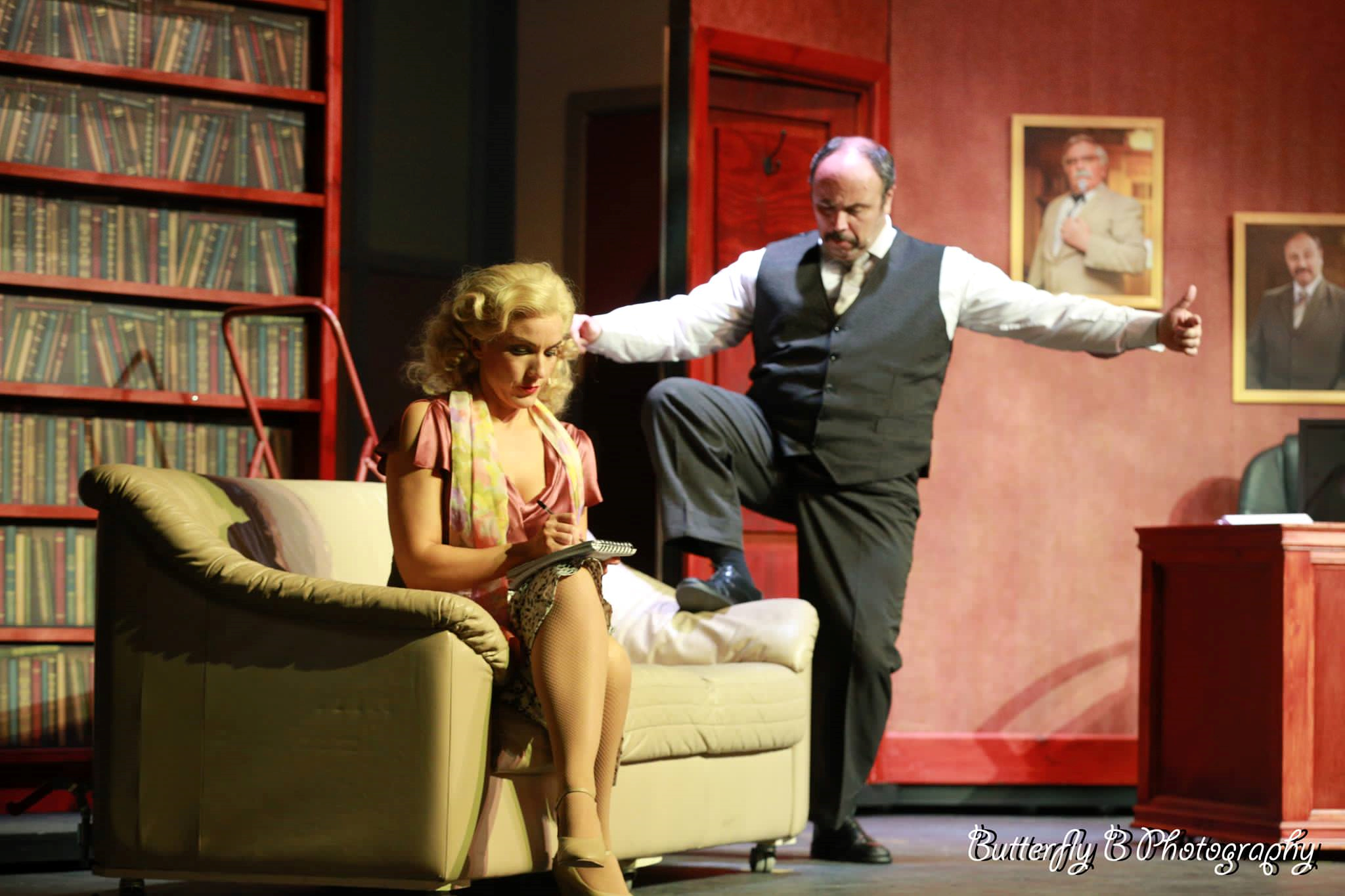 As you walk into the auditorium you are faced with a set of lift doors at the back of the stage with a clock face above, and on the front, a sofa and a desk on the extreme left and right (stage) respectively. It wasn't until nearly time for the show to begin my guest for the evening pointed out that the clock was actually the correct time and working. A very simple set, yet striking at the same time. A number of addition set pieces were moved on and off the stage throughout the show via the lift doors.
Jon Crebbin plays sexist boss Franklin J Hart with a huge amount of confidence and has seemingly mastered the art of sleaze perfectly. With a good singing voice to boot, he is the full package playing the baddie of the piece which is almost written in a pantomime style.
The three women who decide to take things into their own hands and attempt to change Hart for the better and improve their working condition are, Nicky Mead (Violet), Kerry Newton (Doralee) and Laura Hoyle (Judy). Mead as Violet, a widower and mother of her teenage son uses the fact that she has been passed off for promotion because of her gender to drive her on to make a difference in the office she works. Mead plays the role in a subtle way with fantastic delivery of the comedic lines, not to mention her stunning vocals throughout.
Doralee played by Newton is a sexy country girl and secretary to Hart. Her drive to make a change surrounds the misunderstanding her fellow workers have mistakenly thinking she is having an affair with Hart. Newton's performance of Around Here is beautiful from start to finish. Finally Hoyle as Judy is a meek and mild mannered individual when she begins work in the office and slowly transitions into a strong confident character taking the lead from Violet and Doralee. Once again as with her two colleagues Hoyle has a superb voice and huge confidence on the stage.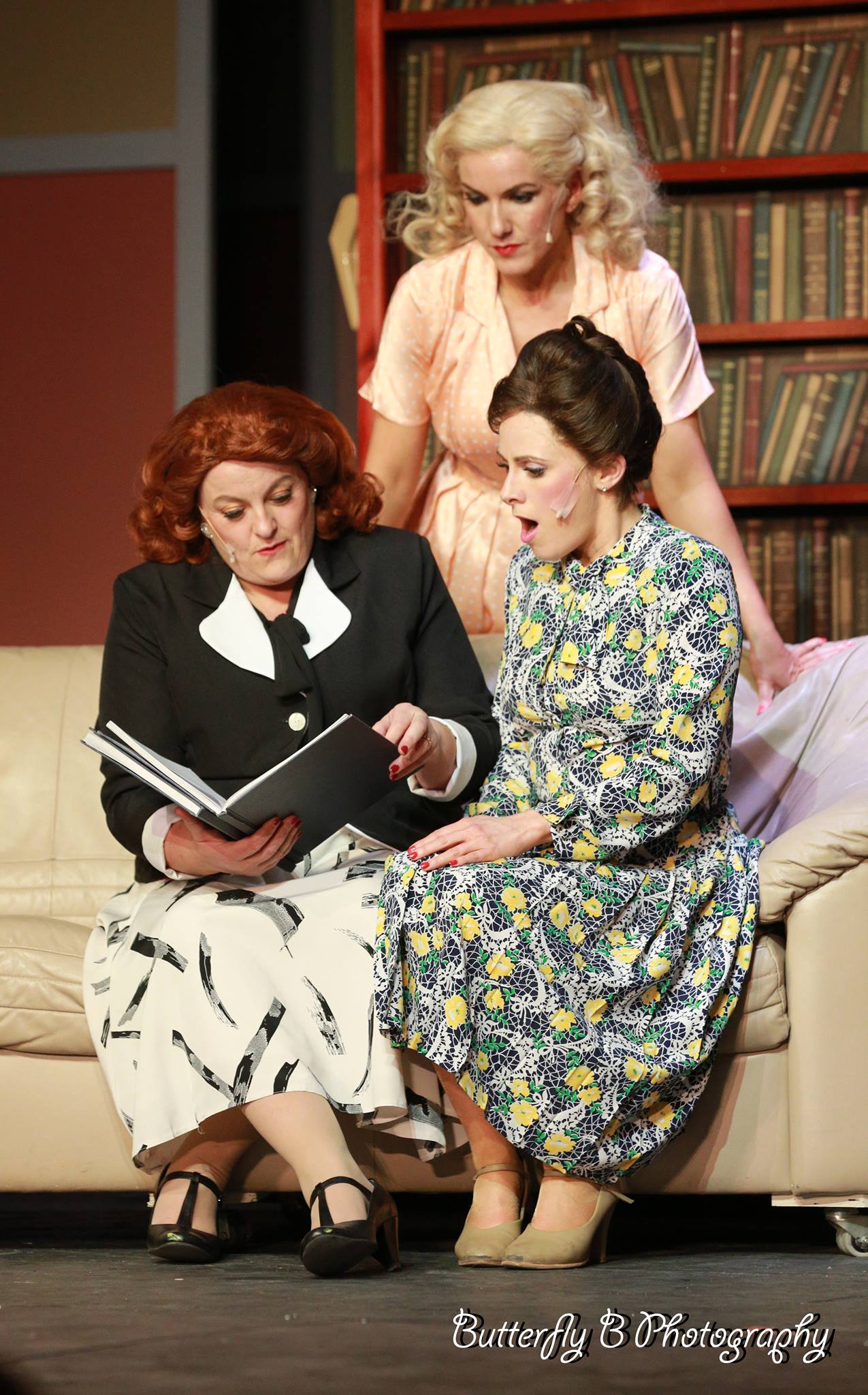 Despite these three strong women and their superb performances, for me one person stole the show tonight giving what has to be recognised as an award winning performance. Claire Egerton as office busy body Roz is a joy to watch from the first second she takes to the stage. In love with Hart she does all that she can to get him to notice her. The performance of Heart To Heart towards the end of the first act is a total showstopper, not to mention totally hilarious when she is joined on stage by dancers.
Other notable performances come from Gary Jones-McCaw as Violet's potential love interest Joe and Claire Morris as Margaret.
Director Lee Brennan has caught the mood and tempo of this show almost perfectly, however for me the murderous fantasy sequence in the first act lost a little direction whilst being played out. It was at times confusing and hard to follow, this does not take anything away from the performance of the sequence. Missed lighting queues and miss-directed lights spoilt the overall experience slightly, however I think these were just opening night glitches.
Award winning choreographer Elizabeth Linden assisted by Gary Jones-McCaw have designed some superb numbers, something not easy with a cast of 32 and a relatively small stage. I particularly enjoyed the sequences at the front of the stage whilst the scene changes happened behind them.
Another highlight of this production was the glorious orchestra under the direction of Paul Firth. Numbering 11 in total I am pretty sure they dwarfed the orchestra in the professional version of the show, and sounded amazing.
Overall this was another stunning production from Mossley AODS and I am sure when awards season comes round again 9 to 5 will be taking a share of the spoils home with them.
9 to 5 continues at the George Lawton Hall until Saturday 23rd April.
Reviewer: Paul Downham
Reviewed: 18th April 2016
Photographs: Butterfly B Photography