Miss Saigon has recently closed in the West End after a relatively short but hugely successful revival which is now transferring to Broadway before a UK National tour in 2017/18. With this move the rights for school groups have now reopened and this performance at Airedale Academy's own Phoenix Theatre is one of the first to seize this great opportunity to stage the work with its sixth form students – The CAST. The story of Boublil and Schönberg's epic reimagining of Puccini's Madam Butterfly is relocated to Vietnam days before the fall of Saigon and captures the confusion and terror of the Vietnam War, the desperate lives of the Vietnamese women and tragic story of love and hope that endures over the years. The CAST did a wonderful job of bringing this powerful and challenging musical to life and from the almost shocking opening scenes it was clear that they meant business.
In the opening we are introduced to the scheming and sleazy Engineer who runs "Dreamland" – a bar where American soldiers can pick up Vietnamese prostitutes. The scene was suitably seedy with scantily clad girls simulating sexual acts and various limbs intertwined in a manner of positions! At first I felt a little uncomfortable as this is, of course, a youth production, but it became very clear that this company was going to give us an uncompromising performance of this musical and deal very effectively with its darkest themes very maturely. The scene "Heat is On" was well staged although it took a little while for the balance in sound to settle and a few of the lyrics were missed along the way. Despite this, the ensemble maintained a well-focused and powerful first impression which was largely maintained throughout the evening. The first of the big numbers in Miss Saigon is one of its most famous "Movie In My Mind" which could be a daunting song for any performer and here the role of Gigi was performed by Chelsea Page Ballard. She captured both the seductive and vulnerable sides to the role well and whilst she didn't quite have the strength in her vocal that is needed for this number, she certainly had a nice tone and gave us lovely harmonies at the end when joined by Kim (Megan Elsegood).
Leading the opening scenes to the show was the aforementioned Engineer, played here by Arran Blears, who I felt took a little while to settle in the role, but once he did he was excellent at bringing out both the sleazy, scheming side of this character as well as establishing a good rapport with the audience in his more comic moments. He was ultimately very watchable, as well as likable and he had a strong connection with the rest of the cast throughout the performance. I was also impressed with Brandon Jones as Chris, the American soldier who falls for the Engineer's "new princess" Kim. Jones had an excellent singing voice but his rendition of "Why God Why?" was a little too frantic for my taste. After this point, which is actually very early in the show, he began to show a much more mature handling of the character and gave a very believable portrayal of this soldier who fights with a number of demons throughout. He worked well opposite the female leads, particularly with Kim but also his American wife Ellen (Hannah Goodall) where an emotionally charged "Confrontation" was well played by both actors. Goodhall's Ellen was also another very mature performance and whilst she gave a strong rendition of "Now That I've Seen Her" she should have more confidence in herself when going for the higher notes – she has a lovely voice!
Adam Craddock (John) and Callum Shaw (Thuy) gave good supporting roles. Craddock gave a solid performance as Chris's comrade and friend, whilst being very focused throughout. Shaw certainly portrayed the anger in Thuy but unfortunately gave us little more in the role, with most of his songs spoken or shouted and occasionally out of time. His death at Kim's hands was, however, very well staged and acted but it was a shame that the effects on his voice in his reappearance in Kim's Nightmare were applied a little late to have the true effect needed – obviously no fault of his.
In fact the sound was a little distracting at times throughout the evening, with popping and hissing microphones that occasionally cut out and sometimes the balance of sound needed to be addressed so we could pick out key lines and characters. The music was largely synthesised and appeared to largely be pre-recorded which is fine and whilst it did not spoil the production the power of the music would have been enhanced from more live orchestration. I was delighted that there was a live saxophonist who really brought to life "The Dance" and the wonderful performance of "Last Night Of The World" which was sung with passion and total conviction by Brandon Jones' Chris and Megan Elsegood's Kim. My main criticism of an otherwise excellent production was the decision to perform some of the songs/scenes at what appeared to be double time!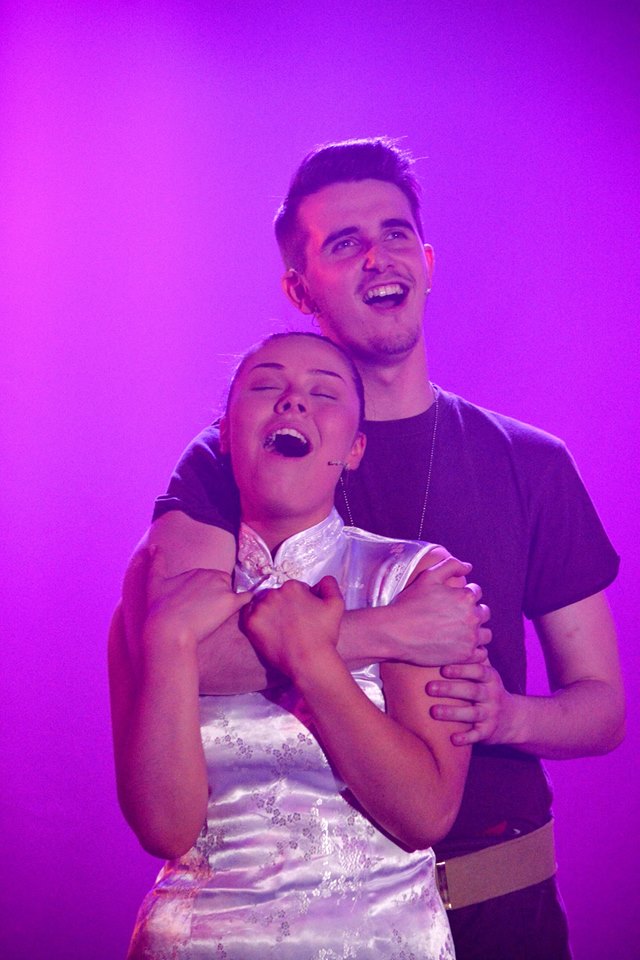 Most notably Bui Doi, the opening to Act Two, seemed to almost be rushed and I felt that this lost some of its impact and didn't actually allow for Adam Craddock to have his big moment as John. The scene was well staged and the ensemble vocals were strong, but the sheer speed of the number didn't allow us to connect with the imagery, lyrics and emotion. There were a number of other times when this occurred in the performance, perhaps trying to quicken the pace of the show and it was often the Engineer who found his lines hurried which occasionally meant we lost the humour; I actually thought the performers did very well at times to deal with this another challenge they faced.
The theatre space was used well throughout with a large open thrust stage that surrounded the band pit and a balcony to stage left that was used effectively for the bedroom scenes. Projection was used very well and not obtrusively to set scenes throughout and importantly to support the famous helicopter moment in "Kim's Nightmare". At first it was a struggle to pick out key lines of singing at the start of this, but then they absolutely did the scene justice with Megan Elsegood and Brandon Jones capturing the heartbreak to near perfection, as we watch Kim and Chris get torn apart. The rest of the ensemble were also superb with very tight and slick manoeuvring between the opposing sides of the gates that separated the Vietnamese to the American Soldiers accompanied by powerful vocals and believable, heart wrenching characterisation. The ensemble was equally impressive in "Morning of The Dragon" and "American Dream" with good vocals alongside some tight choreography and staging supported by a good lighting design. "American Dream" was another opportunity for Arran Blears' Engineer to shine and that he did, winning over the audience with his humour and a certain charm. It would have been nice to hear a little more belt in his singing at times in this particular number but there is no doubt he did a fine job.
It must be said that the absolute stand out performance of the evening had to be Megan Elsegood who was simply superb in the role of Kim. She was totally convincing and captivating to watch from the second she walked on stage to the very tragic end. She gave us a mature, powerful and credible interpretation of the role that would not go amiss on a professional stage. Her vocals were almost flawless and in each of the soaring ballads she captured the emotional intensity required and genuinely had you believing every word she sung. She able to play credibly Kim's emotional journey through the production with a strength and passion that was admirable for a teenage performer. I hope there is a big stage school awaiting this girl in September as she must surely have an incredible future ahead of her.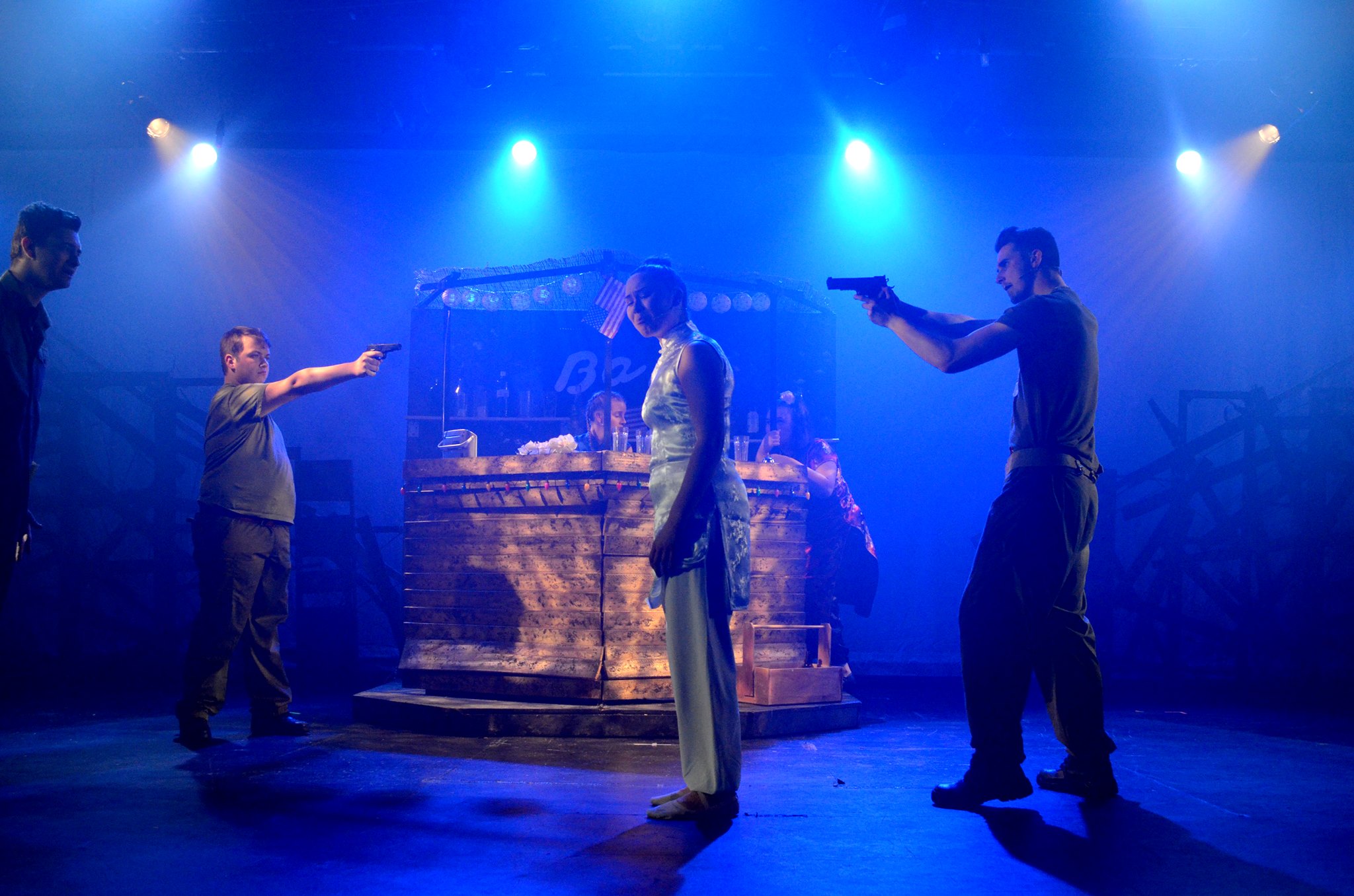 I have been lucky to see a number of Youth productions performed in the Wakefield area recently and each time I have been blown away by the local talent and tonight was no exception. The CAST gave a stunning production of a passionate and heart-breaking musical tonight where each member of the company clearly gave their all and contributed towards its success. They were brave and bold in their direction at times so you often forgot you were watching a Youth group at all. It may be a another year before Miss Saigon returns to the professional stage in the UK, but if Youth groups such as CAST keep doing it justice in local schools, as they did here, that will go a long way in filling the gap until then. If you have never seen the show before, or even if you have, I urge you to see this production whilst you can as you will not be disappointed. I also give you two pieces of advice: Make sure you have hankies at the ready to dry your tears and be prepared to stand at the end to congratulate these fine performers as I and so many others did.
Performances continue at Castleford Phoenix Theatre until Saturday 30th April 2016.
Reviewer: Ashley Price
Reviewed: 26th April 2016