Competent, Assured and Entertaining
First published in 1902, The Hound of the Baskervilles was a return to the story of Sir Arthur Conan Doyle's famous sleuth, Sherlock Holmes, after an 8-year hiatus although this story is set before the latter events of his 1893 story, 'The Final Problem', when Holmes was apparently killed off. The story behind this play, adapted for the stage by Tim Kelly, draws from the legends and supernatural folklore of Devon and Dartmoor in particular where the play is set.
Reformed Allerton Dramatic Society (Allerton RADS) are faithful to the period setting and the curtains part to an accompanied howl to reveal the drawing room of Baskerville Hall in which both Acts (three scenes in each) are set and, in a slight departure from the original text, we are introduced to the sorry tale of the curse of the Baskervilles by Lady Agatha Mortimer (Lisbeth Baron). In quick succession we meet a very relaxed Dr Watson (Nick Pye) and that stickler for detail Sherlock Holmes (Neil Cragg) as we are made aware of the recent demise of Sir Charles Baskerville, suggested as having been frightened to death, and the recent arrival of Sir Henry Baskerville (Paul Arends who also directs) from the Americas, believed to be the only family heir. Holmes' departure back to London to attend to other matters sees the admirable Watson left in charge and responsible for the safe-keeping of Sir Henry.
Behind any great family house lies the servants in waiting and we are quickly introduced to an enigmatic Barrymore (Norman Wilson) and his wife, Mrs Barrymore (Anneka Melendez). As the current generation of housekeepers they are responsible for the upkeep of the Hall but more recently have been behaving strangely and announce their keenness to leave. They are assisted in their duties by Perkins (Natasha Cragg), a young maid living in the nearby village who is fuelled on local gossip. A love interest for Sir Henry is provided by the delightful Kathy Stapleton (Bethany Cragg) although it is initially discouraged by her brother Jack Stapleton (Joe Wilson), the original angry young man.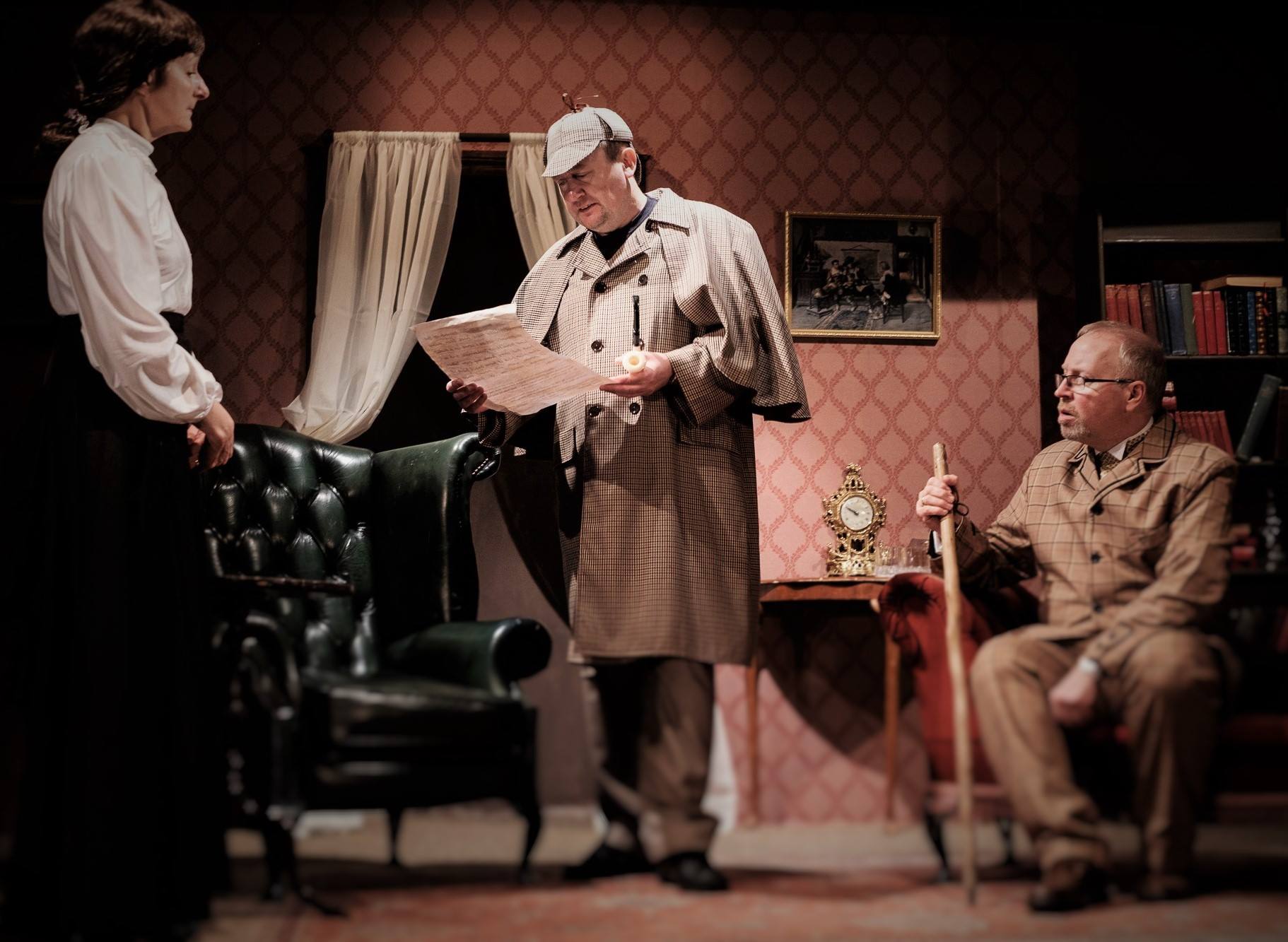 Watson blunders along in his own irrefutable way endeavouring to investigate every possible clue and suspect including an unseen neighbour, Mr Frankland, and deciphering whether the mysteriously signed 'LL' on the surviving fragment of a letter to the deceased Sir Charles is in fact from Frankland's estranged daughter, the assured Laura Lyons (Vicky Lodge) who disobeyed her father by marrying a man, without his approval, and who subsequently left leaving her penniless.
And so the scene is well and truly set for a delightful combination of suspense and horror with liberal doses of humour thrown in as we endeavour to make sense of all the strange goings on. But not to fear, Holmes knows his stuff and is never far away as plot diversions cleverly unravel and all is not as we are first led to believe. Clever plot-writing lends itself perfectly to the stage and it is not let down here by Allerton RADS but as usual no plot spoilers from me - just go and see it!
Neil Cragg and Pye played off each other perfectly as Holmes and Watson, both really getting into character and making it their own as they delivered fantastic lines with great aplomb and to much audience glee. Arends captured and maintained a believable American accent throughout as well as generating a real warmth to his character that I must confess has never struck me before. Melendez stood out, ironically, for a much understated performance, which drew my sympathy for her character (not easy to do), and delivered in a wondrous south-west accent.
Much credit to those behind the scenes and notably the Stage Manager (Gordon Swettenham) and the fantastic sound and lighting effects (Arthur Pye and Mandy Tiernan) which not only made a young boy in the audience jump but also an old boy as well (me!).
The side hall of Allerton United Reformed Church offered the perfect venue with its vaulted roof, parquet floor, a proper stage and great acoustics. It can comfortably seat 120+ and there was an impressive turnout tonight with an eclectic audience from the local area as well as those of us who had travelled from further afield. There is a lot of history and a lot of community evident in the venue and it is good to see Allerton RADS continuing this tradition and supported by local sponsorship of their programme and interval refreshments.
Allerton RADS are, in their own words, a small but beautifully formed amateur dramatic society in South Liverpool based at the Allerton United Reformed Church on the corner of Booker Avenue and Mather Avenue. They meet on Monday evenings and are looking for talent both on and off the stage. Further information is available at http://www.allertonrads.co.uk/
There is one final performance for this production on Saturday 7th May at 7.30pm and some tickets are still available. I'm already looking forward to their next production.
Reviewer: Mark Davoren
Reviewed: 6th May 2016