The Lamproom Musical Theatre Company proudly present Sister Act The Musical, based on the film with the same name. The film has always been a firm favourite of mine and despite walking past the West End production at least three times a week during its first run, I never managed to get round to seeing it, so was delighted to have the opportunity this evening.
The show had already received a great deal of hype prior to opening night. Whilst reviewing "Brief Encounter" recently at the Lamproom, I overhead some gents talking about the upcoming production (Sister Act) and I soon latched onto the fact that the leading lady had unexpectedly dropped out just a three weeks to opening night, but that they had secured a replacement in the form of a Gospel Choir singer. Janine Dyer, who runs two community choirs in South Yorkshire and has also recently turned her vocal talents to competing on The Voice UK, made her theatre debut with such ease and as such, the entire weeks run has already sold out prior to opening evening.
The show opens in Philadelphia, where Delores Van Cartier ("As in "Cartier" "), played by Janine Dyer, is crowned 'Lady Fabulous' of 1978 whilst performing in a nightclub. There she witnesses a murder and is sent to join a Convent as part of a witness protection scheme. There she meets the tone deaf Nuns and vows to take over leading the Choir.
There Delores takes on the false identity of Sister Mary Clarence and turns the Choir from drab to fab, however this puts her security at risk when the Choir shoot to fame and make it onto television.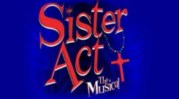 The performance was fantastically staged from what I could see, however I was placed in a restricted view seat which sadly meant I could not see over one third of the stage so quite often was clueless as to what was going on. I also was unable to hear for the majority of the performance, partly due to what I gather were microphone issues as some cast members could barely be heard during solo lines in songs or spoken lines, however the main issue was a large group of the audience discussing the show in a shouting manner throughout the entire act one, passing sweets round etc. Normally at this particular venue they have had announcements at the beginning asking the audience to refrain from eating etc due to the "acoustics in the theatre". Sadly this was not the case for this show. Despite speaking with the Theatre Manager in the interval, this continued through act two and one of the groups' mobile phones even went off very loudly at a crucial part of the show, but nothing was done about this.
It is such a shame as the productions at this venue have always been superb with non-restricted views and a courteous audience. This evening was the first show I had seen at this venue which was a total sell out, however this is no excuse for a basic lack of respect to fellow audience members and of course the poor cast who are trying so hard to put on a fantastic performance.
The few bits I was able to see and hear were fantastic, although Janine really stood out from the entire cast for her flawless performance in both singing and acting, more so by the fact that she only stepped in three weeks prior to opening. I really hope Janine has more involvement with Musical Theatre in Yorkshire as she has such a fantastic voice and stage presence I would really love to see her perform in some of the bigger theatres in Yorkshire.
I would urge you to go and book a ticket, purely for Janine's outstanding performance, or I would go and buy myself a ticket so I can fully see and appreciate the show, but sadly this is not possible due to the show being a total sell-out.
My review for this show is only based on what I could physically see and hear, I am sure if would have been given a more detailed review if I was able to see the full show in all its glory. Luckily the musical is touring from the West End, and will be in Yorkshire in August so hopefully I may get the chance to see this fabulous musical in its entirety.
Reviewer: Lottie Davis-Browne
Reviewed: 10th May 2016