Hey readers, this is Craig Hepworth here, the writer and director of the play Porno Chic that returns to Salford this Sept at The Footlights Theatre. This week on my blog I am handing over to one of my favourite people in the world, Celine Constantinides. Celine brilliantly plays the role of the real life 70s porn icon Linda Lovelace, a tough role for any actress, but her talent, spirit and heart earned Celine rave reviews. This week Celine talks about playing the face of the US sexual revolution. Over to Celine
PLAYING LINDA LOVELACE
Hi there, my name is Celine Constantinides and I have the honour of playing Linda Lovelace in Porno Chic. I have been with the show since 2016 and I have never felt more passionate about a play or a role. I was not the original Linda Lovelace that Craig had cast in the first run of the play and when I went along to the first show I knew he had something special with this story.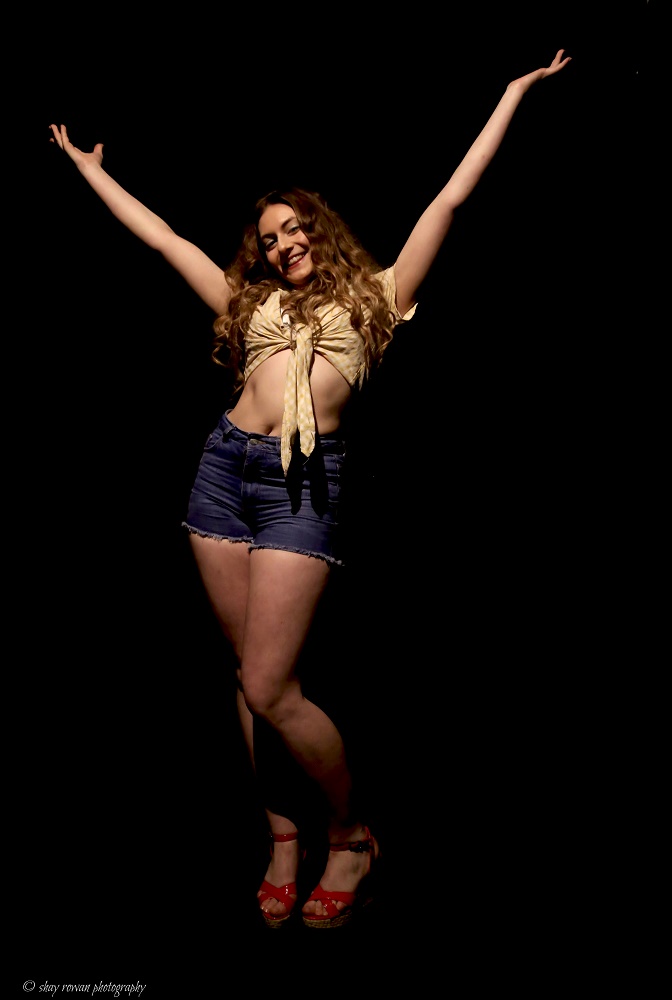 I have worked with Craig on a number of occasions prior to Porno Chic so when he approached me with the role I really didn't have to think all that much about my decision. There was Craig, a director I absolutely love working with, offering me a role I could really sink my teeth into. The role of a real woman who had lived a horrendous, complicated, controlled life, abused in more ways than you could imagine and who found herself flung straight into the public eye brushing shoulders with the stars. This was a role I simply could not say not to.
It's always more difficult when you're taking on a role within a true story because I believe it is so important to stay true to the real person themselves as to not do so would be an injustice. As an actor I think whenever you are portraying any character, empathy is key and so in this case I had to tackle Linda Lovelace, formerly Linda Boreman, very carefully. A lot has been written about and by Linda over the years, many of it being very contradicting and so finding the real truth about her has been an extremely difficult task. I don't think anyone apart from Linda will ever really know what the truth is and so I have had to find what I think to be the truth from the many things she has said. Looking into her life and upbringing has been so interesting and at many times harrowing to read some of the horrific acts she was subjected to which she describes in her book 'Ordeal'. I like to think of myself as a strong, independent woman, for me I found reading about her life very painful however I saw some similarities in both myself and what I believe to be the real Linda. I think this has really helped me find a connection with the character as although I cannot begin to imagine the full extent of pain and suffering she went through, having the ability to draw from my own personal experiences and putting these emotions into the performance helps me to bring her to life.
Ok, so to the nitty gritty. This role is not for the faint hearted, it has pushed me far out of my comfort zone. The violence, the sexual abuse, the love scenes, the comedy aspects and the emotional rollercoaster she faces are all challenging to portray whilst making sure I am still being as true to Linda as I believe I can be. This is the first time I have had to do nudity as an actor and I know many people can have reservations about that, however you cannot do this play and shy away from nudity. It would be crazy! We are talking about showing a world and a story of sex, porn, fame, abuse and so much more, we have to be true to it! At no point have I felt uncomfortable about the nudity, Craig handles it with such care and it is used only when necessary to the story. Even during the rehearsals, ok so it can be a bit odd when you've just met people and on that day you're walking around with no top on, but that's why I feel so lucky to be working with such an incredible, lovely cast. We're all in the same boat, we're all there for the same reason; because we love this story, we love this play and we want people to see the truth behind one of the biggest, if not the biggest Porn film of all time. I think it's about time we stopped toning things down because we're scared that audiences will find it too shocking or too rude or too violent, at the end of the day, this is a true story and I think it is certainly one that needs to be seen!!
Thanks for reading, and we hope to see you in the theatre
Celine xxx
Porno Chic returns for three nights at The Footlights Theatre, Salford Quays this sept 6th - 8th. Tickets can be purchased below, please note it's not suitable for under 16s
Ticket site - https://www.ticketsource.co.uk/vertigotheatreproductions
Vertigo Site - http://www.vertigotheatreproductions.co.uk
Porno Chic site - http://www.vertigotheatreproductions.co.uk/Porno/