On a hill in North East Wales, just one mile from Mold town centre, stands my favourite theatre ever. Theatr Clwyd, although currently closed to the public, is still very much a huge part of the community. While they could they were doing so much for the people around them, from creating creative home packs for their vulnerable company members, taking their food stock to homeless shelters, working with Social Services to identify families in need and filming creative digital content for educational and creative use. Even now, while people are unable to go out, they are encouraging art, creativity and dance through online videos.
One of the main reasons Theatr Clwyd is my favourite is that it feels like a home from home, like you are going to visit your family. Everyone who works at Theatr Clwyd make you feel so welcome, from front of house right up to the top, they make time to say hello, have a chat and make you want to return. You meet other people who visit the theatre on a regular basis, and you can share experiences and stories with people you would not see otherwise. Theatr Clwyd is affordable and easily accessible, with plenty of parking.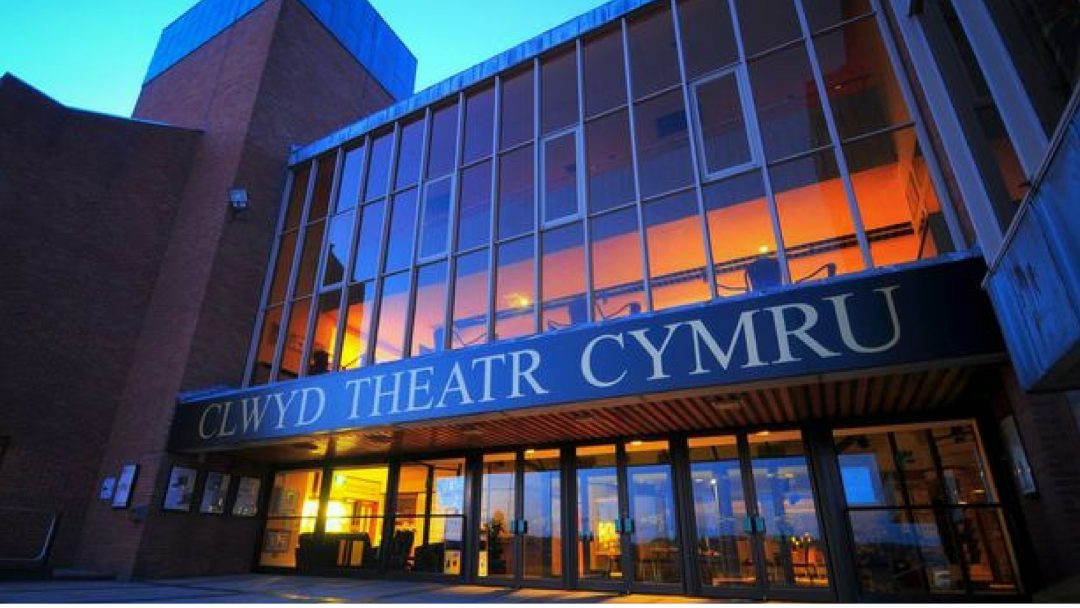 Theatr Clwyd produce many of their own productions as well as visiting companies so there is something for everyone, including monthly comedy nights, plays, musicals, dance and opera.
So, where did it all begin?
The theatre opened in 1976, officially by Queen Elizabeth ΙΙ on the 21st May 1976. They hosted Wales' first Royal Gala performance with appearances by the BBC symphony orchestra, Emlyn Williams and Elizabeth Vaughan.
HTV Wales had offices and a studio at the site from the late 70s to the mid-80s before moving to Cardiff.
In 1994, Anthony Hopkins directed and starred in the world premier of August, an adaptation of Chekhov's Uncle Vanya.
1996 seen Theatr Clwyd's existence threatened so former RSC artistic director, the late Terry Hands, was brought in as consultant to secure an artistic and financial lifeline for the theatre. Hand was appointed as Director of Theatr Clwyd in 1997 and a new resident company was formed where plays were produced in their repertoire.
There have been five Artistic directors at Theatr Clwyd
-George Roman
-Tony Robinson
-Helena Kaut-Howson
-Terry Hands
- In 2015 their current artistic Director, Tamara Harvey, took over. In the same year Clwyd Theatr Cymru Theatre for young people became the Theatr Clwyd creative engagement team, working with people of all ages, recognising the importance of the arts for people's Health and Wellbeing.
2016 seen Liam Evans-Ford joining as the Theatre's first Executive Director.
2017 Theatr Clwyd and Sheffield Theatre co-produce Uncle Vanya, directed by Tamara Harvey, where it won the Best Production in English, Best direction and Best supporting Actor at the Wales Theatre Awards.
Their production of The Assassination of Katie Hopkins wins the UK Theatre Award for best musical and their co-production with the National Theatre, Home, I'm Darling, directed again by Tamara Harvey, after opening at Theatr Clwyd, moves to the West End and wins Best New Comedy at the Olivier Awards.
The complex contains five auditoria
-The Anthony Hopkins Theatre (570 seats)
-The Emlyn Williams Theatre (adaptable studio spaces with up to 250 seats)
-Studio 2 (adaptable studio space with up to 120 seats)
-The Clwyd room, a multifunctional area with up to 300 seats
- Cinema (120)
There is also the Oriel Gallery which holds numerous art exhibitions throughout the year.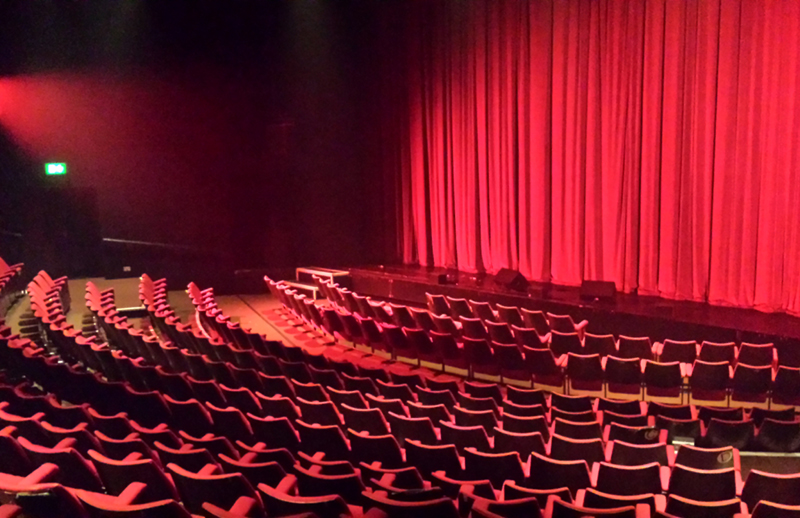 What's the future of Theatr Clwyd?
Theatr Clwyd is in urgent need of redevelopment so it is not only safe but also green and an inspirational for the community. During the redevelopment, the building will still be open with different parts being closed off for work.
21st century accessibility will mean appropriately sized lifts, wider doors, improved signage, accessible toilets and counters, new equipment for audio described, captioned, relaxed and signed shows as well as break out spaces and calm outdoor gardens.
Backstage areas will be fully accessible for theatre makers needs. New rehearsal and teaching spaces will be built. Public areas will be open, light and accessible. Huge glass windows will give spectacular views and access to an outdoor terrace. The Gallery space and cinema will be refreshed, with lift access improved and a comfortable bar outside the cinema. The gift shop will also be reimagined.
A new fit for purpose kitchen with relocated first floor restaurant will mean fantastic views while enjoying your pre-theatre meal.
The theatres are not completely changing, just a refurbishment, more comfortable seats, increased legroom, new carpets, proper ventilation and heating plus two new aisles in the Anthony Hopkins theatre. The balcony seats in the Emlyn Williams theatre will be more accessible with better (and more) wheelchair positions in both theatres.
With sets currently being made off site and stored at a huge cost, a much-needed new workshop with welding, woodworking and set painting will be built to allow them to build sets more efficiently under one roof.
Health and Wellbeing projects will continue such as Singing for lung health, mental health workshops to arts from the armchair for those with early onset memory loss and the memory café for those living with dementia.
Theatr Clwyd offer a membership scheme which costs a very affordable £24 per year (or currently £20 if you are renewing from the previous year). This includes
-Priority booking through members presales
-2 free cinema tickets
-10% discount across their shops, café and bar
-Discounted programmes for Theatr Clwyd productions
-Advance notice of upcoming shows
-Official membership card
-Member insight events
-Regular e-Newsletter
During these dark times, we need to support our local theatres so if you have tickets booked and your show is cancelled, why not consider donating your ticket back to the theatre or make a donation to the theatre through their website. You could also opt to add a small donation to your ticket price when booking your tickets. We want our theatres to still be there when the dark times are over and I for one am looking forward to the day I can get in my car and take a drive to our special little theatre on the hill, Theatr Clwyd.
If you haven't visited this little treasure, book yourself a show in the future and check it out for yourself. https://www.theatrclwyd.com/
Author – Damian Riverol