Having been to Secret Cinema in the summer, when I heard about the Magical Christmas Movie Experience in Manchester, I was pretty excited! Of course, I wasn't expecting anything of the same scale, but when press promised "a fairy-tale cinema and street food venue with live music and dancers, Christmas themed cocktails and surprises" I was intrigued.
North West End was invited to the press night of The Greatest Showman - the standout hit of the year, and were told to expect stilt walkers, fire breathers and a choir. The venue was difficult to find, even after resorting to an Uber so although we were not there as soon as it opened, several other audience members confirmed that these were not around. Perhaps the full spectacle is being saved for the official opening, but of course, that makes it hard to review.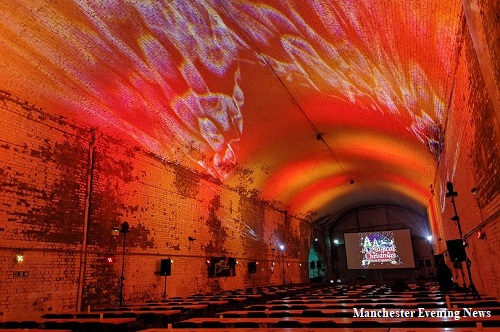 The entrance was pretty magical, being greeted at the door by two elves and then walking through a corridor of fake snow and twinkly lights, and ending up in front of a beautiful Christmas tree. Unfortunately, the rest of the decor seemed a little lacklustre, and in the room where there were 3 food stalls set up, it seemed a little too industrial and empty, rather than magical. Hopefully, this is something that will be rectified before being opened to the public.
The food offerings were tasty, if not a little random. We chose halloumi, hummus, and chips from Lobster & Chip co which was really nice, for £7, however, there were not many vegetarian options available at the stalls which was disappointing. Half a lobster and chips will set you back £19 if you're feeling like being a little fancy while watching the film, but I didn't see a whole lot of Christmassy themed food.
Drinks wise, there were plenty of cocktails and even hot chocolate cocktails which were around £6 each which isn't a bad price for a venue like this. A bottle of wine will cost you about £16 and prosecco £24. I was impressed to see that non-alcoholic wine could also be bought by the glass or the bottle. The first bar I went to had a problem with the hot chocolate machine and things were pretty frazzled and slow at the second bar so again, I hope things get a little easier for them over the next few weeks as it is likely to get pretty busy!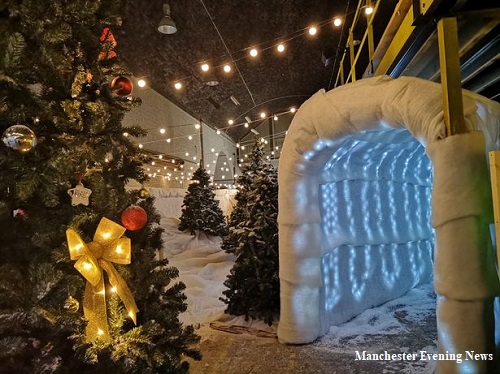 Watching the film you can choose to sit on the beanbags at the front (arrive early as these will go fast!), or some classic school chairs in rows in the middle, with plenty of bench-style tables at the back for those eating. It was easy enough to see the screen but your bum does tend to get a little sore on the chairs for too long.
Acoustically, the archway isn't the best venue for a film (although it looked great!), and a lot of the dialogue was lost, but thankfully the songs sounded amazing. This is not the event to watch a film for the first time, it's more suited for those favourites that you want to experience, under a blanket (which was not needed as it was a really hot venue!), in a crowd.
I can imagine that given the right crowd, the atmosphere would have been amazing, singing along to songs like This Is Me, but I felt it was a little missing last night. Perhaps as it was a press night.
With films coming up including: Love Actually, Elf, Home Alone, Die and The Holiday, I really hope that it does well and these teething problems are rectified as I think it could be a really fun attraction, but sadly, for myself and my guest last night, it was a little lacklustre.
Reviewer: Codie Wright
Reviewed: 22nd November 2018
North West End Rating: ★★