Once upon a time David Walliams was merely a well-loved TV comedy actor but now he is an insanely popular children's author selling over 11 million books around the world translated into over 45 languages.
So, it seemed logical that his books would make for great theatre so Les Petits Theatre Company has adapted The First Hippo on the Moon for the stage playing West Yorkshire Playhouse from 5th – 8th April.
Award winning children's theatre company Les Petits was established in 2013. The company is run by James Seager and Oliver Lansley who make use of striking design aesthetics, puppetry and song to create an immersive approach to storytelling.
David Walliams tells us how this show came about and what he hopes young theatre lovers will take away from the latest adaptation of his books.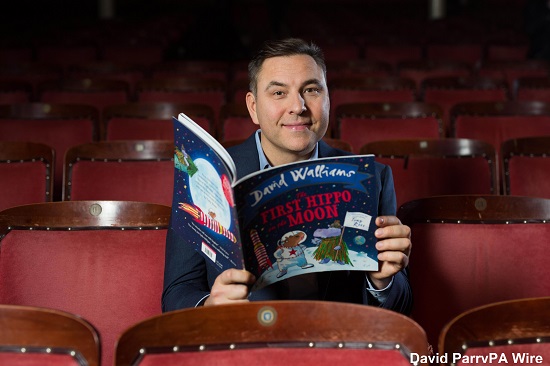 Tell us about the history of The First Hippo on the Moon and where the idea for the book came from?
I have always been fascinated with the space race of the 1960s and wanted to do a spoof on that. I like the idea of hippos going to the moon as they are the animals least likely to. It's a very visual book, with amazing illustrations by Tony Ross, so it should be a very colourful stage production.
What drew you to working with Les Petits Theatre Company for this project? Had you seen any of their work previously?
I have loved their work for many years so jumped at the chance to work with them. I love great children's theatre shows, especially now I am a father, so am very excited to see this one. The book is full of humour and I know that are the perfect choice of theatre company to bring that out as their shows are so irreverent and funny. The best shows for children work for the grown-ups too, and I am sure this one will.
This isn't the first stage adaptation of your work, how does it feel seeing your characters come to life in the theatre?
I love seeing adaptations of my books, and really enjoy the changes. I come from writing for television which is very collaborative and have always like working with other people. Ultimately you feel like a magician when something that was in your head becomes real.
If families were to take one message away from The First Hippo on the Moon then what would it be?
That whoever you are you should dream big, just like Sheila the hippo. Plus, if you work together as a team, then you can achieve so much more.
Are you inspired by any other current children's writers? Which ones did you love reading as a child?
There are so many great writers for children right now. My personal favourites right now are JK Rowling, Julia Donaldson, Dame Jacqueline Wilson and Michael Morpurgo. When I a young child I loved Richard Scarry and Dr Seuss. My absolute hero is Roald Dahl. He is the greatest children's writer of all time as he wrote so many brilliant books. I tend to be influenced by everything good I read, though it is pointless trying to copy anybody.
If after seeing or reading The First Hippo on the Moon, young writers were inspired to pick up a pen to create their own story, what advice would you give them?
I think it's important you write a story you would like to read. If you like funny stories write a funny story, if you like scary ones write a scary one. You can never guess what it is people want to read, so it is best you write something for yourself. If other people like it that's a bonus.
And finally - If, like Shelia, you could build a hippo-po-rocket and go anywhere in space where would it be and why?
I would like to go to Mars. You can forget the books and the comedy shows I feel I would definitely be remembered if I was the first person to go there!
The First Hippo on the Moon is suitable for all ages 3+ and book online www.wyp.org.uk or 0113 2137700