It is a horrifying fact that every day two women who are victims of domestic violence are murdered and abuse aimed at women accounts for 16% of all crime in England and Wales.
Women are also victims of countless examples of verbal abuse from idiotic men who seem to think this is the still dark ages, which is exactly why Leeds based theatre company RashDash have created a new outdoor work that aims to help tackle this epidemic of abusive behaviour.
"The Darkest Corners is about violence and the fear of violence," says Helen Goaten who runs RashDash with Abbi Greenland. "It is specifically related to women and how they experience those things.
"It follows one woman on a journey home starting in Leeds and then goes round the world to all sorts of different counties where she experiences stories we've researched. We see everything from her perspective, but by taking it around the world we get other women's perspectives coming into the story.
"It's about taking the fear of violence seriously getting inside a woman's head to see what that is like, and seeing it as something we are experiencing it on a daily basis without really knowing we are."
The Darkest Corners has been nurtured over the last couple of years by the team behind the Transform festival that showcases challenging work in venues across Leeds. The Darkest Corners gets its world premiere as part of Transform 17 at a secret location in the heart of the city where RashDash are utilising the latest technology.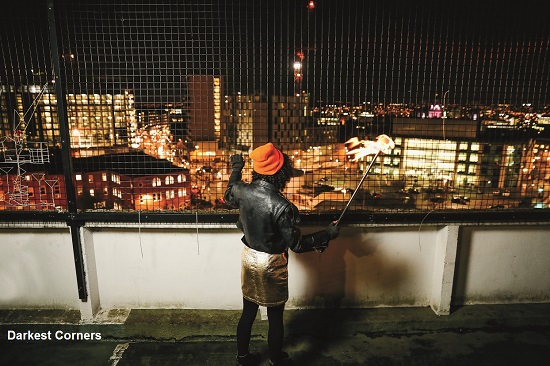 "We've made outdoor work before, but never on this scale, and it's a relatively big company for us, and there are lots of challenges artistically and logistically. The fact that the material itself is hugely sensitive, and it is absolutely our most ambitious show.
"We've got a brilliant design team so we have Max and Ben Ringham - who we worked with on We Want You To Watch at the West Yorkshire Playhouse - and they have lots of experience in this kind of work as the show will be experienced through headphones."
One of the inspirations for The Darkest Corners was the Reclaim The Night movement that sprang up in Leeds as women were placed under the curfew as the Yorkshire Ripper murdered local women. Given how this material delves deep into the heart of misogyny from around the globe RashDash did a huge amount of research as they created this show, but they have left shocked at what they found.
"I was shocked at the amount of self-defence weapons that are sold to women in other countries," notes Goaten. "Here we are very used to the rape alarm, but there is a whole market for guns, knives and even chilli powder which are also sold in a very feminised way.
"You might get a knife with a pink blade, or a gun that fits into a beautiful purse. That area I found quite fascinating, but also very disturbing in the way our capitalist world intervenes in this problem, and how people are benefiting from the need for self-defence items. That most definitely made its way into the show."
For many women around the world buying a gun or knife is the only way to stay alive, but in Britain at least 85000 women are sexually assaulted every year forcing many into constantly thinking about their safety as they carry out the most mundane of daily tasks.
"I hope for the women in the audience there will be something powerful about us naming the things that people are scared of, and in a way demystifying these things, and it is legitimate to feel fear. For men in the audience for them to get some sort of insight into what it is like and to be really emphasise."
"One of the things we found in our research is lot of women say they take precautions like going on a specific route they know is well lit or carrying their keys between their fingers. They feel like no-one does this, this is just me, and I'm a bit obsessed with it. By making this show we are saying 'It's not just you – it's not your fault, this is a bigger problem' and it is something we need to address as a society. We need to make it a priority and not stand for it."
It seems inconceivable that in 2017 that men still think they can psychically or mentally abuse women with seeming impunity, so The Darkest Corners is an attempt to help people think about how they can help tackle the problem.
"Some men, and women too, brush it off thinking there is nothing you can do about, and it is always going to happen. Someone shouting at you in the street is not such a big deal.
"By placing it on this spectrum that says just objectifying someone and calling them a name is on a spectrum that is on the way to something that is much darker and more serious. That might just help people to think that there is a problem and in some small way I can help to eradicate that problem.
"What we don't want to shock people, scare them or depress people. We want to enliven people, and for them to have enjoyed aspects of this show. It should be a celebration of some kind bringing a community of people together, and saying this is thing that is happening, so let's be better than this."
The Darkest Corners plays a secret location from April 20th – 22nd at 9pm. To book go to www.wyp.org.uk or ring 0113 2137700