Joanne Clifton is the reigning Strictly Come Dancing champion but she is now living her childhood dream as the lead in Thoroughly Modern Millie which comes to Leeds Grand Theatre from Monday 17th to Saturday 22nd April.
Behind all the fake tan and flamboyant costumes professional ballroom dancers are highly focused performers who love a challenge, and for Joanne leading a classic like six time Tony winner Thoroughly Modern Millie is certainly that.
"Thoroughly Modern Millie is about this 19 year old from Kansas who takes herself off to New York by herself leaving all her family behind to pursue her dreams," says Joanne. "Her dream is not to actually be an actress, but she wants to marry someone rich so she can dress as the modern people do. There is another guy involved and it is about whether she marries for money or chooses love."
Clifton always wanted to do musical theatre but when she was a teenager she had to choose between that dream and ballroom.
"I have always sang so when I was younger in Grimsby I would have my singing lessons, and I also had acting lessons doing my exams in that. I've always wanted to do it, but my parents couldn't afford to pay for that and dancing, so they sat me down and said they would support me in which one I choose.
"I wanted to go to the musical theatre school, but they couldn't afford that, and keep the dancing up. So I choose dancing that kept me with my family, and everyone in my family does it, so it is what I knew best."
Her response to that setback was almost like the plot of a classic musical because as Clifton was becoming a world class dancer she was also working hard behind the scenes to make her other dream come true.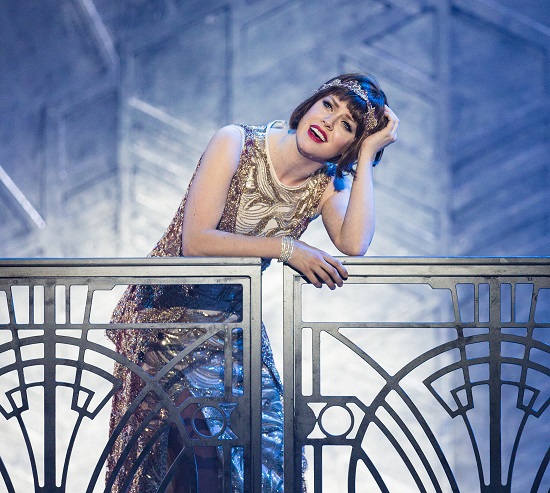 "I have had singing and acting lessons privately over the last couple of years, so I have not been trained at a theatre school, but I have been training. I did my dancing career and Strictly so I'm back in musical theatre and I have gone full circle really living out a childhood dream."
Professional dancers are a group who can never be accused of being shy of hard work and Clifton says she is relishing the acting as well as belting out eight big numbers in the show eight times a week. You might have thought the show's fast paced dancing would be a doddle for her.
"You would have thought that, but there is some tap in this show and I've never done that. Tap is totally the opposite of ballroom and Latin as in those I've spent my whole life doing exercises to strengthen my ankles and not have them wobbling.
"In tap you have to free your ankles off, so I've found it quite hard, but now we're on tour I'm getting it right and I'm just loving it. Doing this show is everything I thought it would be and more as I love the adrenalin of performing to a different audience every night."
Strictly is the BBC's flagship entertainment programme attracting millions of viewers making the professional's household names, but behind all the glitz and glamour there is a relentless slog to success.
"It's hard work and it's a seven day a week job," notes Clifton. "I would also say a 24/7 job because when you are training you still have to call up production about music or costumes and what props you need for the theme. You get calls or text from your dance partner at all hours saying they are nervous, or how do I do that step again?
"It is full on for five months of the year but it is the best show on television. I'm very honoured to be part of because it is a family show and the Strictly lot become a family too."
For the professional dancers it is a lottery about which celebrity they are paired with and Clifton dodged a bullet this year when she got sports presenter Ore Oduba who went from a novice to polished performer. But behind every dance in the live Saturday night show there is hours of hard work and tears.
"Ore was awful on a Monday - every Monday - as we'd done the week before, the live Saturday night and the results, then we'd have to go and do a completely different style of dance.
"I think one week we had the jive and then the waltz which is the opposite. One is technical and slow and jive is kicks and very energetic so every week he was like a lost boy - and had this look on his face - while I am pulling my hair out going he's never going to get it. Then he would sleep on it and the next day he had got it. I am so proud of Ore."
It's easy to forget while Joanne Clifton is now a TV star she's been dancing since she was a small kid, and that dedication saw her crowned World Ballroom Showcase Champion, so where does lifting the famous glitterball rank in her list of achievements?
"It's right up there, but is a different type of achievement. Winning the worlds was my own dancing and in Strictly it was bringing up a non-dancer to win it so it was an achievement for me as a trainer.
"I think you could tell how much it meant from the reaction when Tess read out our names as I thought I was going to faint."
Thoroughly Modern Millie is at Leeds Grand Theatre from Monday 17th to Saturday 22nd April. To book go to www.leedsgrandtheatre.com or ring 0844 848 2700
For details on future tour venues visit http://modernmillie.co.uk/ or to see the show trailer visit https://www.youtube.com/watch?v=CDQjh4LfZoo