Over the last few years West Yorkshire Playhouse have really got their big seasonal offer together and this year they really going for it with an epic version of the beloved children's book the Lion, The Witch and The Wardrobe by C.S. Lewis.
Generations of children have loved the tale of four plucky children who go through a wardrobe to a magical icy kingdom called Narnia full of fauns, beavers and ruled by the evil White Witch. The Narnians are awaiting the return of talking lion Aslan who will free them from their misery, and the children gamely join in the battle for freedom.
The Playhouse has wisely brought in innovative director Sally Cookson to reimagine this classic text for a production that is in the round for the very first time in the Quarry Theatre. For this high profile show Cookson turned to her go to composer Benji Bower who has worked with her for over a decade.
"We knew from the start it was going to be epic because it's drama and high tension," says Benji. "It's a timeless tale of basically good and evil so we wanted make it as large as possible, but as dark as possible without scaring the kids too much, which is a fine line to walk. It's definitely down the cinematic route which is what I lean toward when writing music.
"It's fight club today so they are just doing the battle scene, which will be musically quite abstract and very heavily sound designed, so it might not sound what you think a battle might sound like. It gets more full on and darker as we go through the piece."
In keeping with a show that not only has big themes, but an equally large cast and crew, Bower is using all his experience to introduce a number of different musical styles that will bring this magical world to life.
"There are multiple elements so I do have a live four piece band playing in it, some bits are heavily sound tracked bits like the battle, but what I've tried to do is write a few songs from Narnia as though the Narnians were singing folk tales.
"There is a cautionary track called Beware The Wolves which is basically if you were a Narnian singing your strange goatboy to sleep you'd sing him this song about being beware of danger. We're also trying to work out a song for the beavers so the whole piece isn't completely dark.
"There's another folk tune that is about Aslan coming, and spring is going to come, which lends itself to that style of music. That's fused with heavy synths to juxtaposition the folky acoustic instruments with heavily contemporary synthesised elements and cinematic orchestral bits.
"We've delved really deeply in the world of Narnia and actually Aslan sang the world into existence which was really interesting. I've been reading lots of old stuff, Paganesque stuff and darker magic to get some influence from there. I thought was amazing that Aborigines in their tradition say their forefathers sang the world into existence, and I thought it was a really nice sentiment, so we're trying to work that somehow into the show via music."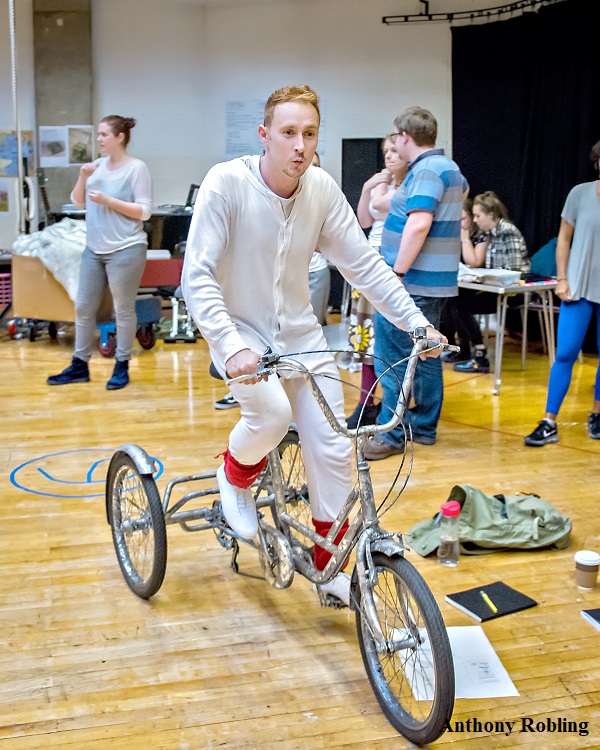 Cookson is known for radical explorations of classic texts based on open workshops where her creative team are encouraged to put forward their ideas. That gives Bower plenty of latitude as a composer, but does bring its own pressures as the musical direction can change at the drop of a hat.
"Sally is an amazing person and I can't imagine all the things whizzing around in her head but she manages to contain that and have a vision of all the bits. We as little soldiers are ready to act on those ideas, but because we devise it a lot of stuff it is left to the rehearsal room so it can be very poppy pants time.
"It's because things are fresh, and we work with ideas that all the actors bring to the table, which can change the direction of a certain scene, or the show, which is exciting.
"They are working out the battle scene and I'm reacting to that as I have write an epic score for that as the musicians are going to put down their instruments and become some of the monsters so that will be a recorded section. As it develops I'm working at the same time, which is great to see things happen, and I'm just reacting to it."
The way children absorb literature has changed with many more options for young bookworms so in an odd way the adults watching the show might be more invested in this beloved classic than their offspring. Bower thinks that Cookson and her team have created a work that will not only keep the children mesmerised, but make sure the adults leave happy with the way they have treated the ideas of CS Lewis
"The way Sally works leaves a lot for your brain to imagine yourself and creatively she has amazing ideas. And also simple too so it's like there is not a big holographic lion. It's about the story with Sally, so I think people will be surprised, but really the story is leading us. I'm enjoying myself and it feels like a cracker to me."
The Lion, The Witch and The Wardrobe is in the Quarry Theatre from Wednesday 29th November to Sunday 21st January. To book www.wyp.org.uk or 0113 2137700.