Over the last 30 years The Tiger Lillies have been one of those acts who have never taken the easy path delving deep into underbelly of society and the world premiere of their new show Corrido de la Sangre continues along that path exploring life, death and redemption in Mexico.
It was commissioned by HOME Manchester as part of their Viva! Festival, and as you might expect from a band who have always lurked round the underground the trials and tribulations of society's outsiders feature heavily in the songs and visuals
"It's a traditional story about a young boy who is abandoned by his parents in a border town in Mexico, with an accordion, and he has to fend for himself," says Martyn.
"He starts to play his accordion in the street, and has a band which gets very popular in the town. The local drug lord likes the music so then invites them to his hacienda and they start writing songs for him. Eventually they are murdered by the drug lord as they are not very obedient, and then their bodies are left hanging onstage.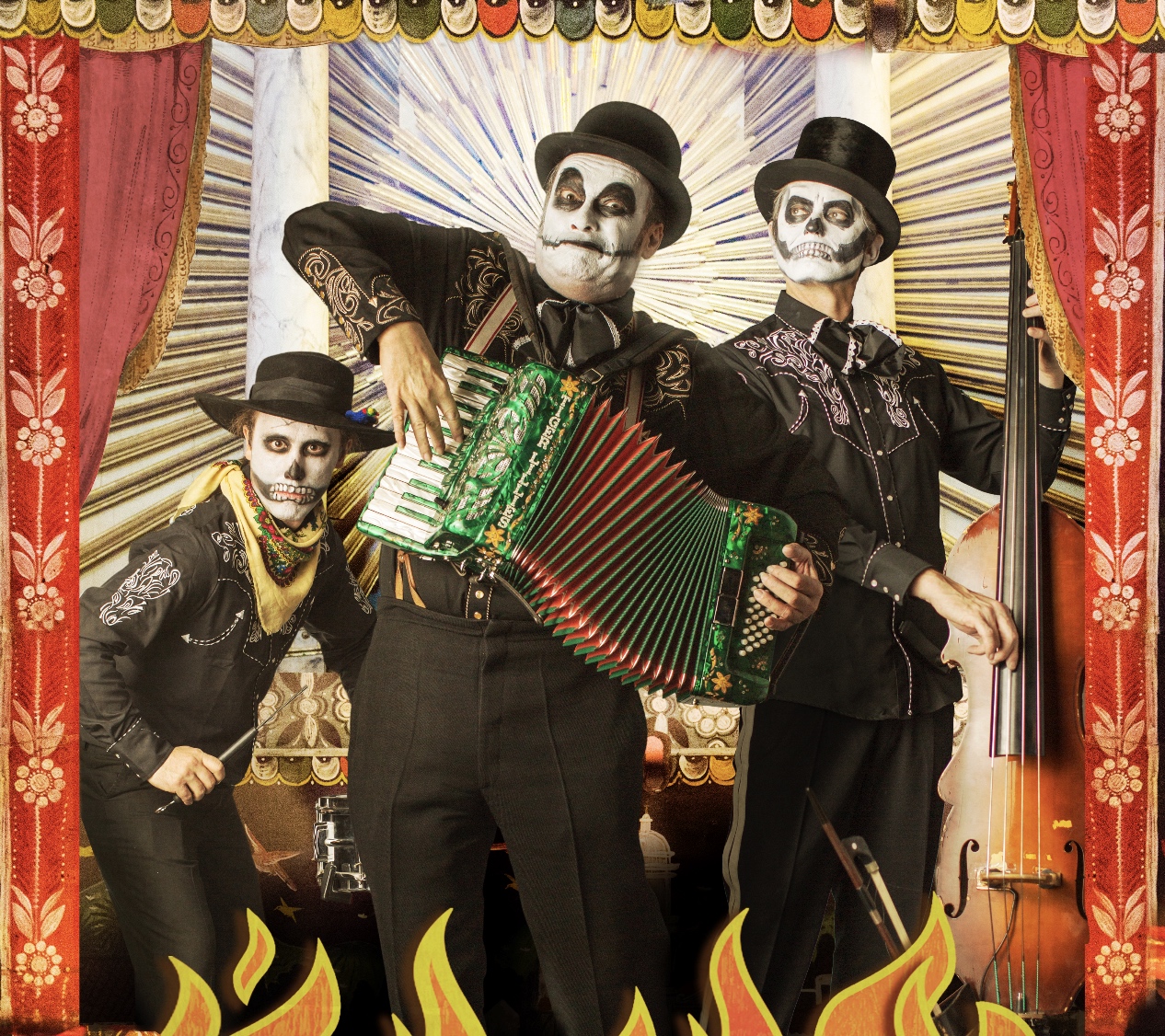 "It's a bit like a cyclical story because it starts at the point where we are already dead so there are lots of Mexican themes like Day of the Dead and the drug situation in Mexico."
The Tiger Lillies made their name with their 1998 show Shockheaded Peter, which won them an unlikely Olivier Award. They are a busy band touring the world playing to audiences who love their twisted Brechtian punk cabaret, which has always felt European in its influences, but for this show they have looked for inspiration to a country blighted by an increasingly brutal drugs war.
"It's funny because Mexican music has pretty strong European influences, as does Argentinean music, but the Mexican music is very similar in lot of ways to Germans Schlager style music, Oom-pah music and accordions. They are closely related really.
"It's a nice evolution because we've recorded a lot of albums, so it's quite seamless in moving in that direction as it is related, but different as well. We actually play some Mexican bar music, and there is even a cover version of a famous Mexician corridio song, so it's fun and a bit different. There are the themes of death which we are quite fond of.
"We've played in Mexico a few times and got quite a lot of fans there. They seem to relate to us, and like the songs, so we seem to have common ground."
The Tiger Lillies have always been a visually striking band onstage using Martyn's unique falsetto and accordion playing to drive their offbeat and lyrically challenging songs. He is joined for this production as ever by Adrian Stout playing bass and musical saw with Jonas Golland on the drum stool.
For this world premiere they have got together with long-time collaborator Mark Holthusen to create new visuals for the show. The band and Mark travelled to Mexico to workshop ideas and work with Mexican puppet makers to create new dolls for Corriodo de la Sangre.
"We've worked a lot with Mark, who was a photographer working in the commercial world, but also like photographing bands, so we suggested he could do a whole show with us," notes Martyn.
"We did a show with him called The Ancient Mariner by Coleridge, We've done a few other things like with Opera North's Lulu in Leeds, but this was the one he always wanted to do with all the Day of the Dead stuff, and the Mexican iconography, so hopefully it will be a riot of colour and amazing visuals.
"The drug war is a huge influence in Mexico with the drug lords, and I have incorporated that into that into the song writing. There a story in it about a doctor stitching up the men as they go off to fight and kill each other."
Anyone who has seen the Tiger Lillies will know their shows can be dark places, both musically and visually, but this multi-media production will allow a lot more light in with the band cautiously suggesting there might even be an optimistic ending.
Corrido de la Sangre runs from Friday 20th April to Saturday 5th May at HOME Manchester. To book go to www.homemcr.org or box office on 0161 200 1500.