An Officer and a Gentleman made superstars of Debra Winger and Richard Gere thanks to one of the most iconic endings of any film, so it's no surprise a musical version of this smash hit eighties movie is on the road calling into Leeds Grand Theatre from Tuesday 24th April.
Four-time Olivier nominee Emma Williams takes on the tricky role of Paula Pokrifki, made famous by Winger, who falls in love with the troubled Zack who is a pilot candidate at the local naval academy.
"It's very true to the film and one of the reasons being Douglas Day Stewart, who wrote the original, also did the adaption for the stage, and he has been with us in the rehearsal room," says Emma. "All the way through previews where we have adjusted to make it clearer for an audience, or tweak different elements of the script, he's been the one to do it.
"There are little additions like we see more of the women's story in the show, not just Paula and Lynette, but the women in the area of Pensacola so it's nice we have made that stronger.
"Paula in the show is also training to be a nurse as Douglas thought it was important to give her own sets of ambitions to how she can get of Pensacola life, and find her own way in the world. It gives a greater depth to the character and made her a lot stronger."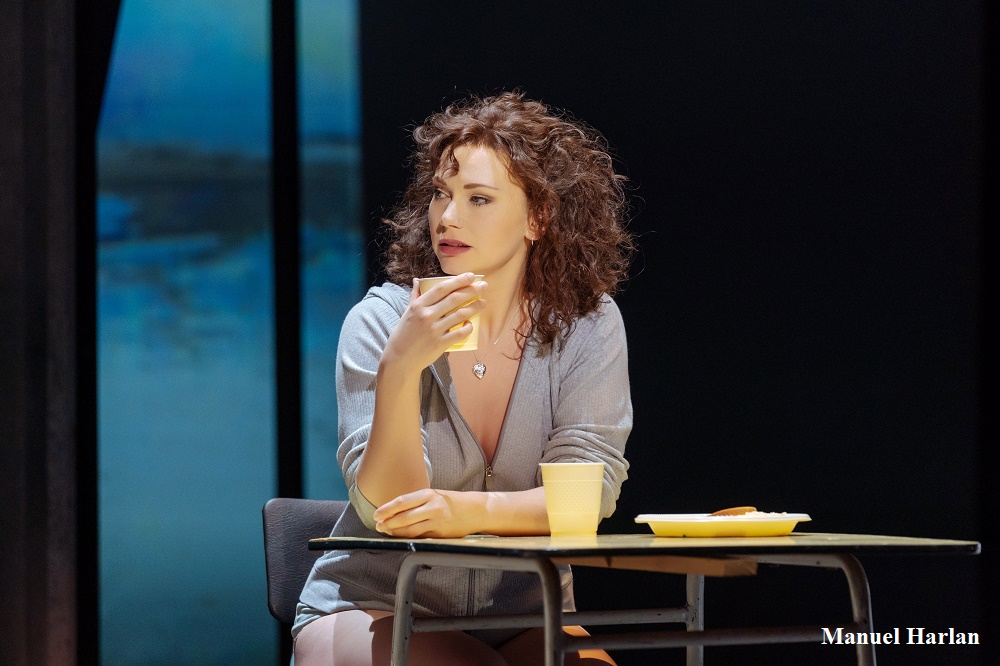 Many of the themes in Officer and a Gentleman still hold up, but in the movie the tough Marine Corps drill instructor Emil Foley warns the officer candidates about the local 'Puget Sound Debs' who are determined to marry a pilot. The stage version has made an adjustment to the old fashioned theme in the movie that some of the women who work in local sweatshops, including Paula's best friend Lynette, see this as their only way out.
"That is only reflected in Lynette, it's very clear that Paula from day one isn't interested in that life. It's whether you interpret it as old fashioned, or contextually correct, and that's how it was then. Douglas actually wrote the film after he left the US navy and the film is basically semi-autobiographical.
"It really does reflect his experiences of life in that time and it is very truthful. It gives a stronger interpretation of why these women act the way they do, and feel so trapped in their lives in this place where there is no choice but to work in the local factory, and there is no opportunity for promotion or progress."
Many eighties hit movies like this one and Dirty Dancing are seen as lightweight, but if you are paying attention then you very soon realise they try to take on some tough topics from the reality of blue collar workers struggling to survive to mental health issues.
"This show is not one you would necessarily assume musical theatre to be, it's not just fluff. I think what we've created here is really dark and gritty, but it is also very honest. That's really good to not only to watch but also to play as you are playing the truth of characters.
"A character only sings when they have reached an emotional level when they can no longer speak, and I think we've done a fantastic job of weaving in these brilliant songs from the eighties, which are so well crafted, so well written, they really reflect the internal feelings of each of the characters."
In the movie Winger made Paula a fully rounded woman full of fire and fury who was actually interested in Gere's rebellious wannabe pilot locked in a battle of wills with Foley for who he is, rather than what the uniform he wears represents.
"She is incredibly complex and I love that about her as she's not your atypical musical theatre leading lady as she is difficult, dark and has her own issues and demons," notes Williams. "This is one of the things that makes her relationship with Zack, played by the fabulous Jonny Vines, so powerful is the fact they are both battling their own issues.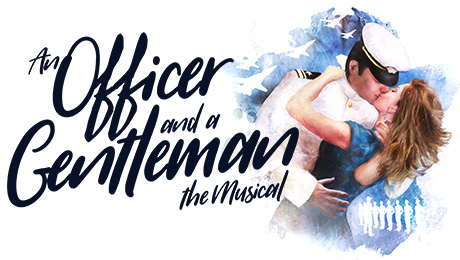 "The only time they can truly be at peace is at the very end when they can finally find out they can be themselves, Only once you can be yourself can you find your way to be with another person.
"It's really interesting that at various points in the show when they open up, or try to be accessible to another person, everything goes slightly wrong. It's really exciting to play, and you can feel the audience coming with you every step of the way."
As well as two leads the show has plenty of strong characters including Zack's best friend Sid who hooks up with Lynette, and the hardnosed Foley which won Louis Gossett Jr the first ever Best Supporting Actor Oscar awarded to an African-American actor
"Sid and Lynette are the antithesis of Zack and Paula. They set off on this relationship that seems to all hearts and flowers from day one, and ends tragically shall we say. Sid is played by the wonderful Ian Macintosh, and Lynette by Jessica Daly, and then we have Ray Shell playing Foley who is our drill sergeant putting the boys through their paces in a whole manner of other ways.
"It's really interesting the guys have been doing training every day, they are drilled and doing physical work. They are really having to live this experience and I'm really grateful I'm not a candidate as I don't enjoy the gym that much. The guys are working so hard, and a girl too as we have a female candidate in Keisha Atwell, playing Casey Seegar, who will hopefully be the first woman to get jets. It's quite a brutal show."
This musical version was premiered in Australia back in 2012 with an original score, but here the producers have packed it with classic radio hits from 1982 where it is set, and Williams is having a great time singing some classic power ballads.
"My favourite that I get to sing is Alone by Heart, which is just most the incredible song to sing, and I'm belting it out for all I'm worth. Rock belting isn't something I'm known for, so it is great the producers took a chance on me and said run with it.
"There are songs like Don't Cry Out Loud made famous by Melissa Manchester, Kids in America, Girls Just Want To Have Fun and Blaze of Glory. It's a real mix of epic rock songs and power ballads which really fit the story well."
Williams is coy about the movie's iconic closing scene saying people will have to come along and see for themselves if her character is lifted up where she belongs.
An Officer and a Gentleman is at Leeds Grand Theatre from Tuesday 24th April to Saturday 28th April. To book go to www.leedsgrandtheatre.com or 0844 848 2700.