Shrek is the world's most popular ogre and the musical version of the smash hit movies heads to the famous Blackpool Winter Gardens from Tuesday 15th to Sunday 27th May.
Once again directed by ex-Eastender Nigel Harman this UK tour features all new songs as well as cult Shrek anthem I'm a Believer. The producers also promise over 100 much-loved fairytale characters, plus a 14-foot dragon, in what they promise is an all-singing, all-dancing extravaganza.
Shrek's faithful Donkey is played by Marcus Ayton who starred as Ray Charles/ Sammy Davies Jr in Blues Brothers and Rat Pack Live. Paul Clarke caught up with Marcus to talk about working with a green ogre, Call The Midwife and onstage sweating.
We've had three massively successful Shrek movies so which part of the green ogre's story are you telling on this tour?
This is the Shrek story from the first movie, so from the beginning where you find out how Donkey met Shrek. They are sent off on an adventure by Lord Farquaad where they meet the Dragon and Shrek goes to rescue the Princess.
The Shrek movies are full of classic Fairy Tales characters running riot so are all the old favourites in this show?
You might get a few extra if you're lucky as they sometimes some throw in some extras.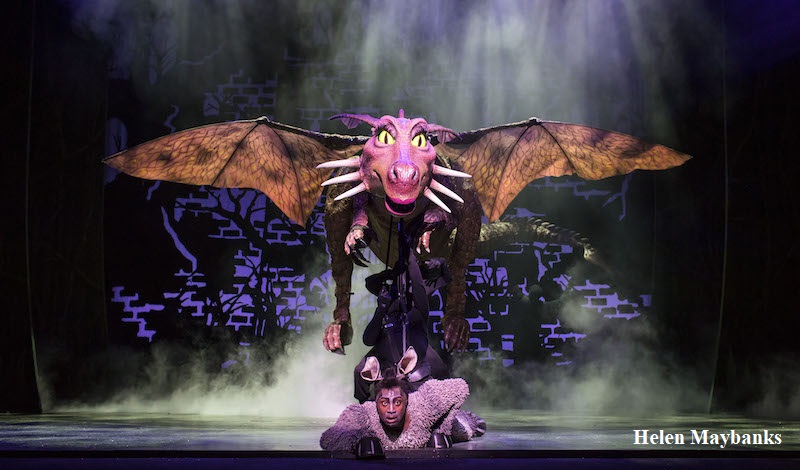 Why do you think people still love Shrek after all this time?
Despite the fact he's an ogre he comes across as quite human because he has feelings. He doesn't wear his feelings on his sleeve, but Donkey brings it out of him, so for him to find such a good companion to go on this adventure with him is a strange thing for Shrek because he has always been isolated. I feel like Donkey breaks down those walls that allows him to fall in love with Princess Fiona.
It's a classic buddy movie isn't it?
It's like a romcom so you if want a girlie night come and see Shrek.
How do you play Donkey?
It's quite hard to not explode on the stage from the beginning because it's such an iconic character and everyone knows him. It's been a joy to delve into the character, and strip back layers, so I give the audience a piece at a time. I'm not like 'bam' all the time.
It can't help that this is a role so closely associated with the actor who voiced Donkey in the movies?
Everyone says it's the Eddie Murphy character, and everyone has that in their head, but when you are sat watching the show you want the story behind Donkey, so you get to love that person. I know it's an instant thing because he's Donkey, but I've been told he has more layers now. You have to tone it down, but let the audience in, and don't think I've got to be over the top straight away.
Most actors wear costumes but your Donkey costume is basically fur, and you have a very energetic role, so how do you cope with the heat?
I have never sweated so much in my life. It's like when you go for a run and you wear something for an extra sweat it's like that onstage. You can't control the sweat as there is nowhere for you to actually breathe. The only parts that are actually out of the costume is my neck and my face as I still have a wig on and my head can't breathe.
It's even worse for Shek.
Steffan Harri playing Shrek has a fat suit on, and it was especially bad yesterday when it was the hottest day of the year, and we had two shows. I can't describe the sweat, beads were was just raining off me, I'm stood on stage, and I thought I am dripping from everywhere.
Laura Main has been playing Princess Fiona but she's taking a short break from the show?
She has only just left us to start filming Call the Midwife so when she comes back l'll want to know how it has gone. Obviously it's two different things to retain as she has the Shrek script in her head as she is coming back to us and learning the script for the telly. I think it just shows just how good an actress she is because she can portray a princess onstage and then an ex-nun on TV.
You studied in Preston so are you looking forward to coming back up North when you play Blackpool?
It was some of the best years of my life doing a musical theatre degree at the University of Central Lancashire. I've been to Blackpool, but I've never been in the Winter Gardens, which is exciting. I'll catch up the old tutors and hopefully they will come and see me.
To book go to www.wintergardensblackpool.co.uk/events/shrek-the-musical/#tickets or 0844 8561111. Find out about the Shrek UK tour dates at https://shrekthemusical.co.uk