As Bolton Octagon prepares to go dark for a yearlong multi-million pound refurbishment Paul Clarke caught up with Artistic Director Elizabeth Newman to find out what it will mean for their audiences as the theatre celebrates its 50th birthday.
If Bolton Octagon Artistic Director Elizabeth Newman wasn't busy enough co-directing their new site specific production of Summer Holiday, she is also overseeing a massive refurbishment of the theatre in the centre of this former Lancashire mill town.
The theatre will close until autumn 2019 as the five decades old theatre is redesigned to bring it into the modern era, but why is it necessary to go dark for a year?
"The focus is to deal with the access issues which we have in the organisation, so what will be transformative is people with additional needs being able to navigate the building freely," says Elizabeth.
"With regard to programming it is very much about us wanting to do more. So the studio theatre at the moment is used as a get in space as well as a studio. The capital project will allow those two functions to be separated, so we can get a show in, and still keep the studio as a functioning participation and performance area."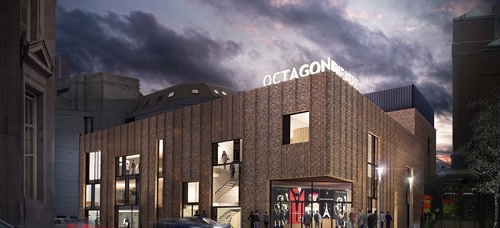 Newman has been the theatre's Artistic Director since March 2009, but has spent over a decade working at the Octagon, and when she was appointed aged 29 she was one the country's youngest. Since then she has overseen a revamp of the theatre's offer, on and off stage, which the redevelopment programme will build on once the creatives return next year.
"The redevelopment will enable a more dynamic programme to make it all year round, versus what we have now which is periodic programming like our new monologues and duologues, which happened the past couple of years.
"There will be others spaces in the redevelopment so there will be a sensory room where we can do sensory play with children and adults, a changing place toilet which is vital for anyone with additional needs and there will be a small class room space where we can host school groups. It's going to give more potential to reach out to more people, and do more work with them."
It's all well and good looking at plans, which often make no sense to anyone outside the arcane world of architecture, but when people walk back through the doors what differences will they see?
"The actual auditorium we are trying to retain as much as possible because I think it's perfect really. What we will be doing is installing new seating as the current ones are breaking, and there will be better climate control so you won't feel so hot in the summer months.
"When you walk in the studio theatre you will see a visual difference, because it will be an entirely new room with greater light during the day. We are able to put in more natural light when we need it, and not when we are in performance mode."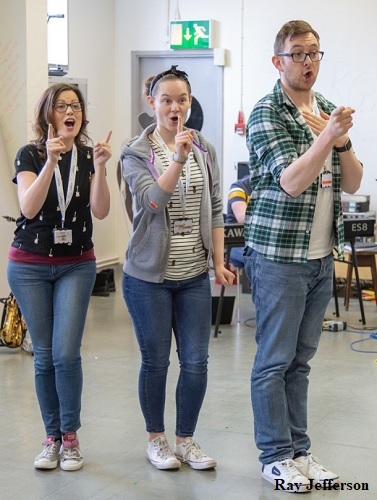 A year is a long time for any theatre to be dark and risky when there are other great venues only a short journey away. In response Newman and her team are offering a busy summer schedule to keep Bolton theatre lovers and the community engaged with their local theatre, including a site specific revival of a classic Cliff Richard movie.
"The key thing is Summer Holiday, which is about introducing the idea of us going out and about to our audience," notes Newman. "It's one of the greatest musical ever made as it uplifts everybody.
"Since arriving in Bolton I don't think I've met a person who lives here, or is visiting, that hasn't heard Cliff Richard singing Summer Holiday. We were rehearing in the bus Interchange last week and a small child of about four even managed to join in with the song, it is still in the social consciousness, irrespective of age or nationality. That's really important to us as we want to reach everyone.
"We'll be going on some of our local buses, then driving into the town square, all of that is about keeping the Bolton theatre vibe going. To make sure that the Octagon is still very much in people's minds and they know it doesn't matter we don't have a roof at the moment. We can find a home in many places."
Theatre folk are nothing if not creative and adventurous, so it's no surprise Newman's second summer spectacular is a reworking of a Jonathan Swift classic that seems to be feature virtually every creative person in the town as they take over Queen's Park.
"The next thing that I'm hoping lots of people will come to is Gulliver's Travels, which is a massive professional and community production. It's really exciting to share our park with the community and put performance in that park.
"The Gulliver puppet is being made now, which is eight metres tall, and is one of the biggest puppets in the UK. It's exciting to share that in our park for our people as we are reaching out and finding ways to tell great stories brilliantly.
"We have the professional company and there's also seventy five young people who are involved, we're working with about 15 community choirs and all the amateur theatre societies are joining in. It's a big Bolton celebration, and I love making work with non-professionals, as well as professionals, so it has been joyous to begin that journey and bringing everyone together."
Newman has the hopefully fine summer months with their long, light days covered but as the dark nights draw the company will be using different venues including a trip out to the home of Bolton Wanderers.
"We've got couple of residencies. The first is at the Macron Stadium, which is a favourite home for Boltonians, and the other is at Town Hall, which is another favourite for local people. People have been enough kind to let us pitch up camp in their living room to tell stories.
"We're always trying to reach out to new audiences and what is brilliant about Bolton is its diversity and for us it as about how we reflect that in the work that we make with and for the people who live here."
At the end of all this upheaval Elizabeth Newman is confident that not only will audiences come back, but they see that the changes will enhance their experience as they sink into their brand new seats.
"We will be gaining greater flexibility in our main auditorium so it will enable is to have different shapes of worlds to transport audiences into. It's one of the brilliant things about the Octagon is every shape you feel is only one it could possibly be until you walk in the following week then it is different.
"I think for us it is more about sustaining what we do for the next fifty years. I hope that when people back into the theatre that get the same feeling they've had for the last fifty years that they are walking into a family because that's what makes the Octagon special."
Summer Holiday opens on Thursday 31st May until Saturday 23rd June. Gulliver's Travels plays from Monday 6th August until Monday 27th August. To book go to www.boltonoctagon.co.uk or 01204 520661.