When Stephen Schwartz picked up a novel telling the Wizard of Oz story from the perspective of the much maligned witches he could have only dreamed his musical take on the tale would gross a billion dollars on Broadway.
Wicked's witty, showstopping numbers written by Oscar winner Schwartz, and Winne Holzman's book, have a very different and darker take on the beloved movie starring Judy Garland. Former Brookside star Stephen Pinder is playing the legendary Wizard of Oz when the show opens at Leeds Grand Theatre on Thursday 14th June.
"Wicked is about a lot things, but I think it's about two girls growing up, finding themselves, their place, how they perceive themselves and how people perceive them in the beginning of the story," notes Stephen.
"The way they travel through the story is why Wicked as an animal is so popular because the audience is not just coming for the songs, the dancing or the spectacle, which it is, but there is a rich story. Timewise you could say it almost runs adjacent to the Wizard of Oz, but the film concentrates on Dorothy's dream, and Wicked is a whole different take."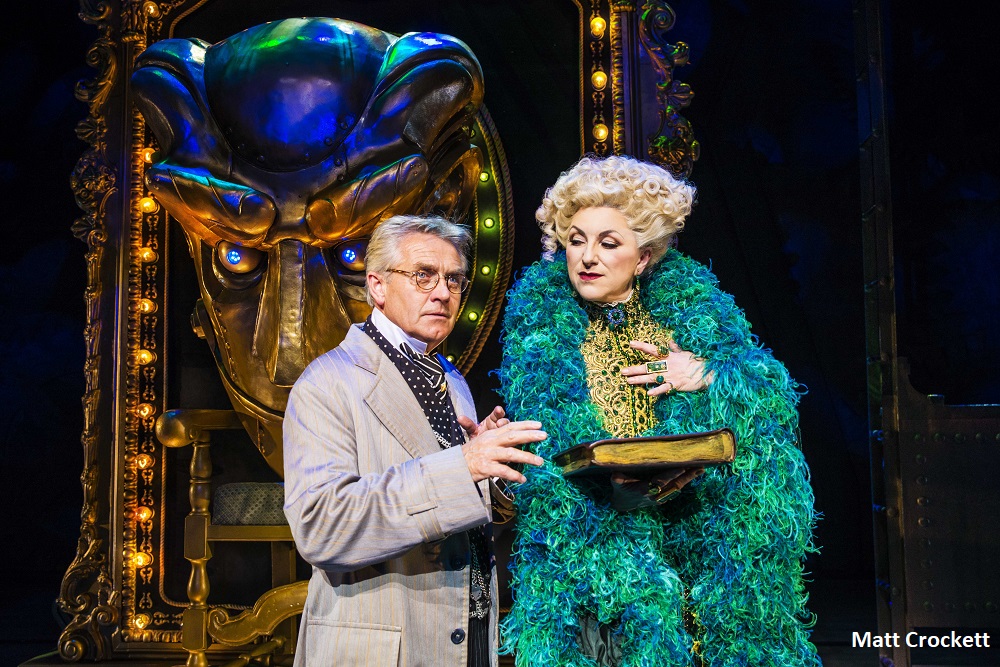 On first listen Wicked seems a lot darker that the Technicolor movie, but according to Stephen he like many children found Dorothy's time in Oz, complete with flying moneys and cackling green witches, pretty darn scary.
"If you really look the Wizard of Oz that to me is really dark, I saw it when I was a kid and I was frightened to death, especially Margaret Hamilton who played the witch, who is perceived differently in Wicked. There are characters from the Wizard of Oz, but you can see how Wicked does take a darker perspective from the film."
Although the theatre show is different to the movie the Wizard will be a familiar character, whether you are a hardcore fan of both, or prefer one version of this classic tale over the other.
"The Wizard is depicted in the same way as L. Frank Baum's story, and what makes him unique is he is the only human being in the story. He comes from somewhere between Kansas and Oklahoma, according to my research, and he is a bit of a shyster really.
"He's a travelling salesman in a circus, which you would have found in the 1920s and 30s, especially during the depression times, selling his potions and doing little tricks. He's a chancer and lives on his wits."
In the movie Dorothy and her motley gang set off the yellow brick road to find the Wizard, but they only meet him at the end, whereas in Wicked it is a much bigger role,
"That does run parallel to the Wizard of Oz as Dorothy, the Lion, Tin Man and the Scarecrow are off to see the wonderful Wizard of Oz, and there's something of that in Wicked," muses Stephen.
"He's a bit of mystical character as they are always talking about him before they to get see to see the Wizard, and they then realise he is just a person. From the audience's perspective he is just an ordinary man."
Stephen won the part after a rigorous audition process, and this is his second UK tour, so what brings him back to Oz when he no doubt had other offers.
"It's a really big job and the good thing about touring is you get to play another part, Doctor Dillamond, who is in another part of the story. There's bit of persecution going in Wicked you have animals who can talk, but with the new regime it starts being frowned on. Animals must know their place and they should only make the noises they are supposed to instead of talking."
Stephen and the cast have just got back from a tour of the Far East where Wicked proved that its themes and big numbers can transcend cultural boundaries.
"In some of those places like Singapore, Hong Kong and Manila they were quite English orientated so the language was fine," recalls Stephen. "In Hong Kong they had Mandarin on an audio screen on one side, and Cantonese on the other.
"We went to China we did wonder what would happen as 90% of the audience wouldn't understand, and they didn't know the Wizard of Oz genre, so they didn't get any of the in jokes. But surprisingly in China they really enjoyed it and probably enjoyed it more than in other places. I was really shocked as I thought they might sit in polite silence, and applaud at the end, but they really loved it."
Stephen only joined the cast of Wicked for the second half of its last UK missing out on the run at the Grand but says he can't wait to play there this time.
"The Grand is such an iconic theatre that has got so much history, and I love theatres like that. We went abroad with this show to places like Singapore, China, Manila, Hong Kong and so of those theatres were relatively new. My underpants are older than some of them.
"You can't say that about Grand in Leeds and the buzz I get with a lot of Victorian or early Edwardian theatres is you imagine all the people who have been on that stage. If you go back to the variety years of theatres like the Grand there is such a buzz to it, and keeps your spirits up."
As a Wicked veteran Stephen says there are reasons why Wicked has won over 100 international awards and pulled in over two million people through the doors to this alternative version of Oz.
"We have a 14-piece orchestra, and people pay quite a lot of money to come and see the show, so at least you get your money's worth when you take your pew to watch Wicked.
"The whole show is magnificent, and the number the end of the first half, Defying Gravity, there aren't many endings to the first half of a musical that has something like that. You sit back, watch it and think that's why it has been going for 10 years in this country."
Wicked is at Leeds Grand Theatre from Thursday 13th June to Saturday 7th July. To book 0844 8482700 or www.leedsgrandtheatre.com