As West Yorkshire Playhouse prepares to close its doors for a multi-million pounds refrub they are saying farewell to the vast Quarry theatre with Searching for the Heart of Leeds celebrating the spirit of their hometown.
To help them in their search for what makes the citizens of such a diverse city so special they have recruited a cast of local people to perform a script by BAFTA nominated writer Mark Catley. He's based his words on 200 stories gathered from local folk, and Musical Director Christella Litras is clear what the show is all about.
"Searching For The Heart of Leeds is about communities, it's about people and people's treasured stories," says Christella. "The whole research and writing of the script was going out to speak to people to find out what they feel about their city.
"The opportunities they have had presented, the misfortunes, the history, landmarks, historic moments and we're amalgamating all that information into an amazing script Mark has created which is all about the people."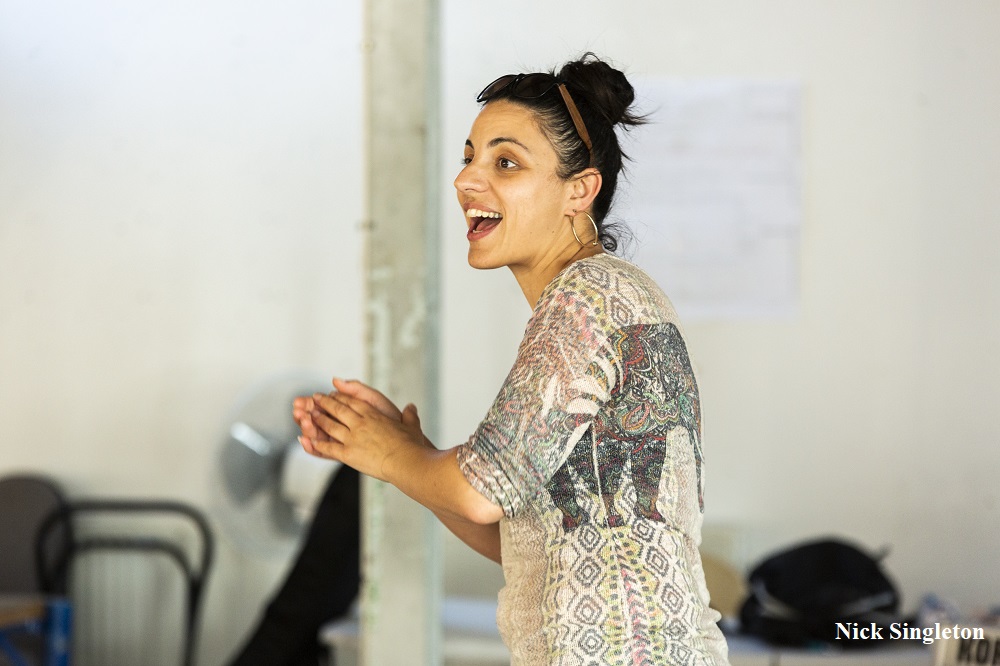 Christella was born in London moving to the East Midlands when she was eight years old before arriving in Leeds. Her first inspiration to work on music for the theatre was the epic Carnival Messiah, celebrating West Indian street festivals, and Leeds was the first city to have a carnival snaking round its streets.
"I've lived in Leeds for over 20 years now, and I feel that it's easy for me to compare the city I live in now with the cities I've lived in the past. I think with Leeds it's so nice you are always 20 minutes away from the countryside, so people here get a chance to balance city life with country life. I think that contributes to people's wellbeing, their stress and chills them out a bit. I feel the people in Leeds are more friendly, and a bit laidback, I guess."
"This is an opportunity for people in the community to discover their talents, and whether they want to pursue the arts, so it is a great gateway for them. Isn't it amazing when you can share the same space with people you would just walk straight past in the street, so we're putting together about 50 community cast members, who we auditioned."
As musical director Christella has looked at the rich musical heritage of the city to weave well known and less familiar songs into the piece's soundtrack. She has also been inspired by the company's energy to compose some original material.
"What we have decided to do is look at well-known artists, like Corrine Bailey Rae and the Kaiser Chiefs, so our idea is to learn snippets of their songs and look at the folk songs from Leeds. We can use them in the change overs and create some kind of medley to celebrate the music that has come out of Leeds.
"There is another section which is called The Anthem we play at the end. West Yorkshire Playhouse is a theatre of sanctuary, so we celebrate and support the work of our refugees and asylum seekers in Leeds.
"One of our participants who has been with us for a year called Shabba wrote a song, and he just called it the World Anthem. The lyrical content reflects togetherness, peace and harmony and wars ending. I composed the music for that song."
There may be huge community involvement, but they are being well supported a by team of experienced professionals, including the Playhouse's Director of Creative Engagement Alexander Ferris who is directing. Christella was particularly delighted to see Leeds based Phoenix Dance Theatre pop in to help the cast with their movement.
"That is close to my heart as I composed the music for Windrush that Phoenix took out on tour. What is really nice is they came in and brought some of their professional dancers. Everyone is on the same level, and they're all humble, so no-one is made to feel they are beneath anyone.
"Alex's main objective was to make everyone feel worthy and they are contributing something. There is no hierarchy whether you are professional or not professional."
Searching for the Heart of Leeds is on until Saturday 23rd June. To book www.wyp.org.uk or 0113 231 7700.