Leeds Playhouse are getting their money's worth from Max Johns who is designing not one, but two, productions that will then play simultaneously in their Pop Up theatre.
First up for Max is evergreen GCSE text Kes adapted from A Kestrel for a Knave, originally penned by Barnsley born author Barry Hines, which opens on Friday 25th January followed a week later by one woman play random.
Kes is the gritty tale of working class waif Billy Casper who hates school as much as his violent brother, but finds purpose for the first time in his brutal life when he learns to fly a kestrel he finds. There is an obvious question that comes to mind in a play about a feral boy and his love for a wild bird of prey.
"It is the first question everyone asks - how are you doing the bird?" laughs Max. "The short answer is that there is no bird in our production.
"This is an adaptation by Robert Alan Evans who has very cleverly written it in such a way that because we are told the familiar story of Kes through memory we are able to conjure up that feeling of the bird being there without having to see her."
And it seems to work as experienced designer Johns and the team have worked hard to make sure that the cast play their part in bringing Kes to life.
"When we staged this a couple of years ago the first thing we did was take the actors out to a falconry centre in Yorkshire, and they had a go at flying birds. We spent a long time practicing all of the movements that go with flying a bird of prey from wearing gloves to the swinging of the lure, which is quite a big part of the production.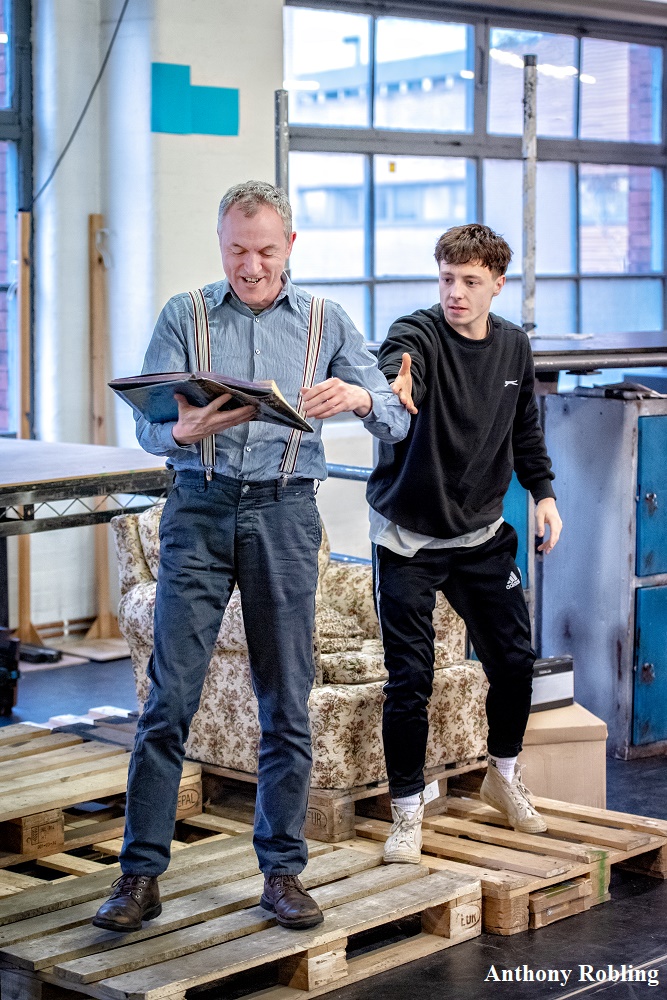 "They got that muscle memory of it, so all that kind of movement is in the play, you look around the audience and watch people seeing the bird even though it is not there."
It is fair to say that many more people have seen Ken loach's iconic movie version of Kes, starring David Bradley as Billy, than have read the book. Loach's film is set in a working class South Yorkshire mining community in the late 1960s, but this time the creative team have decided to take Kes in a more reflective direction.
"It is much more of a memory play so for people that are familiar it is slightly different version than the one they are used to," notes Johns. "This is much more about reminiscing and looking back at the story from a later point.
"There are two characters onstage – one of them is Billy and the other is just called Man. We are introduced to him first, we don't quite know who he is and we see him finding all of these objects that take him back him to that time in his life when he had Kes as a teenager."
One of the funniest moments in the movie is the PE class when legendary Yorkshire actor Brian Glover plays a daft PE teacher who imagines he is playing for the mighty Best/Law/Charlton Manchester United team as he humiliates Billy's class.
"It is a great scene that one, and it says a lot about Billy's relationship with the school system in the way there are actually kids that are often let down by the system. There are kids who have a huge amount of unrealised potential, and who are gifted in a way that that doesn't flourish at school. Billy is not one of those kids who is brilliant on the football pitch and that scene is in our play in a way people will enjoy."
As well creating a world for Billy and his kestrel the busy designer is building a set for debbie tucker green's random telling the tense story of an incident which has ramifications for an ordinary family in a way that has become depressingly familiar in modern Britain.
"It's about a family where the son goes to school one day in the morning and we find there has been an incident at lunchtime where something happens, says Johns. "The whole piece was written to be performed by one female performer who embodies all the characters, and narratives the story which takes place over one day. A day that is a pivotal, life changing point in those people's lives.
"Where there is overlap with Kes is they are both plays about young people with potential that they aren't able to fully realise."
Whenever you talk to creatives like designers, musical directors, sound and lighting designers they all say if the audience doesn't notice their work adding tone and texture then they have done their job. It is true that you only really notice when a creative makes the wrong decision that can ruin a production for the audience.
Johns is also under the added pressure of not only designing two shows but only having a very short interval to swap over means he has had to create a set that works in different ways for both shows. Like all smart designers he has come up a set that can be quickly changed while still adding something unique to both productions.
"With Kes it begins on a junk heap of memories so there are lot of objects that relate to older Billy's memories, so for this production we have created an abstract landscape of chairs and old furniture, which towers up quite high, that helps take us to different locations.
"In random we are using the same installation of chairs and tables in a more abstract way so they form more of a backdrop to what the performer is doing in front of them, and can hopefully be read in a way that enables them to be lots of different things."
Kes Friday 25th January - Saturday 16th February and random Monday 4th - Saturday 16th February. Box office 0113 213 7700. Book online www.leedsplayhouse.org.uk