Silent Witness star Kiza Deen is taking on her biggest challenge yet in a solo show playing all the members of a stricken family trying to make sense of a life changing incident involving their son.
Unlike a busy TV set there is only Kiza onstage with no place to hide in Debbie Tucker Green's random which opens at Leeds Playhouse on Monday 4th February.
"It's about an event that takes place in an ordinary, close knit family, and how this random act changes everything they've known, and their lives have been changed forever," says Kiza.
"How do you come back from a situation like that, and can you ever come back? It's been really challenging, and really rewarding, but it is a gift for any female, black actor to perform."
random might only last an hour, but Deen is required to play a man for the first time, and tucker green's tense and emotional words not only leaves her exposed on a big stage, but she has to stay totally focused as she navigates the text.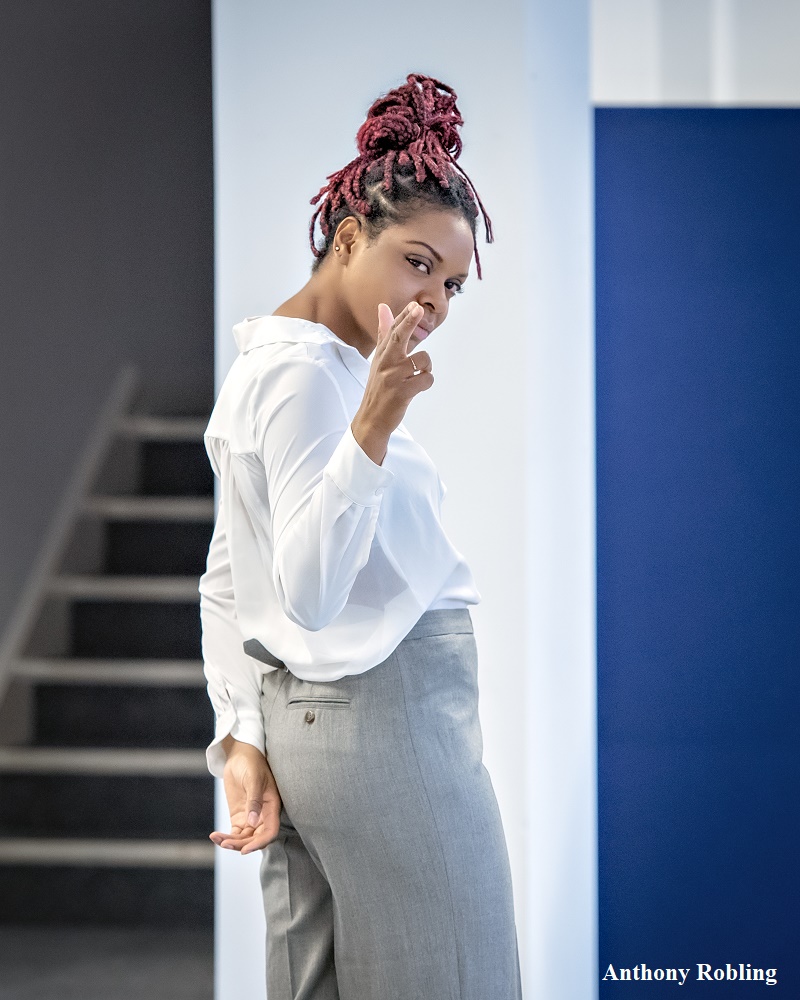 "It has its challenges as you playing different sexes, an entire family and the people around them. I really wanted to be clear in my performance giving the audience clarity, knowing who is speaking and who is speaking to who. It has those technical things I have to get used to, but as a whole experience it takes you on such a journey that is thrilling and exciting to perform, at the same time very terrifying.
"This is my first one woman show and I have no props. I have no one to play with and there's no one to help if I forget a line, who will help me out? I think this is the first play where I know literally every and, but and is because I can't afford to miss anything out. Debbie's writing is quite poetic too, you have to say what is written, so it is abundantly clear."
Deen is giving no spoilers away, but tucker green's mediation on the very real dangers of being a young person in today's Britain is very timely. During the audition process Deen had some concern that a play written a decade ago might not be relevant until she did some research on the net.
"I literally just googled a few stats about violence, and there was an overwhelming amount of information," notes Deen. "Since it was first written it has double or tripled, and I was thinking 'oh, my god, it's even more relevant now. I was fearful it wouldn't be, and it is really sad this play is needed even more so people can have a conversation around it to raise awareness. It's just awful that it is worse than it was 10 years ago."
Strong relationships between a director and actor are at the heart of all great productions, and especially in a one person show. Deen says she feels safe with former Genesis fellow Gbolahan Obisesan who is taking her through the intense rehearsal process.
"I've seen his work before and when I knew he was directing it I felt really safe and I really trust him with this process. There is just you by yourself and you need to have faith in who is directing the ship. He is wonderful, and has really understood when I have been finding it challenging. He is patient, and also has great ideas, which makes my job that much more easier, so I can feel free to be creative and not worry."
Deen trained at RADA before going to appear in a couple of Royal Shakespeare Company productions. Her big break in TV was playing Sonia Albright on long running soap opera Hollyoaks. Most actors who have been in soaps are clear the relentless demands of a serial drama is brilliant training, and Deen is no exception.
"I remember watching the show as a kid and it was a bit surreal being on it," recalls Deen. "I think it is of the best soaps for an actor as I didn't have television experience prior to that, but it moves so fast, and demands a lot of you.
"Sometimes I felt I was in film school as I was learning so much about the crew, their roles and what they all do to make me and story enjoyable to watch. Hollyoaks is my baby for life and I loved my time there."
And that soap experience prepared Deen to take on the demanding role of DCI Naomi Silva in Silent Witness, which incredibly has been running for 21 seasons.
"I thoroughly, thoroughly enjoyed Silent Witness and it is one of the jobs I'm most proud of. The team were amazing, and I played a bad ass, boxing, fighting female detective. You don't see a lot of young black women playing those kind of authoritative roles on national television."
random plays in Leeds Playhouse's Pop-Up theatre, in association with SOYO Leeds, from 4th – 16th February. Box office 0113 213 7700. Book online www.leedsplayhouse.org.uk