Once upon a time young readers were stuck with The Famous Five or The Secret Seven but nowadays there has an absolute explosion of Young Adult fiction tackling every topic under the sun from gender fluidity to global warming.
Malorie Blackman was one of the pioneers of that movement with her 2001 breakthrough novel 'Noughts and Crosses' tackling racism, but with a novel twist. That ground-breaking book is now being brought to the stage by York based Pilot Theatre.
"Noughts and Crosses is set in a world that is almost like a parallel universe to ours where we are in an imaginary version of the UK, which is this dystopian society with segregation," says Pilot's Artistic Director Esther Richardson. "The culturally dominant class are black people, not white people, and it's a reversal that Malorie Blackman wanted to pursue in her story to just make us think a bit about white privilege and race."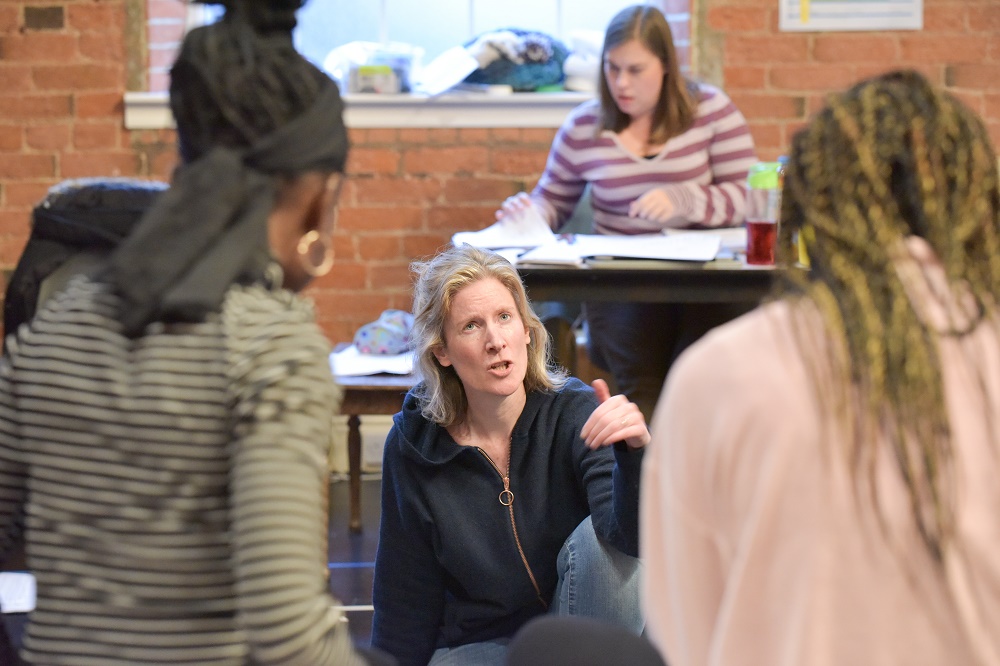 Esther is directing this adaptation by Sabrina Mahfouz as it heads off on a national tour, and the narrative focus is on Sephy, who is the Prime Minister's daughter, and part of the dominant Crosses. She falls in love with Callum who is a Nought, considered to be less than nothing by the Crosses, with terrible repercussions for the star-crossed lovers in their bitterly divided society.
"It is also very, very importantly a love story, and about the risks that we take sometimes for the people we love. It's often been described as a version of Romeo and Juliet, and in some senses that is absolutely right. It is what happens when your only love springs from your only hate. It really does have many parallels to that original Shakespearean text that we know so well."
Like so many productions at the moment Noughts and Crosses is timely in a Britain wrestling with happens to our social fabric after Brexit, and how will closing our borders square with our nation's proud history of tolerance?
"It's a very uncertain time politically, it is quite complicated where we are right now, so it does seem to tune into that uncertainty, and be rubbing at it. There is no getting around the reality that since 2016 racism and xenophobic attacks have been on the increase, and we had a MP murdered by a right wing activist. It is a strange and difficult period in England where we need to do some soul searching about the kind of place we want it to be again."
Richardson first met former Children's Laurate Blackman seeking permission to put the book onstage just days after Donald Trump's election in the US. Blackman's response was to offer the director a big hug for making the suggestion to stage it, and to give her assent to a production that sadly has huge resonance for a world where the Alt Right are spreading their bile.
"One of the things that stood out from that conversation, which she really believes, is that she wishes the book would become irrelevant not more and more relevant," recalls Richardson.
"That meeting was just before Christmas 2016, and my daughter who is four started school in York last September. She goes to a nice state school, and York has great schools, but within the first fortnight of starting school she came home having heard the phrase 'go back to your country.' This stuff is inescapable, and all around us, so it an important time to put this piece of work onstage."
Pilot have always been able to reach teenage theatre lovers, often having their first experience of live productions, but Richardson wants Noughts and Cross to speak to older audience members too.
"100%, because I think this is a more enlightened more politically active generation, and they have got a handle on why this is so important. They are more empathic so this production isn't just for young people, and especially for people who need to get switched on to the reality of what it might be like living in someone's shoes, and their experience trying to navigate round the UK.
"Pilot is one of the key strategic national companies to deliver work for younger audiences, so it was an obvious one to do with our fantastic history. We are a company that engages with diverse audiences and tells stories that are contemporary and relevant. It was a no brainer really to do Noughts and Crosses.
"I had my interview for Pilot before the Brexit vote and even then it was around the edge of my thinking. I always thought would was good for the company as we have an important role in getting schools audiences in. I always think of it as grown work for teenage audiences."
Noughts and Crosses was first staged the RSC by Dominic Cooke over a decade ago, and has since become a staple of youth theatres across the country. But Pilot have their own ways of doing things, and Richardson is clear that this version is very different, whilst still retaining the essence of Blackman's novel.
"We are doing something with this which is very different to the original as we are only using a company of eight actors," notes Richardson. "There are four black performers in this show and four white performers who play literally everything. That's already quite a radical shift, and it is physical and fast paced inviting you to use your imagination.
"We have decided to use AV in this show as there is a whole theme in the book about the media and television. We've tried to make this version about Sephy and Callum and their families but the outer world and the oppressive society is present. We're turning the lens to look at how the system puts these people under pressure as their relationships strain and fall apart."
Tour dates:
16th February 2019 - Derby Theatre
Box Office: 01332 593939 // https://www.derbytheatre.co.uk
19th -23rd February – Theatr Clwyd
Box Office: 01325 701521 // https://www.theatrclwyd.com/en/
26th February – 2nd March – The Lowry, Salford
Box Office: 0843 208 6000 // https://www.thelowry.com/events/noughts-crosses
5th – 9th March - Mercury Theatre Colchester
Box Office: 01206 573948 // https://www.mercurytheatre.co.uk/
12th – 16th March – Bristol Old Vic
Box Office: 0117 9877877 // https://bristololdvic.org.uk/
19th – 23rd March - Brighton Theatre Royal
Box Office: 08448717650 // https://goo.gl/MqnJg6
26th – 30th March – Belgrade Theatre, Coventry
Box Office: 02476553055 / http://www.belgrade.co.uk/event/noughts-and-crosses
2nd – 6th April – York Theatre Royal
Box Office: 01904 623568 https://goo.gl/nbZeZY
24th April – 4th May -Theatre Royal Stratford East
Box Office: 020 8534 0310 https://goo.gl/mD9bQA
7th -11th May -Northern Stage
Box Office: 0191 2305151 // https://www.northernstage.co.uk/