Once upon a time Nick Ahad was the Yorkshire Post's respected theatre critic until he decided to have a go at writing his own plays and his latest Glory gets a world premiere at Lancaster's Dukes Theatre.
His new one tells the story of a ragtag bunch of wannabe wrestlers learning to grapple under the keen eye of a faded TV wrestling star, and Nick is tag teaming this production with radical theatre company Red Ladder's Artistic Director Rod Dixon.
"On one level it is about a group of very different young men who want to take up wrestling for their own reasons," says Nick. "Each of them is battling with something, and they find a refuge in this old knackered wrestling gym in the North of England
"They end up having to fight for the future of the gym, but what we realised in writing, researching and workshopping it that themes have emerged, and it had become a lot more than that. I hate to use the B word, but Rod the director keeps describing it as a post Brexit play, so it's kind of a fight for what contemporary Britain is.
"That sounds really highfalutin, but each of the characters, even though I didn't write them like this, have to come to represent a different kind of Britain. So the play kinds of explores who we are, where we are and where we are going."
Ok, all that sounds very timley with our county in utter turmoil as the date for us to leave the EU looms large, but isn't it pushing it just a bit too much to use wrestling as a metaphor for the UK's biggest crisis in a generation?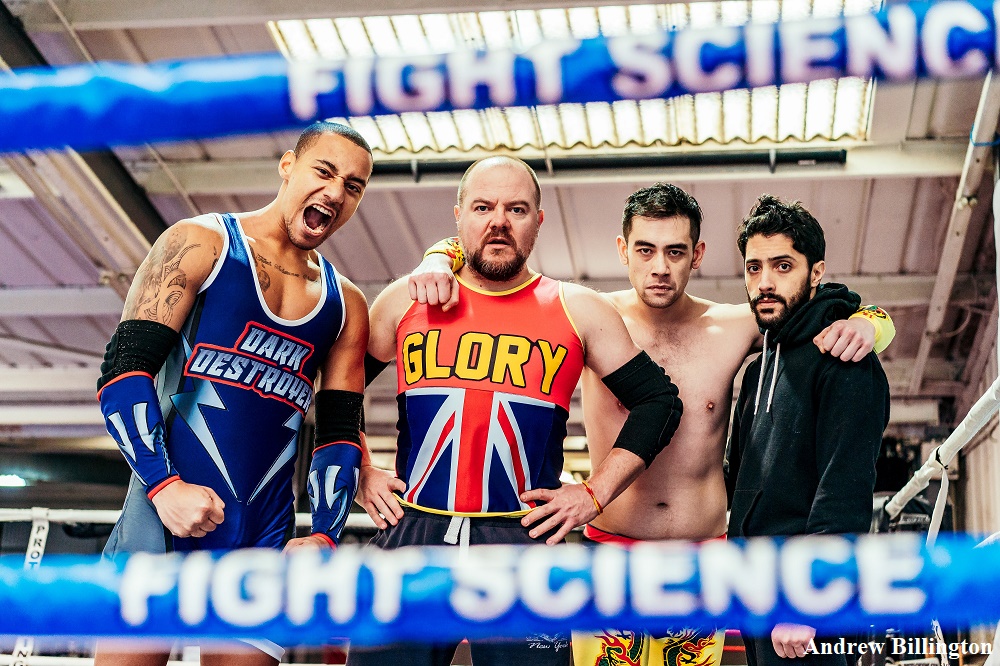 "It's a fair point, and I honestly didn't try to write a state of the nation play. I don't think you can do that as I genuinely sat down to write a fun, perhaps dramatic, play about wrestling.
"But what happens you have a character who is British/Chinese whose parents are Chinese, but he is British born and bred. You have a black soldier who has returned from active service, and you have a Syrian refugee who are all based on people we genuinely met during the research period.
"It wasn't like let's put a bunch of stereotypes in a wrestling ring. It was meeting actual people who have an intriguing story to tell, and that includes Jim the guy who owns the gym. As pretentious as it sounds it organically became a play that explores multi-cultural Britain. "
Ahad's breakthrough work was Partition using a contemporary love story between a British Muslim woman and a Britain Sikh man to look back to the often forgotten horrors during the bloody partition of India and Pakistan. His background of growing up with a Bangladeshi dad and a white English mum has drawn him to examine the contemporary British Asian experience.
"When you are writing stuff in 2018/19 you can't help but be influenced by what is happening around you. I think it's written through the prism of where we are as a nation, and it will be viewed like that.
"For example, having a refugee from Syria is in itself a political statement, so you view that in 2019 perhaps in different ways from 2000, which is why all those themes have emerged from the play."
Anyone who follows Ahad on Twitter during the summer can follows his trials and tribulations as a club cricketer, so it's not surprising sport features in his new play. Sport is perhaps unique as a cultural driver in the way it can bring people and communities together around a shared passion, or the moment Mo Farah, who came to this country as a boy, wins a gold medal for Great Britain.
"Cricket is my game and the team I play for is quite a mixed team. We are from Keighley and we represent the make-up of that town, but on the field we are just cricketers. That is true of any sport that you bring who you are, your politics or skin colour, but ultimately you are just trying to win a football game, a cricket match, or in this case a wrestling match."
The million-dollar question for fans of the grappling game is whether Glory is inspired by the more gritty old school British wrestling, or the flashy histrionics of the World Wrestling Federation?
"I watched the WWF stuff when I was growing up, but for me wrestling was Big Daddy and Giant Haystacks in the eighties," recalls Ahad. "Even though Glory is a contemporary play the gym owner Jim is stuck in the past in the 1980s. When we did the research when we went around, and saw a lot wrestling matches, and even though it is influenced by WWF it looked similar to when I was watching the Big Daddy days of the 1980s. Wrestling today in this country, even though it is athletic and gymnastic, is still rooted in that British tradition."
Ahad used to slog his way round reviewing shows at a wide array of theatres offering his opinion on anything from the latest Alan Ayckbourn in Scarborough to Barry Rutter's work in Halifax giving a Northern voice to Shakespeare. So how much of watching the masters at work did he take in on his theatrical travels?
"You couldn't help but absorb all that stuff as I reckon when I was full time I saw over a thousand plays. You have to be influenced by seeing what works, what doesn't work and why do you like this?
"One of the reasons I started writing plays at all because I didn't see some of the life experiences I had being working class and mixed race. My story wasn't being told that much onstage. I loved being a theatre critic, and my wife says it's like I've done several Masters degrees just by watching that many plays."
Ahad is still a rarity making the journey from being a critic to putting himself firmly in the firing line getting honest criticism from sites like North West End. So how does this artistic poacher turned gamekeeper feel about critics taking his work apart?
"It's really funny as people are so nice in the theatre industry, and I often have to say look I've been a journalist for 20 years you can edit and criticise my stuff as much as you like.
"I worked in TV for a couple of years and that is probably even more cut throat. You write something, and you think it is genius, before you get told to rewrite it. In terms of taking criticism it is water off a duck's back."
Tickets for Glory which runs from Thursday 21st February – Saturday 2nd March are on sale now via The Dukes Theatre: www.dukes-lancaster.org or 01524 598500.