Of all the nineties movies about the impact of Thatcherism the unsentimentally at the heart of The Full Money has meant it has aged the best.
So it was natural this gritty and darkly funny tale of six unemployed Sheffield blokes who decide to form a Chippendales style dance troupe to make money, and regain their self respect. would become a stage show. Former Casualty stalwart James Redmond plays Guy, and is one of the six brave actors who end up baring all as they do the 'full monty' every night in front of hundreds of people.
"There are six main characters who are blokes, and they a bit lost and broke," says James. "They get together to form this strip group, and Guy is confident to start off with, in your face defiant about being gay, which is interesting."
"He's not a good dancer and has his own battles, so has to stick up for himself a bit. He's broke like everyone else and he has a nice scene with the younger guy Lomper. He spots that Lomper might be gay and helps him come out."
Other films like the cloying Billy Elliot about the devastation caused to communities when their traditional industries disappear have a dishonest sentimentality underpinning them. Redmond loves the fact that this is a show that tackles full on tough issues like suicide and male mental health.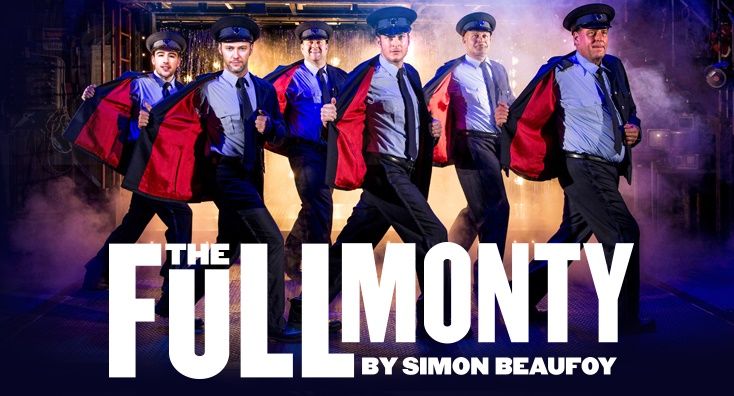 "I like how gritty and honest The Full Monty is because it's based in reality. All these guys up in Sheffield under Thatcher's government where everyone want to buy their council house, and the industry is closed down around them.
"People are stuck because they couldn't sell their properties, nobody wanted to rent then and they couldn't leave. I like that the show deals with that in an honest way, and does so with six blokes using banter."
In another departure from the tired old brave Northern working-class folk getting on with it stereotype the six wannabe dancers are really struggling. and that includes middle class manager Gerald who has also been thrown on the scrapheap.
"It's clever isn't it, so you can get behind all six of the main characters, and feel for them," notes Redmond. "They each have their own issues and vulnerabilities, so Gerald is a Tory voting guy with a mortgage. He has this trophy wife he has been keeping in the dark about his unemployment which is his issue.
"You have Dave being overweight and ashamed, Lomper with a very religious mother who he can't come out to, Gary is trying to find some money to pay his child support and Horse, of course, has a rather small little horse he is ashamed of. There is a reason to encourage each and every one of them to get onstage and do the dance, which the audiences do as they are all cheering and behind us by the end.
"Rather than looking after each they are giving each other digs, which I think is the male way of dealing with stuff."
Another one of the issues the show takes on is male body image as none of the six guys are ripped or gym bunnies. Redmond was a model at the start of his career, so it is an issue he is not unfamiliar with.
"I started modelling as a scrawny, skinny kid really and I couldn't believe it as all the images in the media I saw on the telly at the time were square jawed and muscled," recalls Redmond. "That was just changing at the time and perhaps one way to get over is to do it for a living and get rejected nine times out of ten.
"My character mentions the gym and is it set in 1997, so I was 25 then, and even then gyms weren't that popular. It was unusual to go to a gym yet now it seems the millennials seem to go to the gym instragramming everything. It's all about trying to make yourself look as good as possible which is strange."
Whilst many fans remember the movie for the final scene as the boys pluck up the courage to bare all there is also a memorable moment in the local dole office where they perform an impromptu dance routine to Donna Summer's Hot Stuff.
"The whole play is fun but that is one of the scenes where the audience seem to laugh in anticipation of it as they spot us lining up in the dole queue, and they just start to go. The whole play is written by Simon Beaufoy who wrote the film, so it is very close to that. He won an Oscar for Slumdog Millionaire, so he's a very good writer, and every line moves the thing along or gets a laugh."
The Full Monty team have been on the road for six months and like every acting ensemble have become close. Redmond and castmates Andrew Dunn, Louis Emerick, Joe Gill, Gary Lucy and Kai Owen have become closer than most because of the memorable final moments of the show.
"We did three weeks of rehearsals and each afternoon it was just dancing. It was about two weeks in when our choreographer, the most patient man in showbiz, said let's close the room so it was just him and the six lads.
"I've done lot of nudity of telly, and I did a bit in modelling, but it was still quite daunting. Getting onstage to do it was quite daunting too, partly because you don't want to get the dance steps wrong, and there is the nudity. The six of us being together at the end you really do feel part of a team."
The Full Monty is at Leeds Grand Theatre from Monday 25th March to Saturday 30th March. To book 0844 848 2700 or www.leedsgrandtheatre.com