When the weavers of Halifax built the historic Piece Hall to flog their wares they could never have dreamed that one day it would be invaded by a seven metre high baby and some tanks.
But that is exactly what's going to happen when Mind the Gap who develop the talents of learning disabled creatives and outdoor spectacular specialists Walk the Plank join forces to stage the world premiere of Zara in the Piece Hall's piazza on Friday 19th and Saturday 20th April.
"Zara is a story about motherhood, and the challenges facing mothers, and in this instance our mother has a learning disability, so the challenges that she faces are even more enormous," says Walk the Plank's Creative Producer Liz Pugh. "The way we show that to the audience is we have a giant baby, more than seven metres high, which I hope will help people understand the scale of the challenges facing that particular mother.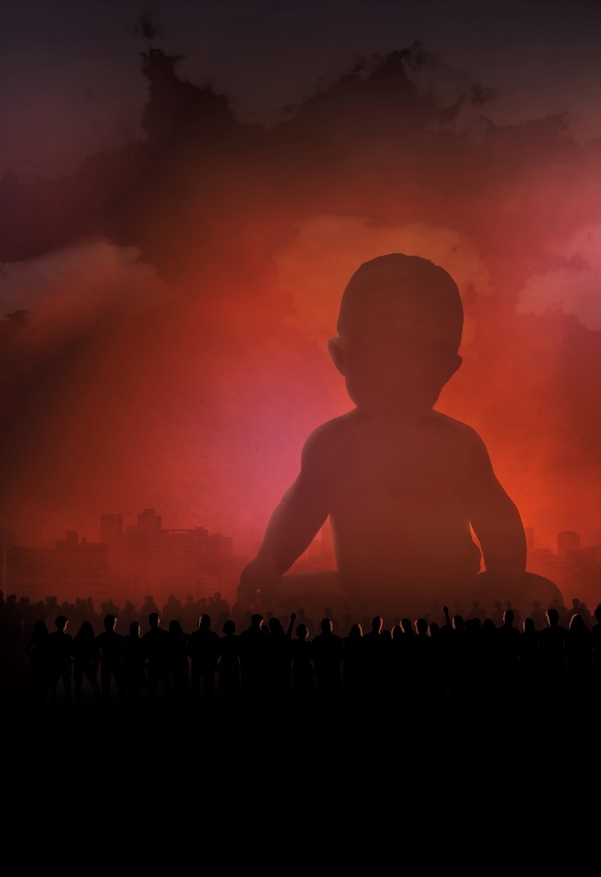 "The baby is an absolutely stunning piece of theatre just herself. The brief to the designer was we are making a baby that we want the audience to love as much as the mother loves it. Francis Morgan is the designer, and he is someone we have worked with before on major projects, so when we did the Commonwealth Games closing ceremony he was part of the team that made that stunning piece of work, and he was part of Derry City of Culture when we did a show called The Return of Colmcille.
"Francis is one of the UK's leading designers, and there are very few people who can make babies that are seven metres tall that has moving hands, eyes and eyelids so I think the audience will be captivated by that giant baby, and that will help us with the storytelling."
For Bradford based Mind the Gap this outdoor show is the culmination of their Daughters of Fortune project exploring the realities of learning disabilities and parenthood for mainstream audiences. The company have an international reputation for developing talent, including Liam Bairstow currently starring in Coronation Street, and another of their stars JoAnne Haines will be playing Zara.
"The whole cast has a learning disability so the project is unusual in that it will the first time in Britain, and probably the world, that we have staged a large scale outdoor spectacular with a cast all of whom have learning disabilities.
"The challenges we face are more to do with the scale of the project, the scale of the ambitions and working outdoors always brings challenges, which is at the root of the collaboration. Mind the Gap are one of Europe's leading learning disability arts company and have been making work for 30 years. We've been making work outdoors for 25 years and know to build that thinking into it."
Mind the Gap have staged outdoor shows before but Zara is a huge step up for them in terms of scale. They have wisely recruited Salford based Walk the Plank who have a long track record of creating complex, award winning work outdoors, including the closing ceremony of the Liverpool '08 European City of Culture, but this is one of their most challenging projects to date as they develop this new relationship.
"I think it is the whole thing integrating 3D projections mapping with an original score, and a cast of more than 100 people. We have the army arrive at one point with tanks, we've got a live feed from screen so logistically there is a lot going on.
"The Piece Hall is a beautiful landscape and backdrop for this performance, but it is also a public space that people are walking through because they are visiting a restaurant or the bars. Part of what we want is for people to really notice that this giant baby has landed in the town, but it also means our rehearsals will be going on as Halifax is going about its business."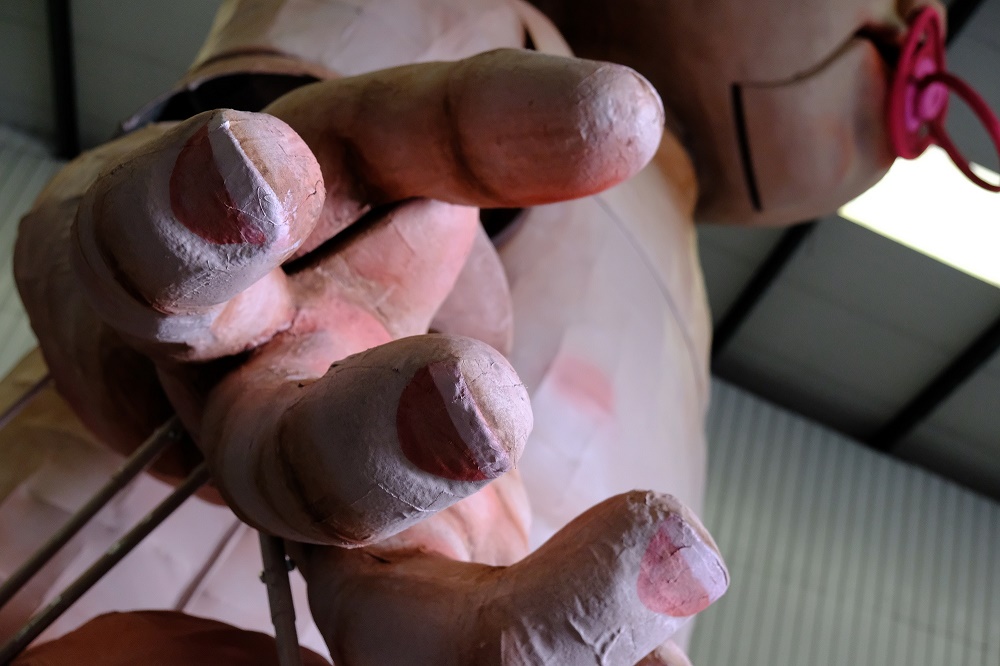 Most people will have attended outdoor events which have been total damp squibs as companies overreach themselves, or others where everything looks great but the content is empty and vacuous. Both companies are experienced enough to be wise to those dangers and have worked hard to meld some hard hitting content with the special effects.
"What is really exciting and important about this work is the research that has gone into this which Mind the Gap have been doing over the last four years," notes Liz. "There a lot of real life stories of people with learning disabilities and their own experiences of parenting. JoAnne who plays Zara was adopted so she understands on a very personal level what that feels like, and understands some of those challenges from her own perspective.
"We are making a show talking about an issue that is not very visible in society unless it happens to you, and what the show is doing is really asking the audience to ask questions about those issues which most people probably don't think about."
For both companies this has been a process that has proved fruitful for Liz and Mind the Gap's Artistic Director Joyce Nga Yu Lee, and one that they hope will create something that will not only be visually stunning, but make the audience think too.
"We didn't want to make something super worthy and one of the great things that Joyce does, and one of the things I've learnt working with Mind the Gap, is the lightness of touch and the playfulness. Although it is a big epic work, and very poignant, but there is also something really joyful about this piece, and there's plenty of humour in it.
"When we approached the collaboration perhaps we were thinking it would all have to be very sombre, and actually it isn't at all."
Zara: Daughters of Fortune has a limited run in Yorkshire and London:
Friday 19th & Saturday 20th April 2019
The Piece Hall, Halifax
Geraldine Mary Harmsworth Park (home of Imperial War Museum), London
Friday 10th & Saturday 11th May 2019
Tickets are priced at £8 and are on sale now Book online at www.mind-the-gap.org.uk/productions/zara