A musical about a whale other than Moby Dick might seem to a big risk but not if you have the golden touch of theatrical mystery man West End Producer.
The anonymous cult hero is a man not afraid to share theatrical secrets and stories through his hugely popular Twitter account, and when holding court at West End openings clutching his beloved Jean Valjean teddy bear. Now the masked man is taking to the boards himself with his first live show, Free Willy!, which he's bringing to the Edinburgh Fringe for a month long run.
"Free Willy! is based on the nineties film classic about a killer whale called Willy and it's the biggest sea mammal aquatic musical of all time," says West End Producer. "The show at the Edinburgh Fringe is me attempting in various ways to find the correct actor to be my willy, if you know what I mean."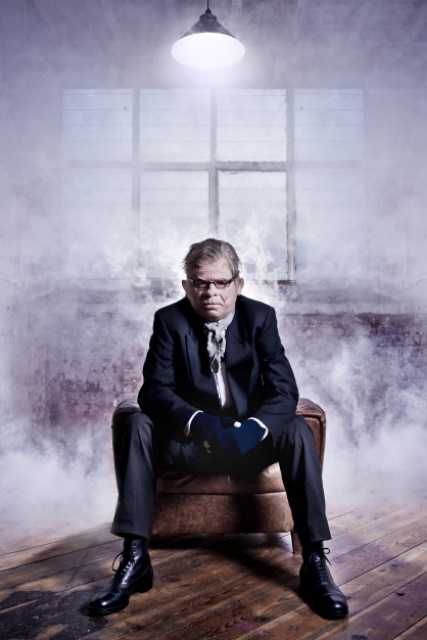 "Each show is an open audition, you see, so the audience are also being auditioned to be part of my Willy ensemble, the dolphin chorus, my singing seagulls, or pirouetting penguins."
West End Producer's pithy and often rude tweets about luvvieland are seen by over 60,000 followers, and he is a fixture in the bar at all the big London premieres offering his views to all and sundry, so why now to produce and star in his own show?
"Well, because someone suggested it and I thought why not? I'm a bit worried as I usually just sit behind the table and make unimportant decisions, but this time I'm going to be onstage and actually performing, It's a whole new thing for me, and I just thought it was going to be quite good fun doing something different, and getting involved with the Fringe is a wonderful thing. So why not?
"The beginning of the thing is me talking as I have to have some of the bloody thing about me, my dear. Then I audition the audience for a while and give them some anecdotes about theatre. It's seeing how good they are in a whale costume, seeing how long they can hold their breath underwater, can they exclusively eat fish or how good they sound at singing my whale songs like 'My Willy Needs To Be Wet' and 'Where Is My Willy'.
"And how they are at speaking Welsh as they playing whales so they need to be able to speak Welsh."
As well as punters seeking their big willy break West End Producer has persuaded some of his showbiz pals to be his special guests, but they will be expected to take their turn in the spotlight too.
"Ones that I'm allowed to say are Reuben Kay, Jessie Cave, Christopher Biggins. Vikki Stone, Marcel Lucont, who is another comedian, and that all I can say at the moment my dear. There's a guest every night and possibly more than one. Dear Biggins is wonderful, and can do everything, so Biggins really could be my Willy."
"I'm going to be hot seating them, giving them whale speeches and asking why they should be a whale. I need actors who have lots of water based experiences."
And as a special bonus the best audition will win the title 'Willy of the Day' and the prize for success is a pair of pants worn onstage by a West End star. West End Producer said on Twitter the 'skiddier' the better so which performers have donated their soiled undercrackers?
"I can't say at the moment my dear, sadly I can't. But I have a lovely roster of genuinely used West End show pants and they are beautiful."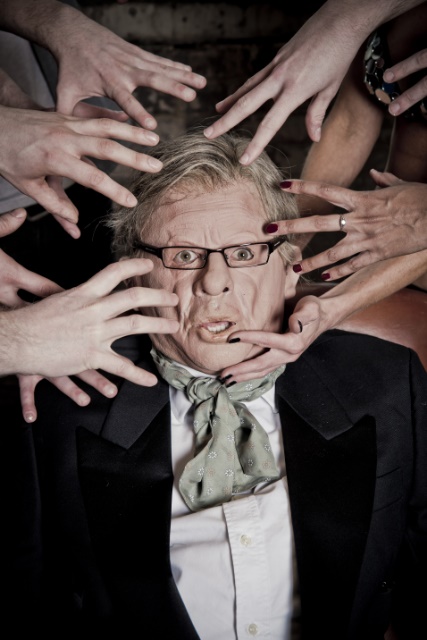 In his long career West End Producer has made dreams comes true, and dashed a few as unsuccessful luvvies trudge out of the door after failing an audition, so is he worried some people might take the opportunity to go north of the border to throw some rotten tomatoes?
"Bring it on, my dear," laughs the man who has seen it all. "As long as they are organic tomatoes I can use in a juicer after the shows they can throw whatever they want. Who knows what is going to happen, which is why it is exciting, as I may have a nervous breakdown halfway through the shows, who knows?"
West End Producer once famously said that plays go on too long and anyone who has sat through the full fat version of King Lear will have a degree of sympathy with that view. The antidote to that is musical theatre so what is needed for a memorable show?
"Jazz hands, lot of jazz hands, wonderful costumes, melodies that stay in the brain, my dear. Performers that act, sing and dance and also face the audience that is useful as well. We don't like things that are too serious, my dear, it's theatre, and particularly in the world we live in at the moment we need a bit of light relief don't we?
"I go to escape, to enjoy, have fun and forget about the bloody awful things that are going on in the world at the moment."
Many of North West End's readers are amateur performers who have aspirations to join the paid ranks, so what advice does this master producer have for them?
"Get as much experience as you can wherever you can," notes the man who has made so many dreams come true. "If you are in local theatre, amateur dramatics, do that. If your school does productions, do that. It's about getting experience, and experienced actors are always learning even well-known ones like Amanda Holden, god bless her. They still train and have signing lessons."
"Make connections, and see as much theatre as you can afford because by seeing actors performing that is the best way of picking up tips. See good theatre, see bad theatre, see all types of theatre and that will have a big effect on how you are as a performer."
A key element of West End Producer's show is using all those years watching good and bad auditions to pass on tips to performers, and he was happy to tell North West End readers how to do perfect jazz hands.
"It is all in the fingering, my dear, you have to have good fingering technique. What you do is you lift your hands up, you hold them to either side of your face, make a fist, so to begin with you are fisting. Then you release the fingers and you suddenly display the fingers so you start fingering a little bit. Then in time with the music you rotate right, left, right, left.
"Splay the hand out as much possible so it should be slightly painful for you that means as much air and distance in between each finger as possible. So it is 'fist, finger, right, left, fist, finger, right left' and repeat as much one wants."
West End Producer – Free Willy! is showing at the Edinburgh Fringe Assembly Rooms 2 July 31st – August 6th and Assembly Checkpoint 12th – 26th August. For tickets and more info go to: www.assemblyfestival.com