When Kevin Kennedy left Weatherfield after 20 years playing binman turned supermarket boss Curly Watts he used his background as a gigging musician to forge a very successful career in musical theatre.
Since then the likeable Mancunian has become a regular on the touring circuit and this time out on the road he is belting out eighties big hair classics as Rock of Ages comes to Leeds Grand Theatre. Rock of Ages was a smash hit on both sides of the Atlantic, and like so many jukebox musical was made into a movie starring A-lister Tom Cruise as cool rocker Stacee Jaxx.
"First off, forget all about the film," says Kevin. "The stage version is completely different, and is designed for one thing only, which is to give the audience the best possible night out.
"It is not Shakespeare, it's not Pinter, it's not even Brecht. It's just a really funny, quite dirty script with the age old story of a rock and roll club in the eighties in Los Angeles which is being closed by developers to be turned into a shopping mall. It's the story of how they try to save the club, with a love story thrown in, with scantily clad men , scantily clad women, great rock and roll songs and a funny, funny, dirty script."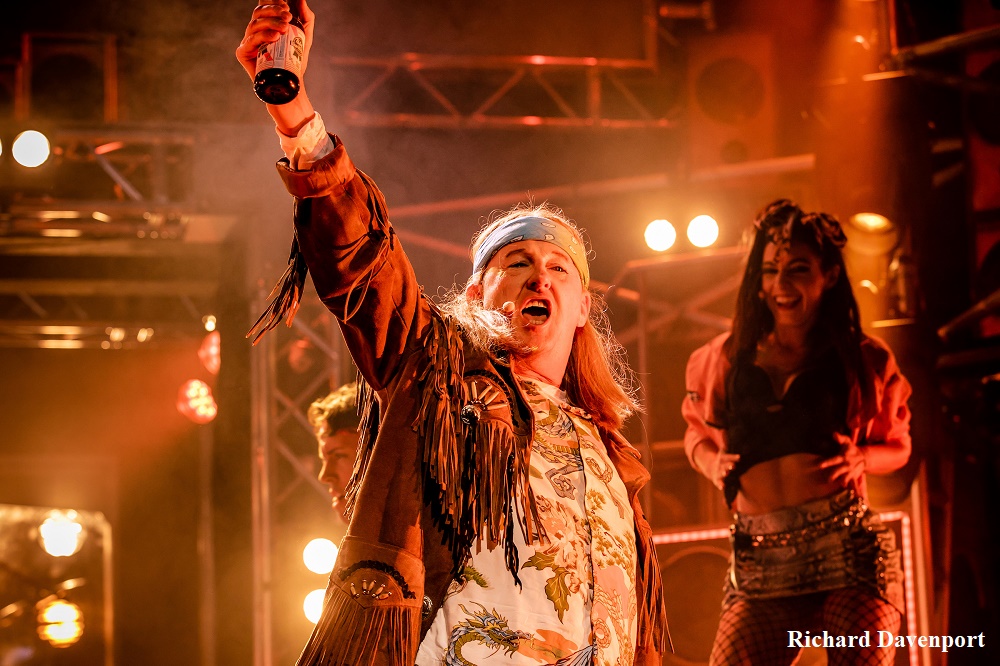 In a mainly young cast Kevin plays an older rocker who has become a mentor to this unlikely bunch of environmental protestors determined to save their club in the holy name of rock and roll.
"Dennis Dupree owns Bourbon Roots, and he has been around for years playing in all the big bands, embracing the sexual and drugs revolution of the eighties with great enthusiasm, and much regularity. He's not quite with it most of the time, but Dennis is also a bit of guru to up and coming bands who he puts on in his club."
There is no disputing the fact that Rock of Ages is a jukebox musical, but unlike some of its other big rivals like Mamma Mia this one doesn't feature just one band's tunes. Instead the audience can sit back as they blasted with eighties poodle perm rock classics and epic power ballads from bands like Journey, Bon Jovi, Pat Benatar and Twisted Sister.
"The list is endless as there are about 25 tunes with every kind of big hair rock anthem of the eighties, so if you have a particular favourite then odds on it's going to be in there. All good music lasts forever, from classical to rock and rock, great tunes will last which is the secret to this show. They are well crafted and brilliantly performed."
While there is no doubt that Curly is a bone fide Street legend, Kevin's roots as a musician go right back to his teens living on Manchester's sprawling Wythenshawe council estate where he formed his first band with hotshot local guitarist Johnny Marr and bassist Andy Rourke. While Kevin set off to acting school Marr and Rourke went on to form The Smiths, who also played a key role in revolutionising eighties music.
"When I was 14 I lived on the same estate as Johnny and we had our first band together called Paris Valentinos," recalls Kevin. "I was very happy when I got a copy of Johnny's autobiography and it was very well documented in the book.
"I try not to bang on about it too much, but Johnny does and said it was the start of his musical career, which meant it has weight to it. That is very flattering, but playing music has always been running parallel with my thespian activities so much so that I was signed by Simon Cowell, got a gold album, played festivals, and America, One of my bands was Bunch of Thieves and we played at Reading Festival, the Mean Fiddler and all the usual haunts."
Combining his musical roots and his acting skills from working on the cobbles with other top flight actors, like Sarah Lancashire who played his ditzy onscreen wife Raquel, the die-hard Manchester City fan has carved out a career in musical theatre, and was in the cast for the world premiere of the stage version of Kay Mellor's hit TV show Fat Friends.
As one of the more experienced members of the cast he helped cricket legend Freddie Flintoff find his feet as he made the scary move from Ashes glory to treading the boards in a new musical.
"I loved the script as you can't go wrong with Kay and I'd never been directed by her," notes Kevin. "That was a really good experience as she was hands on, and very receptive to actor's ideas. Musically it was challenge as it is not rock so it got quite tricky as it's Lloyd Webber type of stuff, but I enjoyed the whole experience and we had a lot of fun.
"I thought Freddie did well, he was very humble arriving saying I know nothing of this, but I'm willing to learn. He was a joy to work with, and very open to direction and hints. He was not a prima donna in any way, good fun and a thoroughly nice bloke."
Opening Fat Friends at Leeds Grand Theatre prior to a successful national tour was a welcome return for Kevin to a historic theatre he has become very familiar with over the years.
"I love that theatre and have played there many times," says Kevin. "The first time was the farce No Sex Please, We're British, which must be thirty years ago, I did Rocky Horror, The Commitments and Fat Friends. I love the space and the city, which is so vibrant, and has a good vide. You can't go wrong with Northern audiences and I think the Leeds audiences will lap this up as it doesn't take it itself seriously, and doesn't expect you to."
Kevin says he has no plans to return Coronation Street, but like so many former Westerfield residents he retains a huge affection for Britain's best soap which gave him and so many other actors their first big break.
"I love Coronation Street and am always very, very fond of it. I grew up there with my actor friends, it was an experience that is unequalled, and it is like one big club. It doesn't matter if you've been away for a while you'll forever be an ambassador for that show.
"We had the best time and it is still up in the ratings as it beautifully done, written and directed. I think it is the principle of British television and was a forerunner, of course, as there were no soaps before Coronation Street. It was a world leader."
Rock of Ages is at Leeds Grand Theatre from Monday 29th July to Saturday 2nd August. To book www.leedsgrandtheatre.com 0844 8482700