When playwright Francesca Joy moved in with her grandad she didn't expect it would result in a new work for her company imagine if based on their odd couple living arrangements.
"Jadek is very loosely based on me living with my blind Polish grandad, so it's not autobiographical," says Francesca. "It's how we connect, so it's not using our real stories just for a bit of fucking drama, a bit of theatre. I spent a long time making up Jadek so going from a real place, but then making up what actually happens."
"It's about these two characters, Tasha and Grandad, and she moves in with her Grandad. It's how these two worlds collide, but in a much deeper way than I've ever seen with anyone else. It is their worlds where they have this one thing in common, come together, explode and maybe come together again?"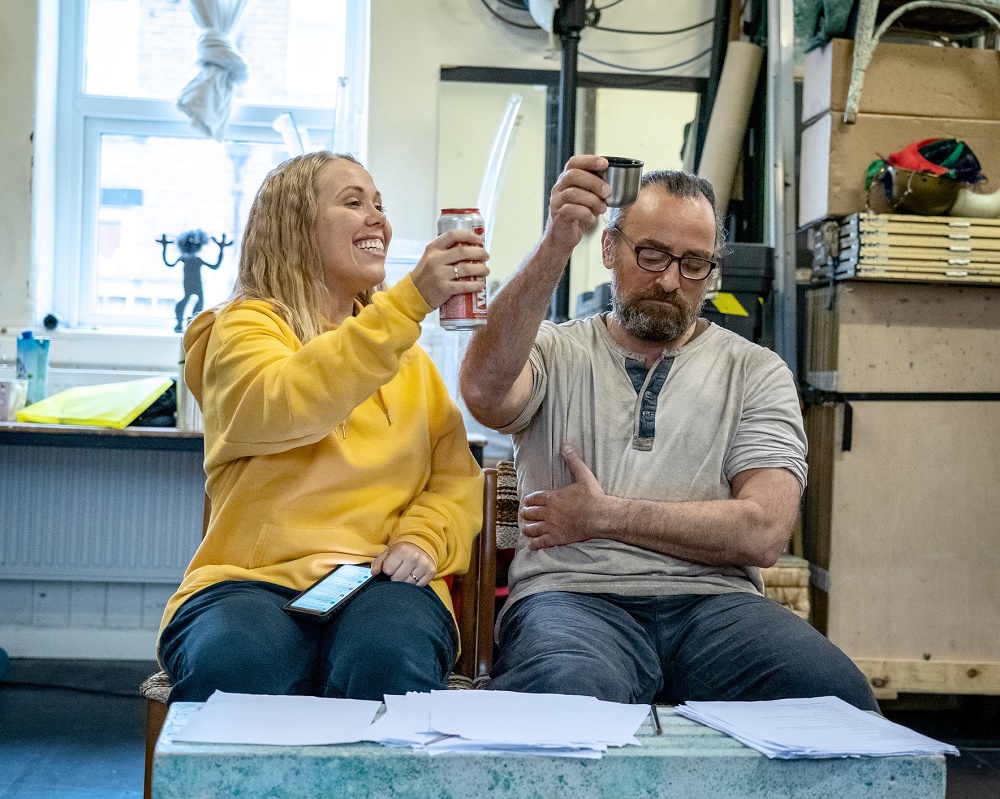 Francesca is very clear that she wants some clear blue water between the reality of her relationship with her grandad and what she is prepared to put on stage. So how has she managed to resolve that tricky artistic conundrum?
"I'm still learning that to be honest as I've spent about 10, 15 years in the arts world, and had people take directly from me, and not care about the effects," recalls Francesca. "They take what they can, they see my working-class background as poverty porn and say 'oh, we'll take that.'
"When I was younger and more impressionable, I thought that's great 'they want me', I'll give them it all, and not realising that would have a really bad mental health impact on me for a quite a few years mentally, financially and how I believe in myself. I've started to see that more and more, and do my best not to let that happen."
These days Yorkshire and born Francesca who grew in care from the age of 15, but has recently worked with Tim Robbins and his The Actors' Gang Company, has people in the rehearsal room and around her that she trusts. She has also put other measures in place both on and off stage to protect herself.
"I've had certain non-negotiable things. So, for example, I have therapy every week for my own life, and it is non-negotiable that I leave rehearsals to go to therapy, it is not negotiable that I give up something that I physically need, so it is about setting boundaries.
"I'm at Grandad's house and we've having a chat it is not verbatim, it's not taking exactly what he is saying but looking at a parallel. It's about looking at the trauma I've experienced, and how can I turn it on its head so it's relatable to an audience, and everyone in the world can understand what is going on, but it's not the exact same trauma.
"It is still very close to me, rehearsals are still very emotional and very personal, but it is just giving me a little bit of distance."
The grandad character is 94 and part of that generation of Poles who came to this country after somehow surviving the maelstrom of the Second World War making new lives here. For Francesca it is vital that we learn the lessons of history from that golden generation who won't be here that much longer.
"Old people are my favourite people in the world, I seek them out, because they have so much wisdom. We shut them out, don't listen to them and minimise them. People who were in World War Two a lot of the stories become almost unbelievable, there are direct parallels with my life in the way I was brought up and how I've literally survived my own wars is unbelievable."
"When I go into theatres, and write about it, people don't buy it so in my theatre plays I literally have to minimise what happens because people don't believe it. I want people who come along to have that mirror so the audience can project their own world onto the actors and there is some active change there."
Another area where Francesca is keen to introduce some authenticity is her own cultural background, and as part of that she cast former Coronation Street star Piotr Baumann as Grandad.
"I'm 30 and I've never in my life seen a Polish person onstage, or on TV, who is not a cleaner, a drug dealer or an immigrant," notes Francesca. "I didn't even notice it until I wrote this play, and thought oh, my god where are all the normal Polish people?"
Like many working-class artists Francesca has a near obsession with throwing opening the white, middle class gates of theatreland to everyone. This is a play that features a blind character, so the audio description is really important, and Francesca asked a couple from Dewsbury to do it.
"Theatre is so far removed from them, they think it is posh, but inviting them to be part of it means that anyone who is working class if they are visually impaired, and have the audio description on, they might feel a bit more at home hearing a very strong Yorkshire accent.
"So if you are the artistic director of the National Theatre, a guy who has just got out of prison, a kid in care or a woman who works at Argos we all become one in that room. It's not against you and it is really about inclusion."
Tour dates:
October 16th: York Theatre Royal – www.yorktheatreroyal.co.uk
October 17: Phoenix Theatre Blyth – www.thephoenixtheatre.org.uk
November 2: Derby Theatre – www.derbytheatre.co.uk
November 6: Stephen Joseph Theatre Scarborough – www.sjt.uk.com
November 8: Shoebox Theatre Swindon – www.shoeboxtheatre.org.uk
November 12: CAST Doncaster – www.castindoncaster.com
November 14: Theatre Deli Sheffield – www.theatredeli.co.uk
November 17: Slung Low Leeds – www.slunglow.org
November 21: Square Chapel Halifax – www.squarechapel.co.uk
November 29: Touchstones Rochdale – www.link4life.org
December 4: Barnsley Civic – www.barnsleycivic.co.uk