Leeds Playhouse have always been interested in what happens when cultures clash and they've taken that to the next level by commissioning a new play that will be performed in Japan and then on Quarry Hill.
Missing People written by Pinter Prize winner Brad Birch is the natural next step for the Yorkshire team's long-term relationship with the Kani Public Arts Centre near Toyko. This bilingual work will be co-directed by the Playhouse's Associate Artist Mark Rosenblatt and Kani's Associate Director Nobuhiro Nishikawa.
"It's about a young Japanese woman who is living in the UK going out with a guy from Leeds and they are going to get married" says Mark. "They go back to Japan to meet her family, and she's a bit estranged from them, so it starts as a meet the family story, and quickly becomes something different and darker because she realises that her brother has gone missing."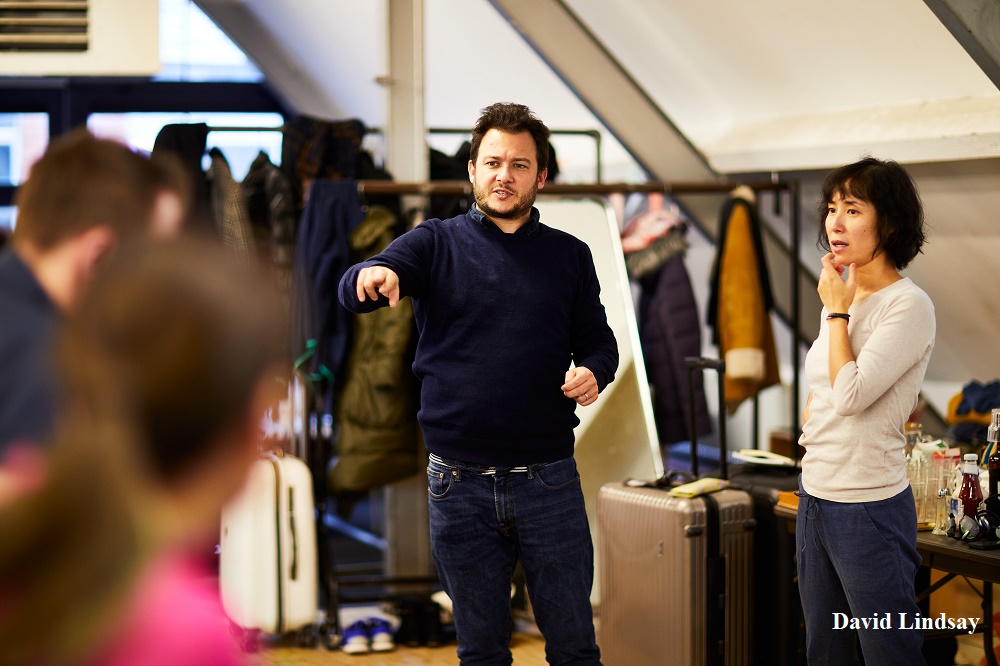 Missing People has already opened In Japan before coming to Leeds for a run that starts on Thursday 12th March. The long-term relationship has been brewing for over a decade as two theatres from different sides of the world swapped ideas and people.
"Kani's artistic director Kisei Ei has a similar passion for working in the community in the way Leeds Playhouse has as well. He has taken note of the kind of work we have been doing, so they've set up a few staff exchanges, and of practice and ideas, mainly to do with work in the community, or people in hard to reach communities who are otherwise excluded from the arts. It just became inevitable that we would make a show together and Missing People is the culmination of that."
So why now after such a long time working together in other ways was the decision made to commission a high profile commission for both theatres?
"Partly it's pragmatic as it is the Tokyo Olympics this year, so there is a Cultural Olympiad, and there is money available to make art and do collaborations," notes Rosenblatt. "It may be less conscious, but it's a moment that it could be argued we are disconnecting a bit from other countries, so it feels really urgent that we are keeping connections going, and making a story together that is performed in both languages.
"It is about communication and the difficulty of really listening to each together. Really listening rather than just understanding the words we are saying to each other and it feels like a very contemporary piece."
Rosenblatt has just returned after an intense period in Japan working alongside Birch and local theatre makers as they prepped their end of this cross-cultural experiment. So what are the challenges of creating work in two different working cultures?
"The way that we make theatre is in some ways very, very similar and in other ways critically different. In the experience we've just had practically they like to rehearse a play so that's locked for the first performance, and that's it. We have previews, press night so we keep working all the way through.
"We wait until an audience sees it and try and gauge how it is going down; see what is working and what's not, and they don't for loads of reasons."
That meant Rosenblatt really having to readjust the way he works preparing a new work after years directing work for companies including the National Theatre, Shakespeare's Globe and the Young Vic.
"They staff rehearsals in a very different way so they have sound operators and full technical crew in the rehearsal room, the stuff we don't generally have until quite late in rehearsals, and often into the technical rehearsals. They want to lock and print it where we are interested in exploring, dismantling and cutting and changing.
"I think we had to compromise and negotiate how we resource the process and how they resource it. We had to split the difference as the technical rehearsals were quite short, I wasn't used to working that way at all, and it freaked me out. We had to compromise on time all the way through, but it was very, very rewarding."
And just make Rosenblatt's task even tougher he initially had to offer his thoughts on Birch's text via interpreters as cast and creatives worked out the best way to communicate.
"I've watched Japanese and British actors who can't actually speak to each other outside of the scenes they are in working together and trying to work it out," recalls Rosenblatt. "There are some brilliant scenes in the play with Japanese and British actors talking quick fire across each other and those actors can't communicate with each other outside of that scene.
"It's been amazing to collaborate through interpreters, and understand their culture and our culture, then to go open it in Tokyo at the new national theatre was a real thrill."
So, what does Rosenblatt hope a local audience will get from Missing People when it begins its run in the UK?
"It will become like a new play in Leeds because it will be seen through the other end of the telescope. Suddenly the characters that the audience will be following will be the Leeds characters going to Japan and meeting this culture head on that they don't quite understand.
They will get a chance to walk in the shoes of the British characters trying to comprehend this quite different culture, but also finding a lot of commonality in the Japanese culture and their characters."
Missing People is in the Courtyard Theatre from Thursday 12th March to Saturday 21st March. To book www.leedsplayhouse.org.uk or 0113 2137700