David Harrower's Blackbird is coming to The Hope Street Theatre, and it was with some delight that I caught up with Bex Culshaw of Roots Theatre to learn some more about this remarkable play that raises serious questions about society and morality.
Blackbird sees the reunion of two former lovers who meet after fifteen years when Una tracks down Ray at his office. Few reunions of this sort are happy but this one is especially fraught, courting ethical dangers as power games succumb to emotional remembrance, and one is forced to question whether there was – and is – love involved in this distressing two-hander.
Artistic Director Culshaw explains that Roots Theatre is a platform for exploring social issues and in particular how they affect women.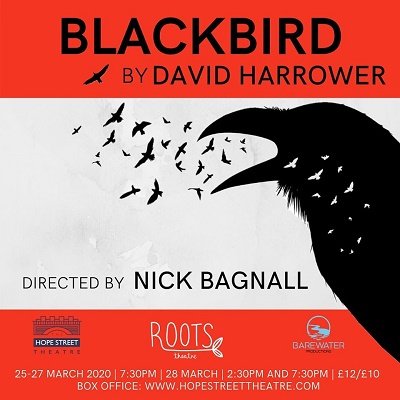 Blackbird is their third production with earlier productions, Consent, looking at rape and what is consensual sex, and Di, Viv, and Rose, charting the steady but sometimes chaotic progression of three women's lives and their ultimately enduring bonds.
Culshaw adds that working with Sam Donovan of The Hope Street Theatre and Ben Rivers of Barewater Productions along with some welcome Arts Council funding has assisted with bringing this piece from the page to the stage. She then managed to go one step further by approaching Nick Bagnall of Liverpool Everyman and Playhouse who, after some discussion, was convinced by Culshaw's vision and agreed to direct. With Culshaw opting to play Una, the only question remaining was who should play Ray.
Step forward Paul Duckworth, better known for his regular comedic performances at Liverpool's Royal Court, but with a strong acting pedigree that was best epitomised with his 2017 performance in The Lonesome West, the final part of contemporary playwright Martin McDonagh's darkly comic 'Connemara Trilogy'.
The challenge for both Bagnall and Duckworth is to take themselves into the intimacy of a smaller performance space where there is nowhere to hide. It is a testament to the strength of their character and ability that both have leapt at the chance and I am really excited to see how this powerful combination – Culshaw included – unfolds and leaves marks on its audience which they won't even be able to imagine let alone comprehend before they go in to see this play.
So, what's next for Culshaw, I wonder, a slightly unfair question since her every attention is currently on this upcoming production. She acknowledges theatre is a tough industry and in spite of some understandable initial wobbles after she graduated, Roots Theatre has allowed her to take control of her own path and explore issues that matter to her. She is linking up her work with female charities on Merseyside that it resonates with as an opportunity to give something back. Beyond that she is a little coy, but I think we can safely expect a transformative impact from her on the Liverpool theatre scene over the next few years. I look forward to it.
Blackbird plays at The Hope Street Theatre, Liverpool from Wednesday 25th March through to Saturday 28th March with performances starting at 7.30pm. There is a matinee performance at 2.30pm on Saturday 28th March. Tickets are priced at £12.00 (£10.00) and are available via www.hopestreettheatre.com or through the box office on 0344 561 0622.