With a cast of 60, and written by award winner, Stephen Schwartz who enjoyed success with his smash-hit play 'Wicked', this production has captured the spirit of the movie. This electrifying new production tells the story of two young men raised as brothers, but find themselves divided, due to an unknown secret, which changes them: and history, forever.
We spoke to Adam Filipe, who is enjoying his ensemble role, also understudying for the roles of Moses and Ramses.
Where and when did you do your Drama School training?
Arts Educational Schools, London from 2015 to 2018.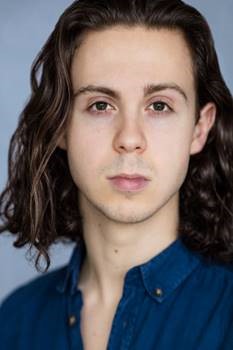 Do you have any advice for people leaving Drama School later this year?
Only advice would be to be proactive. Keep singing, build up your repertoire, which is important for future auditions. Some dance classes are being taught on Instagram Live by top notch industry people. You could also practice self-tapes to get better at them or learn a new accent. All these skills will help to build your confidence and make you ready for when the time comes.
What attracted you to be a performer? Did you always want to go into Musical Theatre?
I saw the production of Les Misérables when I was 13 and since then I was set. I couldn't believe that theatre could touch you so much, and I knew then that I wanted to spend my life re-creating that feeling for other people.
What is your dream role?
Maybe Zorro! I've just seen Ricardo Afonso play him at Cadogan Hall and he was incredible. The swashbuckling, the flamenco, the music of the Gypsy Kings. It would be right up my street!
What are your top 5 favourite musicals?
(This was tough!)
1. Les Misérables (Boublil & Schonberg)
2. Hunchback of Notre Dame (Menken & Schwartz)
3. Miss Saigon (Boublil & Schonberg)
4. The Light in the Piazza (Adam Guettel)
5. The Robber Bridegroom (Uhry & Waldman)
Apart from musical theatre, are there any other genres of theatre you would like to try, e.g. Shakespeare?
I want to be as versatile as I can be, but one thing I'd love to do would be motion-capture! Getting to exercise the stunt-side of my craft and running around in a bobble-suit!
Your latest show is The Prince of Egypt where you have an ensemble part, but you are understudy for Moses. How is it going?
It was a blast! The ensemble is crucial to the show as so much of it relies on physical theatre and we are, therefore, always on our toes. If you disengage for a second, you'll drop the ball for someone else, so it's all about working as a team in The Prince of Egypt.

Have you had the opportunity to play Moses yet?
Actually, I have, a little ahead of schedule! We'd had one rehearsal for the covers, and I'd worked about 15 minutes into the show, then one day after that I got a call saying I was being thrown on that night! It was such an experience, fuelled 100% on adrenaline, but all went well so I was very happy. I got to do the role for about a week after, until the theatre was shut.
You were 'swing' in Les Misérables at the Queen's Theatre, London – how many roles did you cover?
13 in total. 11 ensemble boys, plus one first cover and a second cover.
How do you prepare, when you could potentially play any of these characters, at any time?
You can't cheat your way into being a swing, it's just about repetition. I'd recite everyone's tracks chronologically before bed every night, I'd watch the show from the wings, etc. Then, also keeping on top of the source material (Victor Hugo's novel), so that each character was totally different, individual and not just painted with the same brush. I was first cover for Grantaire and the second cover for Bamatabois.
What is your favourite Les Misérables character?
Probably Grantaire. I got to play him a lot more than I anticipated and there's a freedom with his track that is quite rare for a long-running production. Very little is choreographed. There's also quite a large fanbase for him; a lot of people tend to connect with his struggle and so the chats at the stage door were always interesting, talking to people who knew the character as well as I did.
Adam Filipe
Training - Arts Educational Schools, London
Theatre - Prince of Egypt (Dominion Theatre), Les Misérables (Queen's Theatre), Top Hat, Cabaret (Arts Educational Schools)
The Prince of Egypt will continue at the Dominion Theatre post Covid-19. Full details can be found along with ticket information at https://www.theprinceofegyptmusical.com/