There is an army of people you never see when attending theatres across the globe, but without them shows would never happen. North West End UK sat down with Greg Sharman, Assistant Stage Manager on RSC's Matilda the Musical in the West End to find out exactly what goes on in the shadows.
What got you interested in working in the arts? How old were you?
I was actively involved in amateur theatre in the days of my youth. I am from Aberdeen (which has a thriving youth & amateur theatre scene) and it was there that I first learned about the backstage jobs that are available in theatre. When I realised that the life of an actor wasn't for me, I did less onstage roles and got more experience in technical theatre instead.
Tell us about a day in your working life? What are the challenges and highlights?
The best thing about working on the RSC's Matilda The Musical is that no two days are ever the same. As an Assistant Stage Manager, a typical day might consist of some prop maintenance, which could be fixing or replacing items that may have broken (this is why it's always advisable to have a selection of spares), buying consumables (props that are either consumed by the actor onstage or things that need to be replenished such as chocolate spread) or generally making the props look as good as they possibly can be. It's only natural that things become grubby and worn after constant use, so it's really important to keep on top of maintenance.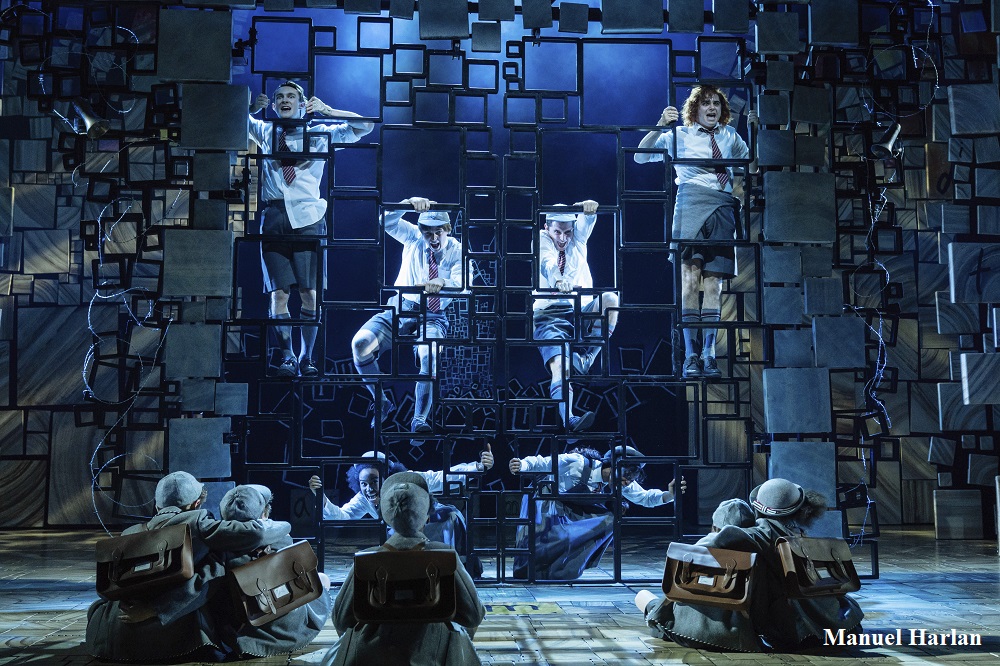 Other tasks include updating cue sheets and lists when required and responding to any notes we are given by either our Stage Manager or the Resident Creative Team. In performance, we generally perform one of three ASM plots, which we rotate between us each day. These plots consist of specific cues which range from the setting & management of props in the right place at the right time, ensuring actors and crew are in the right place and solving problems as they arise. During a performance, the Stage Manager is in overall charge of the stage during the show and will generally be checking that scene changes happen safely and will be able to solve problems quickly when needed. The Deputy Stage Manager 'calls' the show during performance, which means that they cue everything that happens on the stage including Lighting, Sound, Automation, Fly & actor entrance cues at the right time. The one big advantage of having the DSM call the show is that the cues happen consistently at the correct moment and certain cues can be delayed, if needed, to ensure the safety of all those involved.
What are your favourite projects that you've worked on? Why did you enjoy these so much?
I really enjoyed working on Nell Gwynn at the Apollo Theatre on Shaftesbury Avenue in 2016. It was my first West End job, so I will always have a fondness for it for that reason alone. But more than that, it was the perfect show to work on. It was my first time working with director, Christopher Luscombe, whom I have gone on to work with several more times since. It is always a joy to work with him. The show had a really brilliant ensemble feel to it, which helped to create a really relaxed and friendly atmosphere and it went on to win best comedy at the 2016 Olivier Awards.
Another favourite project was the Love's Labour's Lost & Much Ado About Nothing double-bill, which was originally presented by the RSC in 2014. The 2016 revival was co-produced with Chichester Festival Theatre where it also initially previewed before transferring to Manchester Opera House and the Theatre Royal Haymarket in the West End. The productions played in rep and quite often involved speedy turnarounds between shows. I was a book cover on these shows, which means that I had to learn how to call the cues from the prompt copy for both shows, which was a huge undertaking, but ultimately very fulfilling as I got to call each show several times.
Are there any dream projects for you? Any shows or people that you would really like to have the opportunity to work with?
I have always wanted to work at the National Theatre. I did a placement there while I was still at drama school, so I got a taste for it, but I have yet to actually work there.
I think I'd like to work for Disney Theatrical one day on one of their stage musicals. There have been so many successful Disney musicals in the West End in recent years such as Aladdin, The Lion King and Mary Poppins - they are real spectacles that encourage young, first-time theatre-goers to visit the theatre with their families. It has also recently been announced that the West End production of
Frozen is scheduled to open at the newly refurbished Theatre Royal Drury Lane at the end of the year.
In terms of people I'd like to work with, I've always wanted to work with Patrick Stewart (of Captain
Picard fame). I have been lucky enough to meet him via a friend who was working with him on a show at the time, so that was particularly thrilling for me. I don't usually get star-struck, but this is the only exception so far.
I always wish I had been able to work with the late, great theatre director, Peter Hall. He was
instrumental in developing two of the Nations' greatest theatrical institutions, The National Theatre & the RSC and he was well known for being one of the great directors of Shakespeare.
What is the key to a successful working relationship with actors, directors, technical staff, crew etc?
The most important qualities in a successful Stage Manager include being watchful & alert, the ability to use your initiative, knowing how and when to delegate tasks to others, working well under pressure, being inquisitive and the ability to employ a certain degree of tact. A Stage Manager is the conduit between departments, so it is really important to communicate accurate information. When in rehearsal, important information is often distributed to each department in the form of rehearsal notes, which details all the relevant things that everyone needs to know for the production to happen as intended. The key to successfully dealing with actors and directors is to try to be several steps ahead to anticipate problems before they arise and to deal with situations calmly and with a degree of tact, so that actors can be persuaded to do what you want them to do in the safest, most efficient way possible.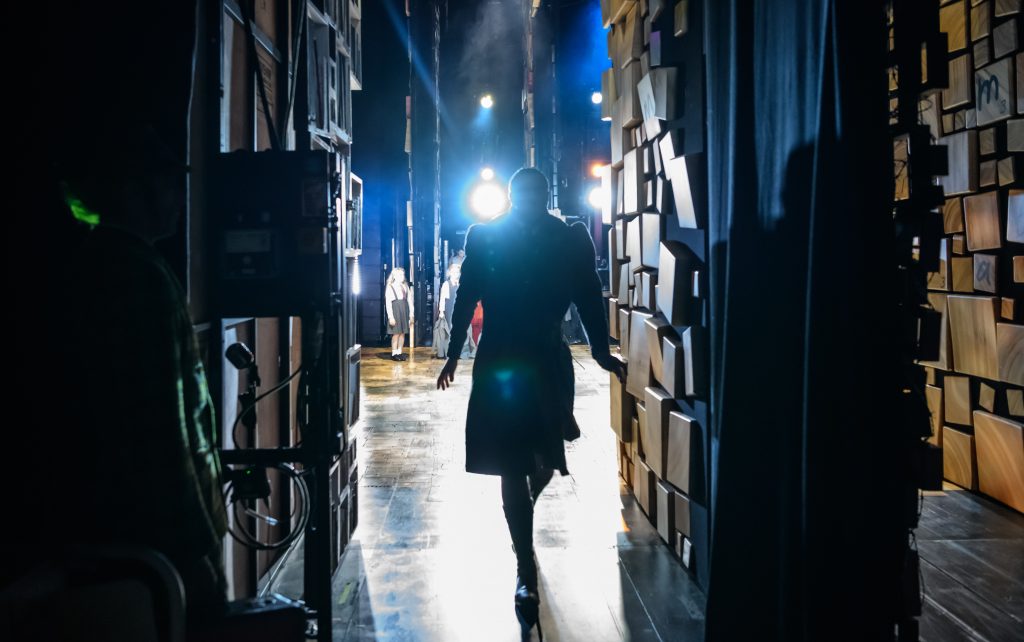 What are your top 5 shows that you have seen?
I will try to make this more varied, but quite a lot of the shows I enjoy are musicals.
The first show on my list is Les Misérables. It is my favourite musical and has garnered so many awards and records all over the world. I've seen many different versions over the years including the 1998 UK tour at the Edinburgh Playhouse (with the wonderful Jeff Leyton as Valjean and Peter Corry as Javert), at the Palace Theatre, London in 2004 (with Jon Lee as Marius), the 25th Anniversary concert at the 02 arena in 2010 (with an all-star cast) and most recently at the Queen's Theatre in London before the original production was replaced by a newer version. I've always loved the epic, sweeping score, which perfectly captures the themes of love, redemption, mercy, judgement & forgiveness and the story is a timeless classic. The original production was also a really good example of how the design of a show can have an impact on the story-telling & pacing as well as the physical look of the show. The original designer, John Napier, has said before that the revolving stage concept gave the show "a dynamic that is sculptural and not painterly" as well as a sense of "motion & travel".
The 2nd show on my list is Parade by Jason Robert Brown. The show first played on Broadway in 1998 and was directed by Harold Prince. I fell in love with the score, which made me do some more research on the real-life events that the show is based on. I had to wait until 2007 to see it in the UK when a production opened at the Donmar Warehouse. It was directed by Rob Ashford and starred Bertie Carvel as Leo Frank (who also went on to originate the role of Miss Trunchbull in the RSC's Matilda – The Musical).
The 3rd show on my list is The History Boys by Alan Bennett. I first saw the show during its 2006 UK
Tour directed by Nicholas Hytner. and it is one of the best plays I've seen. One of the best things about the show were the slick scene changes, facilitated by Bob Crowley's clever design, consisting of several sliding walls that became an array of different locations. The play deals with some big questions about the purpose of education, financial inequality, hidden sexuality and the use of knowledge. I love plays that really make you think and Alan Bennett is a master of exploring complex notions about the state of aspects of our culture and society.
The 4th show on my list is Something Rotten, which I saw on Broadway in 2015. This was my first
Broadway show, so I will always remember it for that reason, but the show had a really funny, witty
book & a very catchy score. It follows the story of Nick Bottom, a down on his luck writer who attempts to reach the same heights as Shakespeare by stealing the idea for his next play. I've been hoping that this show would transfer to the UK at some point and Birmingham Rep has recently announced a new production, to be directed by Sean Foley, which is due to open in October.
The final show on my list is The 39 Steps, adapted by Patrick Barlow. The show originated at West
Yorkshire Playhouse in 2005 before transferring to the Criterion Theatre where it ran for 9 years. The
concept of the show called for the entirety of the story to be performed by a cast of only 4 actors. One actor played Richard Hannay, an actress played the various love interests and two other actors play every other character. This required very fast costume changes and an imaginative use of props, which were often re-positioned to become different items and locations. It was generally played for laughs, but Hannay was played as the "straight" man who often helped to develop the punch lines and drive the story forward. I was lucky enough to work on a version based on this production for Pitlochry Festival Theatre's 2012 summer season. I got to experience first-hand how fast-paced this show was on and off stage.
What advice would you give people graduating from theatre school or hoping to break in to the industry on the technical and stage management side of things?
The most important thing to do is gain as much experience as you possibly can. Any first-hand
experience is useful. This could be school, college or university productions initially. Youth and
amateur theatre companies are also a good training ground. For instance, British Youth Music Theatre Company, NYMT or NYT offer Stage Management apprenticeships, which can be useful for developing skills whilst being mentored by professional practitioners.
It is a good idea to contact your local theatre to ask if you can shadow different backstage departments during performances to gain an insight into what's actually involved.
It really helps to develop contacts within the industry, so try to get your name and face known. The
best way to do this is by organising industry placements, attending training courses offered by the SMA, attending industry events such as the ABTT theatre show or find out the name of the Company
Manager at a producing theatre so you can write a letter expressing your interest in gaining work
experience. I know that Birmingham Rep and Chichester Festival Theatre have offered technical
theatre apprenticeships in the past. This could be a good way of bridging the gap between High
School and Drama School.
Apply to Drama School. There are some exceptional schools offering specialised courses in technical
theatre such as Central School of Speech & Drama, LAMDA, RADA, Mountview, Guildhall & Rose Bruford to name but a few. They are not looking for fully formed professionals at the interview stage, so just be yourself and try to show how willing you are to learn, respond to advice, work with others and display knowledge you currently have that can be built upon. Drama School will give you the practical skills to be able to confidently enter the profession, but they are a very useful for putting you in touch with successful alumni who can mentor you through your course, helping you to organise placements as well as encouraging you to decide what kind of practitioner you are going to be.
Name: Greg Sharman
Role: Assistant Stage Manager
Production: RSC'S Matilda The Musical (West End)
Training: Central School of Speech & Drama (2008-2011)
Theatre includes: Twelfth Night (Royal Shakespeare Company); The Country Wife, Sweet Bird of Youth, Love's Labour's Lost & Much Ado About Nothing (Chichester Festival Theatre); The Trial (Young Vic); Peter Pan, Snow White (Qdos); Men Should Weep, An Appointment With The Wicker Man, A Christmas Carol, Let The Right One In (National Theatre of Scotland); A Satire Of The Three Estates (Historic Scotland); Birdland, The Internet Is Serious Business and The Twits (Royal Court); The 39 Steps, Rope, Communicating Doors, Dear Brutus (Pitlochry Festival Theatre).
West End includes: RSC's Matilda The Musical (Cambridge Theatre); The Twilight Zone (Ambassadors Theatre); Don Quixote (Garrick Theatre); Witness for the Prosecution (City Hall); Love's Labour's Lost & Much Ado About Nothing (Theatre Royal, Haymarket); Nell Gwynn (Apollo Theatre).