Fresh of their win at The Greater Manchester Fringe Awards for the hit play Porno Chic that picked up the award for Best New Drama and Nominated for the Write for the Stage Award, Manchester's most successful fringe theatre company Vertigo Theatre Productions are back this December with the brand-new drama 'Black Ice' opening at The Kings Arms, Salford on December 13th – 17th.
An old house in a small town in America on Christmas day is the setting for this new drama from the company behind the smash hit plays Porno Chic (award winning), Last Dance (critically acclaimed), Ascension (critically acclaimed), Exam (world premiere), M (Award Winning), Rage, Watching Goldfish Suffocate (3 time MTA nominated), Mysterious Skin (Award nominated) and many more.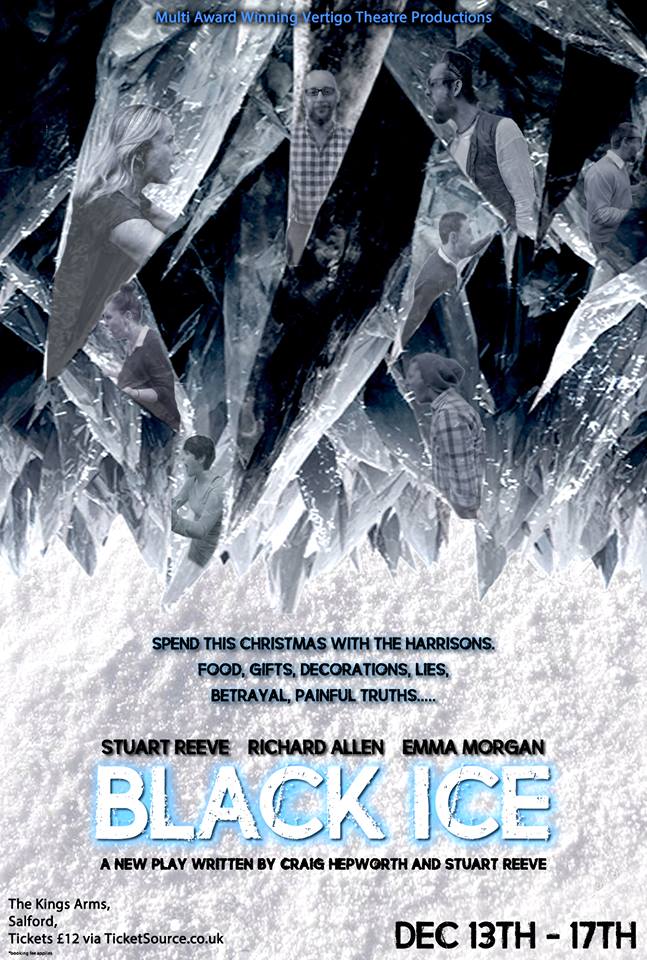 Brothers Bill and Jonathan Harrison experienced nothing but disapproval, violence and mental abuse from their parents when they were growing up, when they could, the boys left the house to start a fresh and never speak of the hell they went through and what they heard in that house. Now as adults and one with his own family, this year's Christmas will take place in the very house they ran from as kids. With their parents recently deceased, Bill tries to have the Christmas he always wanted in the family home that he always despised. However dark secrets haunt this family, secrets that could rip them apart, but whilst the dark cloud lingers over the house, The Harrison's will never be able to move forward, and at this Christmas family gathering the truth will reveal itself and everybody will be changed forever.
From the multi award winning writer and Director Craig Hepworth and his co-writer Stu Reeve, 'Black Ice' takes a look at family and how the past can affect the future and how secrets can be destructive to all involved.
With a stunning cast, Black Ice promises to be a night to remember for audiences and a night that will change everything for The Harrison's.
Tickets are already selling fast with the Saturday the 17th Performance already sold out and most of the other night's half sold out, so don't delay and book your tickets today.
https://www.ticketsource.co.uk/vertigotheatreproductions
The Cast of Black Ice
Stu Reeve - Bill Harrison
Richard Allen - Danny Harrison
Emma Morgan - Abbie Harrison
Andy Pilkington - Jonathan Harrison
Nic O'Keeffe - Samantha Harrison
Ryan Clarke as Callum
Joe Slack as Gregory
Kerry Ely as Cherysh
More information about Vertigo Theatre Productions can be found at their website http://www.vertigotheatreproductions.co.uk