I was intrigued to discover that Liverpool Network Theatre were putting on the Peter Shaffer double bill of White Liars and Black Comedy at the beginning of February, two plays designed to sit together but often attracting critique - even Shaffer had three goes at writing White Liars. It was therefore with some pleasure that I got to meet up with not one but two directors - Andy Kerr and William O'Neill - and their 'shared' assistant director/production manager, the ever-delightful Sandra Tschackert.
White Liars tells of Sophie, Baroness Lemberg, a disillusioned fortune teller in an out-of-season resort. She is visited by Tom, the lead singer in a rock band, and his business manager, Frank. It soon becomes clear that Frank has an ulterior motive in the visit, but as Sophie looks into her crystal ball we find that life really is stranger than fiction.
In Black Comedy, we discover a hilarious farce that plays on light and dark. Brindsley Miller is an unsuccessful artist whose big chance has finally come, with a visit from eccentric millionaire art collector, Georg Bamberger. There are just a few problems to overcome: being engaged to Carol without having properly ended things with previous girlfriend Clea, the first meeting with Carol's terrifying military father and having 'borrowed' his possessive neighbour Harold's furniture to spruce up his flat. And then the lights go out.
Both plays are set in the 1960's and very much reflect the mood of that time, something both Kerr and O'Neill were keen to retain so that this production becomes something of a homage to the original writing and period whilst retaining the important message of how we convey who we are, something that is perhaps of even greater relevance in today's age of multimedia, e-friends, and followers.
White Liars has a reputation for being difficult to deliver but Kerr is adamant that he has the right cast and approach to surmount its obvious challenges and my spirits were certainly lifted as he became quite illuminated when talking me through the opportunities the piece presents. O'Neill noted the challenge for a director of creating humour on stage and so when his chance discovery of Shaffer's collected plays introduced him to Black Comedy which had him laughing out loud on first reading, he knew he had to produce it.
There are a number of parallels between Kerr and O'Neill: both got involved in acting and production at school and which they carried onto their respective universities. Both have been heavily involved with Network in acting and directorial roles and are agreed that whilst acting offers the fun and immediacy of performance, directing provides an overriding sense of achievement although Kerr notes the initial relief when a production finishes is often followed by a sense of loss. O'Neill is keen to highlight the fantastic experiences and opportunities that amateur theatre has provided him with and that a move to a professional company would be unlikely to offer.
The casting for both plays has drawn on some of Liverpool's finest and also sees Network stalwart Tschackert providing production support to both directors, a role that presents very different and more considered challenges to those she normally receives as an actress. Fortunately for those of us who have had the pleasure of seeing her perform over the last few years, I am assured she will be treading the boards again very soon.
There is one final factor our three have in common: they are all fluent in German. Kerr studied at the University of Liverpool where he put on numerous German language plays; O'Neill works as a translator; and Tschackert, who hails from Germany, also works as a translator. I almost pitied the actors auditioning for the two German characters in Black Comedy but looking at this trio I know they are in safe hands.
White Liars/Black Comedy performs at The Gregson Memorial Institute (Garmoyle Road, Liverpool L15 3HN) on Friday 3rd February at 7.30pm and on Saturday 4th February at 2pm and 7.30pm (doors open 7pm/1.30pm). Tickets are priced at £8 (£6 concessions) and available from www.ticketsource.co.uk/blackandwhite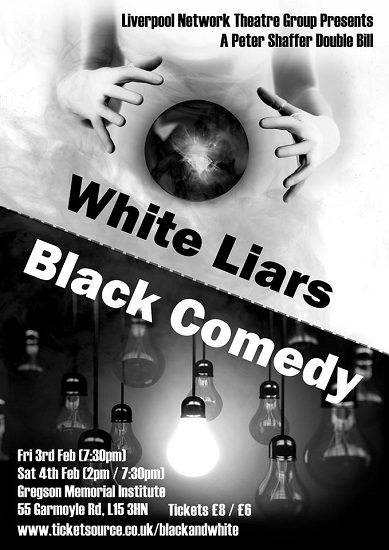 Previewer: Mark Davoren
Previewed: 8th January 2017