Read all about it!...
As well as putting amateur and professional shows on a level playing field, we also thrive to make those who would not necessarily have the pleasure to access some of the world's biggest shows aware of such shows coming to a theatre near them. So when we were approached, back in September, by the network manager from a new project concept that would mean Disney film releases of stage shows will be coming to UK cinemas throughout 2017, we were delighted to accept their invitation to get involved.
Thanks to Arts Alliance, we had the honour to be represented at the Walt Disney Company's Headquarters in London's Hammersmith for the exclusive viewing of the recording of Newsies, performed by the Broadway cast in a front of a packed theatre audience.
Inspired by David Nasaw's book 'Children of the City' and based on the real-life Newsboys Strike of 1899 in New York City, this empowering and endearing show is a must for any musical theatre enthusiast. Telling the story of the New York Newsies who went up against two news publishers - Joseph Pulitzer of The World and William Randolph Hearst of The Journal - to fight for a fair price for newspapers. Their decision to strike, led by head Newsie Jack Kelly and newbies brothers Davey and ten-year-old Les, was the result of the publishers refusing to lower the price-per-paper, that the Newsies had to pay, back down to the pre-Spanish-American war prices. With the help of social/arts journalist Katherine, who they don't realise is the daughter of Pulitzer until later, they revolt against the industry leaders whilst also enabling a voice for other young workers like messengers, bootblacks and factory workers. The strike was a significant moment in history, one of the first carried out by children, and it ended in compromise - they would purchase the papers at a higher price but the publishers would buy back any unsold ones, preventing them from losing money for any non-sales.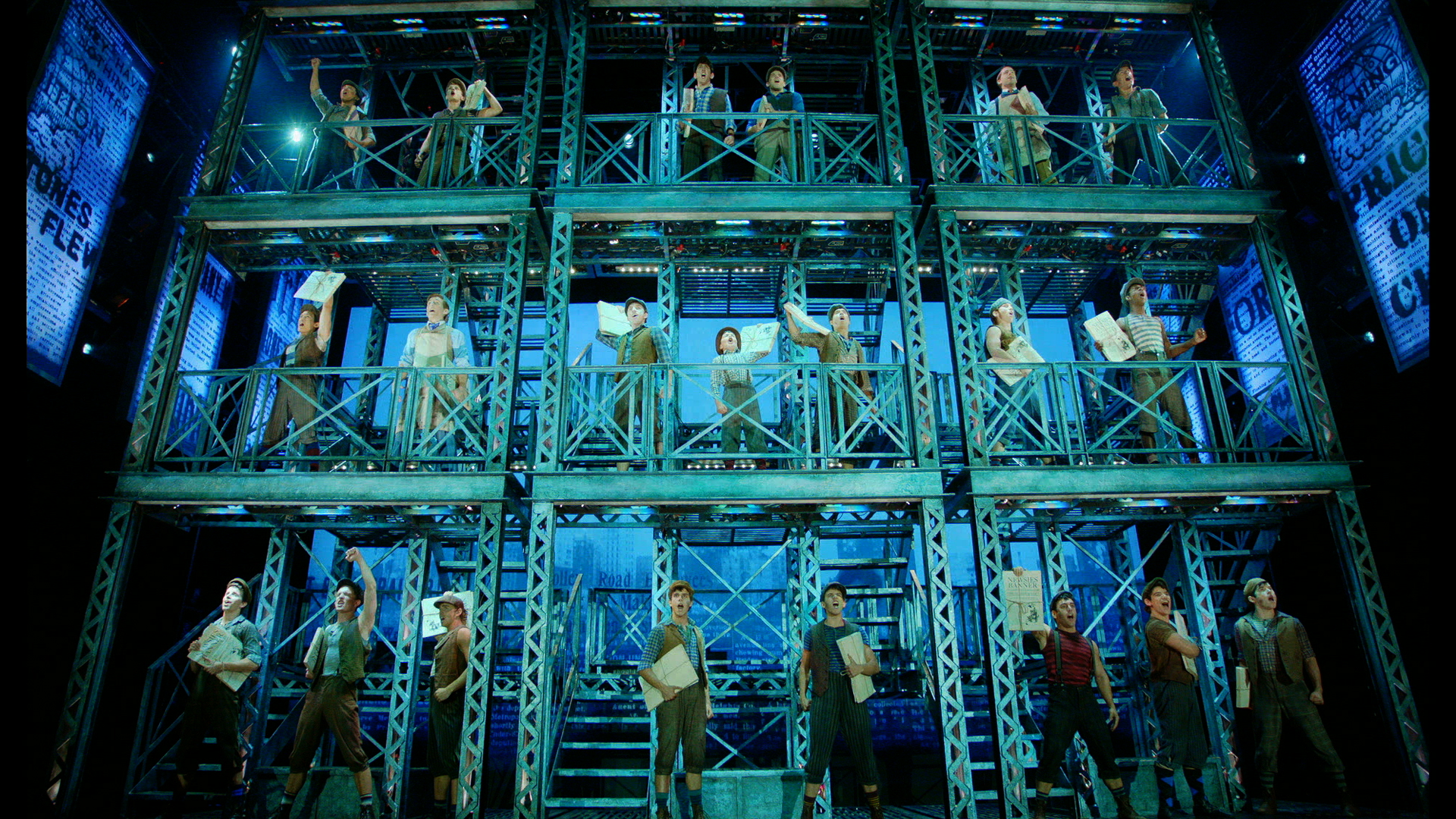 With incredible music by Alan Menkin, lyrics by Jack Fieldman and book by Harvey Firstein, Jeff Calhoun's direction is perfect, as is the memerisingly balletic execution of the choreography from Tony Award winner Christopher Gattelli - with over 31 backflips alone, not including the countless spins, leaps and tap steps. The ingenious and well-thought-out scenic design by Tobin Ost, matched by Sven Ortel and Daniel Brodie's projection design and adaptation, make for seamless scene changes and well-lit atmospheric scenes by lighting designer Jeff Crotiter. Sound designer Ken Travis works wonders to allow us to hear all of the action and, despite the odd shot (it is filmed after all) of face microphones, for the most-part you forget that you aren't in the theatre with the crowds raving from the stalls, circle and upper tiers in Broadway. With a well-deserved standing ovation at the end of both acts, it is difficult to restrain yourself from tapping your feet and applauding.
With a hugely talented cast, casting agents Telsey + Company did themselves proud. Starring Jeremy Jordan as the charismatic and instantly loveable Jack Kelly, we also adore his invalid best friend Crutchie (especially when he is taken to Snyder's (James Judy) 'Refuge' where he abuses the poor orphans) played beautifully by Andrew Keenen-Bolger. Other support leads of Davey and Les are played by Ben Fankhauser and Ethan Steiner, headstrong journalist Katherine Plumber is Kara Lindsay, Steve Blanchard is Pulitzer and Aisha de Haas plays Burlesque House/Theatre proprietor Medda Larkin. Jordan, Lindsay, Fankhauser and Keenan-Bolger all reprised the roles they created in the original Paper Mill Playhouse production, along with members of both the Broadway and North American Tour ensembles.
It is 25 years in April since the film's initial release in 1992 and to coincide, Fathom Events and Disney Theatrical Productions are thrilled to bring the high energy Tony Award-winning musical to cinemas nationwide. Filmed live on stage at the Pantages Theatre in Hollywood CA, you can check out which of your local cinemas you can see it at on the 19th February at: www.newsiesthemusical.com
Photo by Disney Theatrical Productions