Michael Morpurgo is one of the kings of children's fiction and the stage adaption of his best-selling novel Running Wild comes to West Yorkshire Playhouse from Tuesday 11 to Saturday 15 April.
This Children's Touring Partnership adaptation by Samuel Adamson features spectacular life-size puppets telling a story of love, loss and loyalty and of living for the moment.
Running Wild is the story of a girl named Lilly on holiday with her mother in Indonesia who takes an elephant ride. During the ride, Oona, the elephant, suddenly becomes anxious and runs from the beach deep into the jungle.
With Lilly on her back, they escape moments before a tsunami hits the island. Miles from civilisation, at first there's wonder, discovery and tree-top adventures with the orangutans, but, as thoughts turn to her mother left behind on the beach, and wild tigers prowl, Lilly must learn how to survive the rainforest.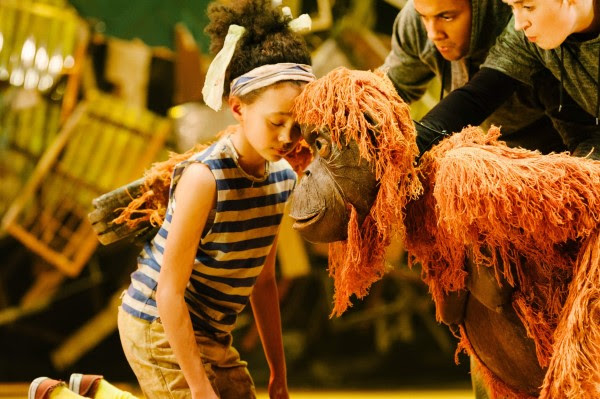 Morpurgo - the former children's laureate and author of the smash hit War Horse - was inspired by the real-life story of Amber Owen who was on holiday in Phuket with her mother and stepfather in 2004 when she went on an elephant ride.
While riding Ning Nong along the beach, the eight-year-old noticed the elephant was attempting to pull away from the receding sea water. "He ran away and, as the water came in, I was safely on his back. He saved my life."
For Morpurgo it was the one bit of hope amid the destruction of the Boxing Day tsunami which hit South East Asia. The production will work to support the Born Free Foundation's global elephant conservation projects.
The lead role of Lilly will be shared by three young actresses, Jemima Bennett, India Brown and Annika Whiston backed by puppeteers Fred Davis, Elisa de Grey, James Charlton, Darcy Collins, Romina Hytten, Gareth Aled, Scarlet Wilderink and Michael Peters.
The puppetry design and direction is by Finn Caldwell and Toby Olié for Gyre & Gimble who were both previous Associate Puppetry Directors on War Horse.
To book ring the box office on 0113 2137700 or go to www.wyp.org.uk