West End star Louise Dearman is set to perform in a one off concert at Manchester's Bierkeller, June 1st. The star takes to the stage of this unique venue alongside Manchester local talent which will be announced soon.
Louise Dearman's credits include Guys and Dolls (Piccadilly / UK Tour), Kiss Me Kate (Victoria Palace) and most famously on the 29th October 2012 became the first actress to play both leading roles of Glinda and Elphaba in the West End production of Wicked!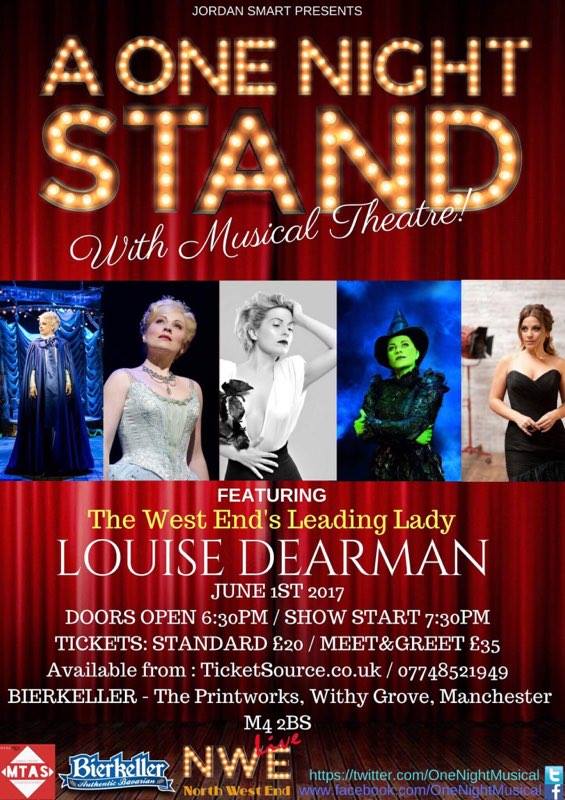 With a surge of locally produced musicals, Manchester's community for musical theatre is growing and becoming even stronger. "There is such a love and passion for musicals in this city," says producer Jordan William Smart, "that we want to bring together local talent and West End stars on the same stage in a celebration of the art form. We're especially excited to be bringing the first West End Star to the Printworks Bierkeller."
After the highly successful December production featuring Kerry Ellis, Producer Jordan William Smart is ready to make the next big production. "I am very excited to bring the West End to the north, I am also very excited to be working with North West End Live, who are a great asset and promoter of the Manchester Theatre scene."
A One Night Stand With Musical Theatre hopes to become a regular event bringing the biggest stars of the West End up to Manchester as well as giving local performers and artists the opportunity to showcase their talent. The latest event, starring Louise Dearman, is now on sale. Tickets can be purchased from www.ticketsource.co.uk/date/358594 or via www.northwestend.co.uk
A One Night Stand With Musical Theatre first premiered in 2016 when they successfully fused together amateur theatre performances with another West End Leading lady, Kerry Ellis at a sold out 53Two. The success of the night has meant a move to Manchester's Bierkeller for this the latest production.
North West End LIVE! Is a brand new production company set up to produce the best of independent theatre in the North West. Working with some of the most talented actors, directors and promoters in the region their aim is to bring both new and established productions to the audiences of the thriving theatre scene in the area.