2017 marks the centenary of the Russian Revolution yet 100 years on, new challenges face the world such as Brexit and the election of Donald Trump, whilst closer to home, increasing poverty, cuts to welfare, and a rise in xenophobia, begs the question whether we have regressed rather than progressed during this time. This May, WOWFest 2017 invites artists, activists, journalists, commentators, and audiences to explore the impacts of recent years and whether revolutions of a different kind could be in order. explains.
WOW grew out of Channel 4 documentary 'Dockers' and, with support from Liverpool John Moores University, was established as a Millennium project focused on delivering a week-long festival each year, and, as a community based organisation, with coordinating projects and events which celebrate writing in all its forms. In 2008 in conjunction with Liverpool's role as Capital of Culture, the festival was extended to cover the month of May and they have never looked back. Now in its seventeenth year, the festival maintains its reputation as being radical and edgy whilst engaging with a range of local, national, and international groups.
Co-director of Writing on the Wall (WOW), Madeline Heneghan, explains that 2017's theme of revolution extends to so much more than just an anniversary as it explores new areas of life from which people may demand a change: Time for Action explores the ever-changing political environment as it seeks to answer where are we and where do we go; Tax the Robots corroborates recent reports that artificial intelligence could replace up to 250,000 white collar jobs in the next few years – do we smash up the machines, as some did during the industrial revolution, or is there another way. At the heart of this is people – you, me, everybody – and, as Heneghan so eloquently puts it, it is about revolutionary debate, so come and be heard and get engaged in the discussions taking place.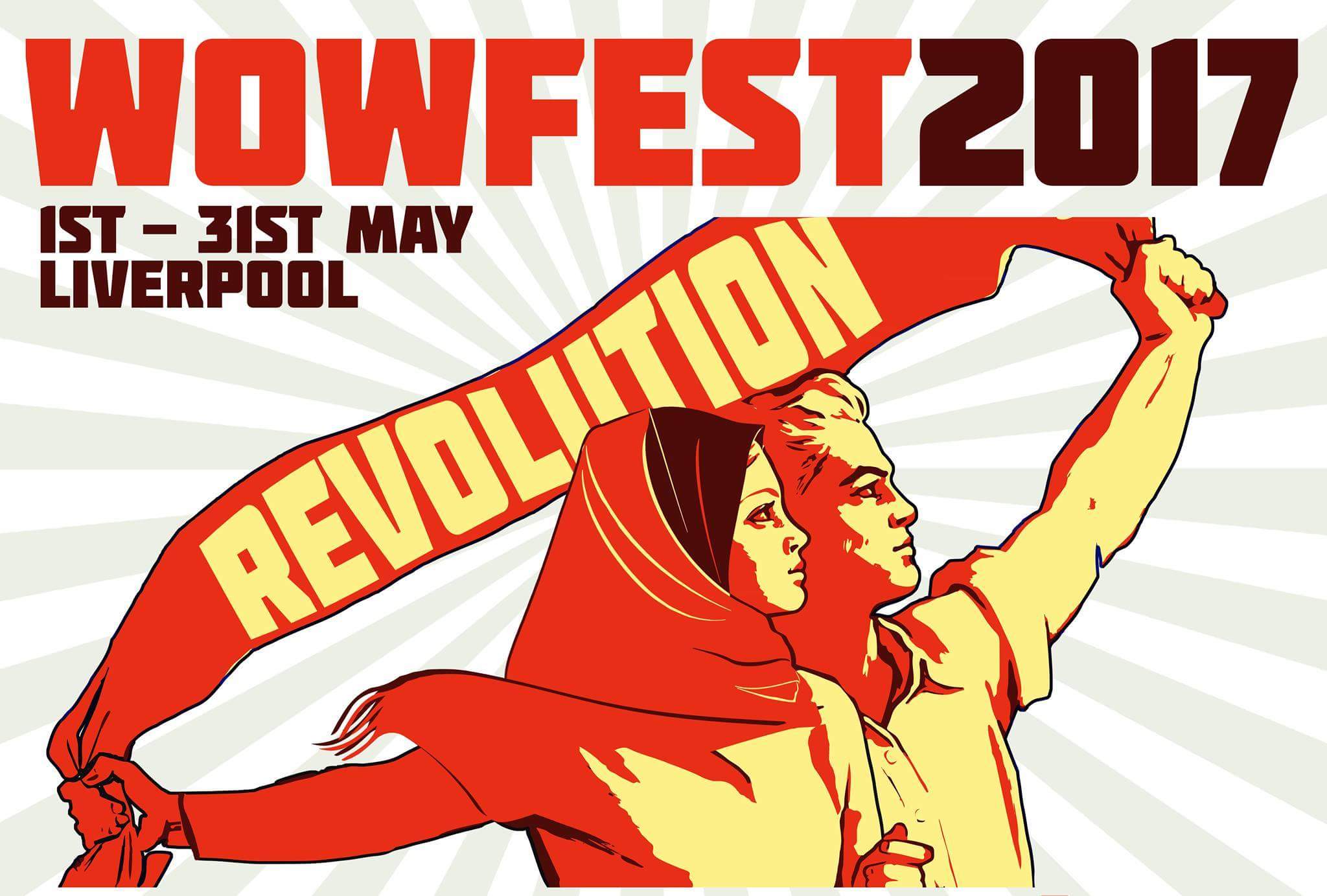 WOW is also about encouragement. By working with community groups and schools, it has been able to support previously marginalised voices and help them not only express themselves but also to be heard by a wider audience. Their recent Write to Work scheme has been designed to help long-term unemployed develop their writing skills and strategies to get back into work in what is an ever-changing landscape: one attendee has already had a feature article published in The Guardian.
WOW has also been able to use its funding to draw upon experienced writers to get involved and their recent Superheroes project with local schools achieved much deserved credibility when Marvel-illustrator Tim Quinn and The Watchmen illustrator Dave Gibbons collaborated with Children's Laureate, Chris Riddell, at Central Library: a child's free-flowing imagination can ensure it is never held back.
Heneghan is keen to establish a Writers Bloc at their new base in Toxteth Library with a dedicated space for people to come and write, as well as building on Liverpool's historic seafaring tradition and reaching out to Africa where the spoken word tradition of 'urban griot' is already being explored. As with all things, it is about funding but one hopes that it can be found in a city which is firmly focused on becoming a city of festivals - or as Mayor Joe Anderson noted recently: 'culture is the rocket fuel of the economy.'
Heneghan closes in telling me that the ultimate success of all that they do is because of people – whether that be attending or volunteering – getting involved, having their voice heard, and influencing the content and direction of what takes place. Interested? You should be, it's your future!
WOWFest2017 invites you to a revolution from 1st to 26th May 2017. Details of events and guests can be found at www.wowfest.uk. For enquiries and tickets - email: This email address is being protected from spambots. You need JavaScript enabled to view it. Tel: 0151 703 0027.
Further information on WOW including details of community projects and competitions can be found at www.writingonthewall.org.uk