From a vision to transform the derelict Odeon into a theatre and cinema five years ago, that vision is now a reality as the Storyhouse opened its doors to the public this week.
As you first step through the doors you are reminded how the Odeon used to be then you start to discover what's hidden inside. You soon realise how the building got its name with a cinema, a library threading its way through the building to then come across a huge auditorium, the whole place is full of stories, on screen, book and live theatre.
The Storyhouse auditorium can be changed from an 800 seat touring stage to a 500 seat thrust stage where the audience wrap itself around the stage in the pit area.
This building is open plan so you can walk from room to room with ease, although I did encounter a few issues during my visit which hopefully can be ironed out as they settle in. Firstly, each 'department' didn't really know much about the other. People in the main entrance couldn't help with details about the theatre area and so you have to set off through the library or restaurant area to find someone from the theatre area to help. Once there it's not to easy to track people down as majority of staff were dressed in their own clothes with a few dressed in lightly coloured chequered t shirts, later I discovered the different coloured tops were for different areas. At one point a lady in her own clothes was taking an order in the restaurant, very confusing for customers as they could easily be mistaken for customers themselves.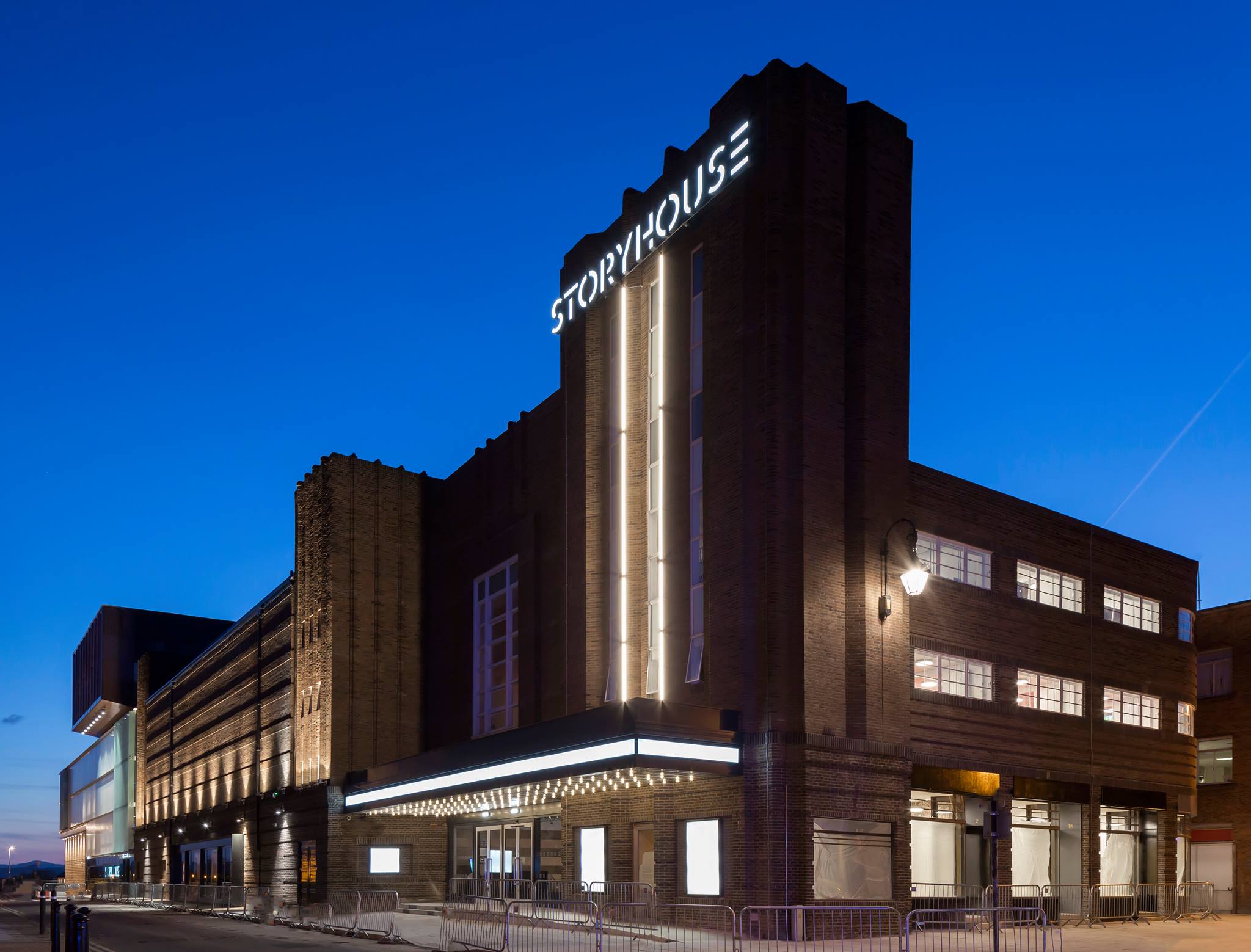 A big issue I found was that there was no box office on site, when ringing the box office it is situated elsewhere off site and so unable to answer specific questions. The were able to give me a direct number for the Storyhouse only to be met by a message that they were closed and to call back between 9 and 6 week days. To acquire tickets you have to self serve on one of the three touch screen machines on the wall. There was someone to help but as it got busy people weren't getting the attention required, a situation you wouldn't have at a manned station. At one point, two out of three of the machines were out of action causing a few problems.
As I arrived to the theatre, there was nowhere or anyone to specifically report to so I had to set off to track someone down, hopefully a staff member dressed in own clothing, to find out what to do next.
My tickets had been emailed so I was told to just show that at the door correct door and find my way to my seat.
When I asked for a cast list (for reviewing purposes) I was informed I should have been met by a specific person who would have given a programme and a programme was tracked down and given to me. I never did meet said person but it was very busy and with it being their first press night is understandable that they were elsewhere. There seemed to be a few issues going on (one being no running water in the toilets) again things that will hopefully be ironed out soon. I do feel that the Storyhouse has a very help yourself feel about it and I'm not sure all customers will like this, having to sort your own tickets then find the correct door to then find your own seat. I feel some of the personal touches of theatre has been lost in this venture.
Reviewer Damian Riverol
Visited: Saturday 13th May 2017