Orbit Festival is back for a second year at HOME Manchester with some exciting new commissions, including Javaad Alipoor's The Believers Are But Brothers, and Daniel Bye's Instructions for Border Crossing.
University of Manchester Chancellor and performance poet/writer Lemn Sissay will present his challenging autobiographical piece Something Dark reflecting on his tough years in the care system.
The 16 day festival running from Thursday 28th September - Sun 15th October will also feature the premiere of Fellswoop Theatre's latest production, Palmyra, inspired by the destruction of the ancient Syrian city
This year punters can enjoy shows at unique locations including inside a caravan, in a car park, and on the roof of HOME as the festival explores the city's hidden nooks and crannies.
"With so much instability and volatility happening all over the world," says Orbit producer Kevin Jamieson, "we have assembled a line-up of dynamic artists who are all examining how we fit into this, and how we can navigate our way through it. Scouring some of the best festivals around the UK and the world, this year's Orbit brings an eclectic mix of theatre-makers to Manchester."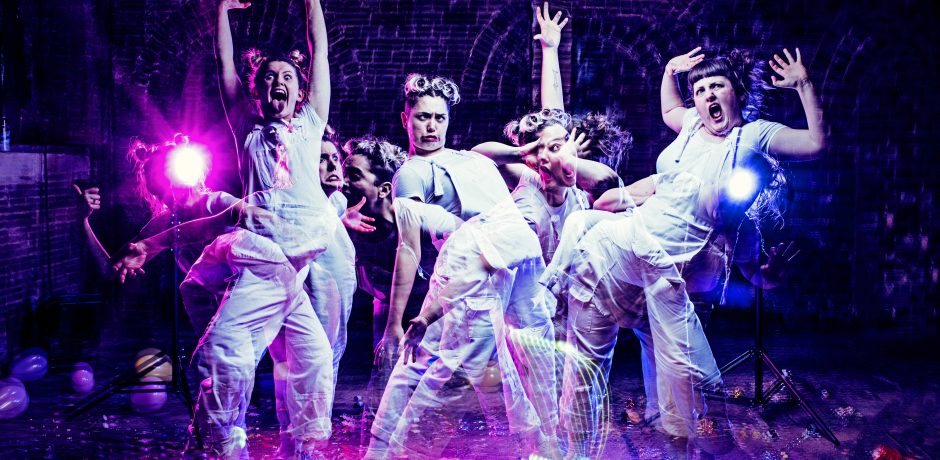 The 2017 festival line-up includes:
Bravado - Presented by Scottee
Thu 28th - Sat 30th Sep 2017
The festival opens with this no holds-barred exploration into what masculinity meant in the final decade of the 20th century. Scottee grew up in a macho world of strong, brave and violent men and boys. Bravado, his memoir of London working-class masculinity as seen by a sheep in wolf's clothing, was described by The Stage as "an astonishing show. It's an open wound that bleeds painful truths."
The Backseat of My Car (and other safe spaces) and Hurtling - Presented by Greg Wohead - Sat 30th Sept
Greg Wohead presents two shows, both performed to one audience member at a time. The Backseat of My Car (and other safe spaces), about being a teenager and those moments when you're on the verge of something exciting, will be presented on the roof of the Q-Park car park next to HOME, one performance after another. Hurtling, an outdoor performance with a cassetteplayer and headphones, is re-made for each location in which it's performed, takes place on the Top Floor of HOME.
Eurohouse - Presented by FellSwoop Theatre
Mon 2nd / Tue 3rd Oct
This satire by two performers - one Greek, one French - who dance and shout, cry and sing, agree and disagree, about life in the European Union, is a darkly comic look at the EU's founding ideals looks at what got lost along the way. The production was nominated for a Total Theatre Award (Innovation, Experimentation & Playing with Form) at the Edinburgh Festival Fringe 2016.
Palmyra - Presented by FellSwoop Theatre
Tue 3rd /Wed 4th Oct
This world premiere production is inspired by the destruction of temples and artefacts in Palmyra, Syria. Using images of destruction as a starting point for an exploration of the situation in the Middle East and the roots of Jihad in Europe.
Rekrei - Presented by Journeys Festival International
Mon 2 - Wed 4 Oct
Rekrei, an installation in the HOME foyer and directly related to Palmyra, is a crowdsourced project to collect photographs of monuments, museums, and artefacts damaged by natural disasters or human intervention, and to use that data to create 3D Virtual Reality representations, allowing viewers to explore recreated three-dimensional representations of heritage long gone.
Instructions For Border Crossing - Presented by Daniel Bye
Thu 5th - Sat 7th Oct
A 12-year-old girl sneaks across the border of her own country, watched by her parents, viewing on a computer screen. Instructions for Border Crossing is an exposed gearbox of a political thriller, mixing writer and performer Daniel Bye's trademark storytelling with a series of live interventions from the audience – the show itself is as unstable as the world it describes. Instructions for Border Crossing will premiere at this year's Edinburgh Festival prior to playing at HOME.
Salt - Presented by Selina Thompson
Fri 6th /Sat 7th Oct
In February, two artists got on a cargo ship and retraced one of the routes of the Transatlantic Slave Triangle - from the UK to Ghana to Jamaica, and back. Their memories, their questions, and their grief, took them along the bottom of the Atlantic and through the figurative realm of an imaginary past. It was a long journey backwards, in order to go forwards. Salt, from Leeds-based artist and performer Selina Thompson, is what they brought back.
The Believers Are But Brothers - Presented by Javaad Alipoor
Mon 9th - Thu 12th Oct
We live in a time where old orders are collapsing: from the post-colonial nation states of the Middle East, to the EU and the American election. Through it all, tech savvy and extremist groups rip through 20th century political certainties.
Amidst this, a generation of young men find themselves burning with resentment; this crisis of masculinity leads them into an online world of fantasy, violence and reality. Manchester-based writer and theatre-maker Javaad Alipoor spent time in this digital realm, exploring the blurry and complex world of extremists, spies, journalists and fantasists. This bold one-man show weaves together their stories.
Mobile - Presented by Paper Birds
Tue 10th - Sat 14th Oct
Mobile will take place in a caravan placed in the public realm outside HOME. An ordinary looking caravan. An extraordinary experience. A treasure trove of magical theatre and digital wizardry. Long-established Festival regulars (Latitude, Brighton), Paper Birds' Mobile, an intimate 40-minute show based on interviews conducted in communities across the UK, is made for audiences of up to eight people at a time, and promises to be a very different theatrical experience.
Bourgeois & Maurice: How To Save The World Without Really Trying
Tue 10th /Wed 11th Oct
Outrageous sequin-clad glamour duo Bourgeois & Maurice dig their shellac nails deep into our post-modern, post-gender, post-Brexit world in How To Save The World Without Really Trying, a five-star hit at last year's Edinburgh Festival. Riotous original songs meet hyper surreal, high fashion, in this provocative, thought provoking and hysterical catwalk through the quagmire of current affairs from a company who took part in Yule Be Sorry, a big success at HOME at Christmas 2016.
We Are Ian - Presented by In Bed With My Brother
Thu 12th - Sat 14th Oct
(DJ Darryl Marsden spins the Hacienda classics of the day, Friday 13th Oct)
Travel back in time to the wild days of Madchester… 1989. Manchester. The year that everything changed from black and white into crazy Technicolor. A frenzy of drugs, beats and bucket hats. Illegal raves. Acid parties. Just jumping up and down in a field and throwing two fingers to Thatcher… Remember it? Because the company doesn't. They weren't even born. But Ian was. And Ian does remember.
Lemn Sissay: Something Dark
Fri 13th Oct
Something Dark is the story of Manchester performance poet and writer Lemn Sissay's upbringing in children's homes and foster care in and around the city, and the search for his family and true identity. Originally directed by John McGrath (National Theatre of Wales, Manchester International Festival), Something Dark was adapted for BBC Radio 3 in 2005. Lemn's most recent work, The Report, staged at the Royal Court Theatre in London, was a searing account of the psychologist's report about the abuse he suffered as a child in the care system.
How To Win Against History - Presented by Áine Flanagan Productions
Sat 14th /Sun 15th Oct
This hilarious, ripped-up extravaganza was a big hit at the 2016 Edinburgh Festival. Written, composed, and performed by Seiriol Davies and directed by Alex Swift (both from Caroline Horton's Mess), it tells the outrageous story of the 5th Marquis of Anglesey whose transvestism burned brightly for an all-too brief period at the end of the 19th century. How To Win Against History was described in a five-star review by The Stage as "a total pleasure."
This year Orbit teams up with Journeys Festival International, which celebrates the creative talent of exceptional refugee and asylum seeker artists, staging a number of extra special events running as part of and alongside the Festival line-up, including a Virtual Reality installation which sits alongside Fellswoop Theatre's production of Palmyra (see above).
More information and how to book is available www.homemcr.org/orbit-2017