The UK's longest-serving dame Berwick Kaler will be reunited with regular sidekick Martin Barrass and other panto favourites in Jack and the Beanstalk at York Theatre Royal this Christmas.
The traditional family panto sees the return of Martin, who has played the dame's on-stage 'son' for more than 30 years but was missing from last year's Cinderella line-up after being seriously injured in a road traffic accident.
Now fully-recovered, he'll join other long-time panto stars, including the villainous David Leonard and the ever-youthful Suzy Cooper, in the cast announced this week.
The production also sees the return of York's favourite Brummie A J Powell, who stepped into Martin's shoes to play one of the Ugly Sisters alongside Berwick last year, and York-born, Pocklington-raised Harry Hughes, who played Buttons in the same show.
This is the sixth time that Berwick, who writes and co-directs the pantomime as well as playing the dame, has appeared in Jack and the Beanstalk during his 39 year reign at the Theatre Royal. He names it as one of his all-time favourites among panto titles.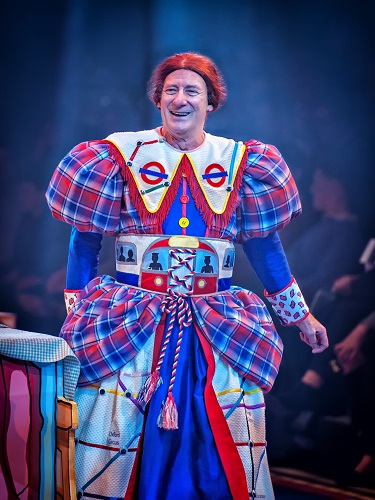 The Grand Old Dame of York himself had these words of wisdom about this year's show: "I can verify that Leonard will be playing Dr McCarb, Barrass will be Stanley Manly the son of his mother Mandy Manly (me!). Suzy Cooper has had yet another facelift in order to play the 18 year old principal girl Jill. Harry Hughes has been given a last chance to prove he can act by taking on the role of principal boy Jack Manly. As for AJ Powell, he isn't concerned about who he is playing as long as he gets a chance to show his legs off!"
Co-director Damian Cruden asked Berwick, who had a pacemaker (now called Gerry) fitted three weeks before Barrass' near fatal accident, if he would be taking things easier in this year's panto, to which he replied: "No. I've changed my lifestyle – I no longer drink Newcastle Brown Ale but go for the healthier option which is Yorkshire Terrier Ale".
Asked the same question Barrass said: "I think I've got the edge where fitness is concerned, I skip to the pubs whilst Kaler still crawls to them".
At the time of going to press, and true to tradition, there was no sign of a plot! But we'd be surprised if the production doesn't deliver breathtaking sets and gorgeous costumes, amazing lighting design, singalong songs and foot-tapping choreography, and loads of fun.
What we do know is that many of the creative team who worked on last year's Cinderella are back in the family fold led by the theatre's artistic director Damian Cruden, who co-directs with Berwick. Also returning are designer Mark Walters, lighting designer Richard G Jones and choreographer Grace Harrington.
Like the beanstalk in Jack's story, York's traditional pantomime just grows and grows. It's become a York institution with a loyal, dedicated fan base which stretches back through several generations of local families with diehard fans queuing overnight when tickets go on sale in March.
Listings information
Jack and the Beanstalk
York Theatre Royal
14th Dec – 3rd Feb
Tickets £14.50 - £34, plus group discounts
Box office 01904 623568.
Picture: Anthony Robling