David Jones is just another cog in the city's giant wheel, someone who is struggling to come to terms with the world around him and the challenges he faces. Then one untimely mistake forces him out…to BoHo.
There he finds himself in hilarious and wonderful situations as he explores the new direction in which his magical journey is taking him, meeting a variety of interesting and exotic people along the way.
BoHo is an exploration of what it means to be 'good enough', performed by a cast of disabled and non- disabled actors. With a vibrant musical soundscape that captures the challenge of the modern city and madcap world of BoHo, this first collaboration between Theatr Clwyd and Hijinx is a brand new show with a big heart.
The show evolved during sessions with actors from Hijinx North Academy in which the theme of struggles of modern life and the pressures of 'keeping up' and 'fitting in' were explored. From this grew a place called BoHo.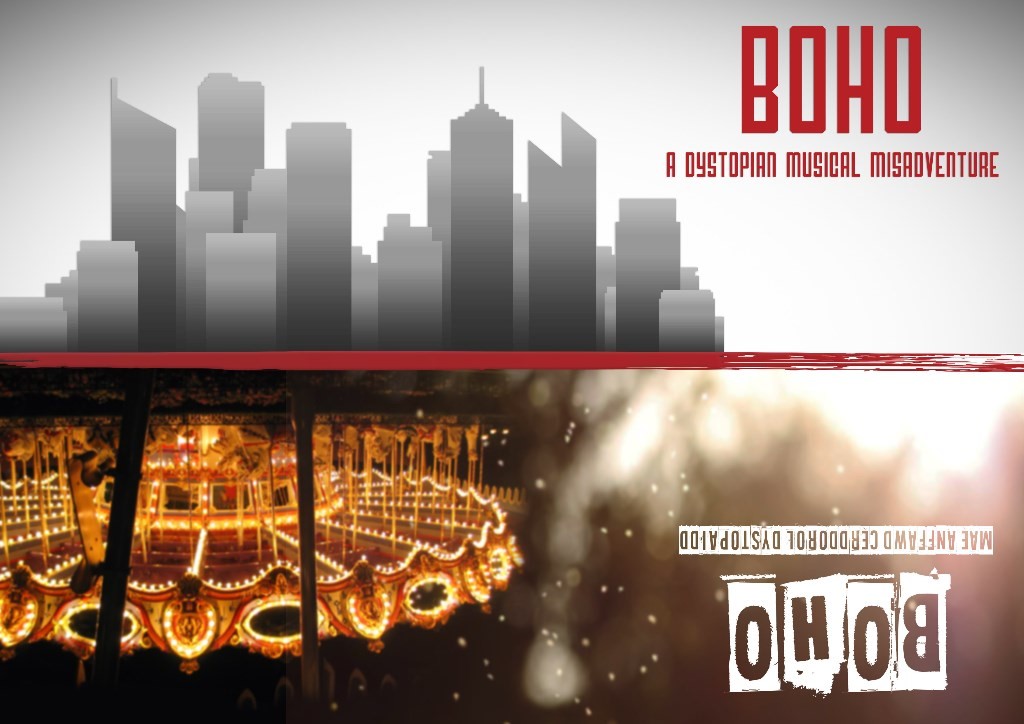 BoHo is performed by Lucy Green and Kenny Harman from Hijinx North Academy, Daniel Lloyd, an actor and musician from Denbigh who is well known to Theatr Clwyd audiences from starring in the rock 'n' roll panto and Barnaby Southgate, who is also the show's Musical Director. He was also Musical Director on the theatre's production of Little Shop of Horrors in 2015.
BoHo has an original score composed by Hannah Noone and the company, and also film designed by Jonathan Dunn. It is directed by Hannah Noone.
Hannah Noone, from Colwyn Bay, was Assistant Director on the Theatr Clwyd production of Much Ado About Nothing and the Theatr Clwyd, High Tide and The Yard Theatre co-production of Pilgrims, a new play by Elinor Cook. Her directing credits include Die Fledermaus, The Beggar's Opera, Carmen and Hansel and Gretel for Opera'r Ddraig and Cinderella for Bute Park Opera. Assistant Director credits also include Le Nozze di Figaro at the Royal Academy of Music, on which she assisted Dame Janet Suzman.
She is Resident Director for Opera'r Ddraig, founder of the Welsh Youth Performance Academy and a member of Sherman Cymru Directors Group.
Hannah Noone commented: "Making this show has been a process of discovery, insight and sheer joy. BoHo promises to be a box of delights."
BoHo is a co-production between Theatr Clwyd and Cardiff-based Hijinx. Hijinx tour small scale theatre throughout the UK and Europe with casts that always include actors who have learning disabilities. The ability of these talented performers is at the heart of the shows they produce, which are absorbing, surprising and provocative.
BoHo opens at Theatr Clwyd prior to transferring to Galeri in Caernarfon, where it will open the Hijinx Unity Festival.
Theatr Clwyd, MOLD – Emlyn Williams Theatre
Thursday 22nd – Saturday 24th June 2017
7.00pm
Saturday matinee 2.45pm
Friday matinee 1.00pm
Tickets £12, concessions £10
Box Office 01352 701521
online booking (no booking fees) www.theatrclwyd.com