All Or Nothing, the new Small Faces musical sensation, is heading to Chester's newest arts venue as part of its latest UK tour.
The show first opened to critical acclaim in March 2016 at the Vaults Theatre in London, where it received nightly standing ovations. After extending its sold-out run, the show then embarked on its first UK tour. And now, five performances at Storyhouse have been announced as part of its third UK tour.
All Or Nothing comes to Storyhouse from Wednesday 27th September to Saturday 30th September. Tickets are on sale now.
The musical has been written by award-winning actress Carol Harrison, who will play Kay Marriott – mother of Small Faces band member Steve – at certain performances.
Carol is joined by The Bill's Chris Simmons as Small Faces member Steve Marriott, while Russell Floyd from EastEnders plays the role of the band's manager Don Arden.
In 1964, a new phenomenon exploded on to the dingy British streets. It was the essence of all that was cool. It was Mod. Mods steered away from class-ridden society and its dull redundant culture. They were working-class free spirits who rode those striking, streamlined Italian Vespas or Lambrettas. The sharpest Mod of all was known as a 'face'.
All Or Nothing tells the electrifying yet bittersweet tale of Kenney Jones, Ian McLagan, Ronnie Lane and Steve Marriott – four charismatic young kids from East London with humour, attitude, passion and above all talent.
These four young men became The Small Faces and were rocketed into the big time, only to discover the path to fantastic success is paved with exploitation, betrayal and ultimately tragedy.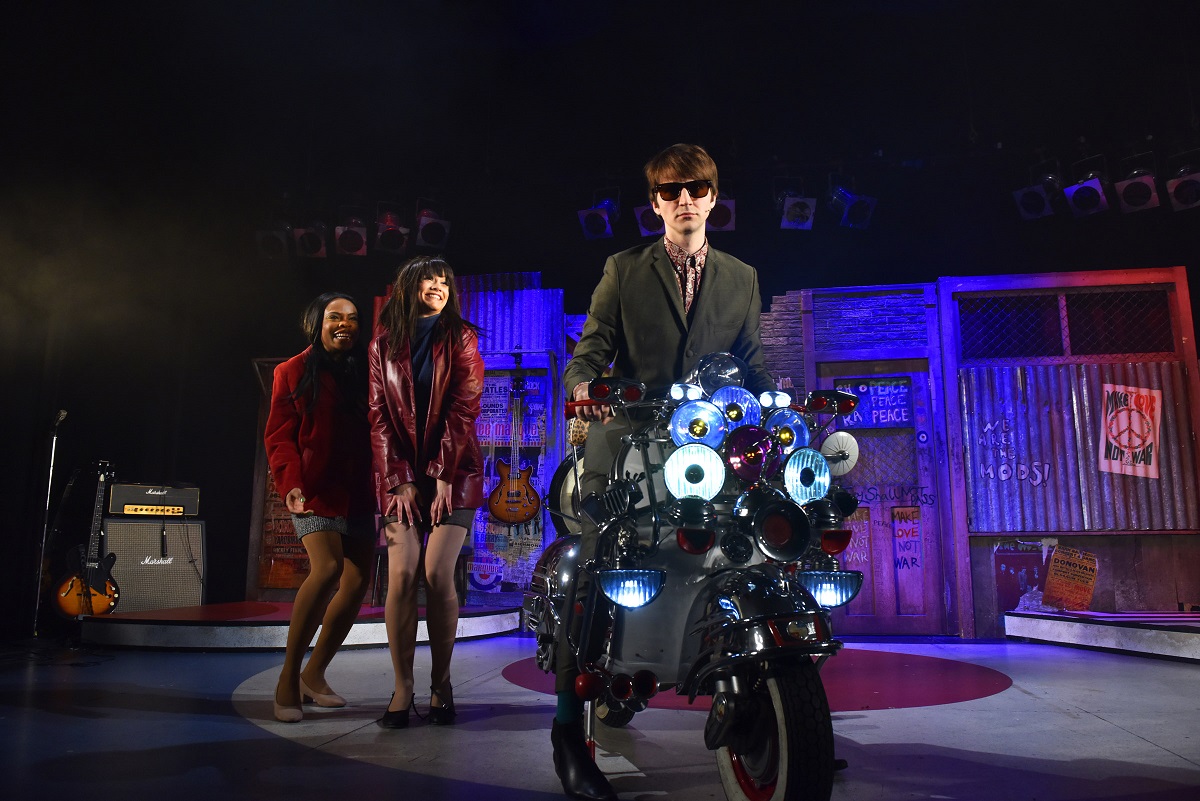 Cast members playing the band are Stefan Edwards as Kenney Jones; Josh Maddison as Ian McLagan; Stanton Wright as Ronnie Lane; Samuel Pope as young Steve Marriott; and Chris Simmons as Steve Marriott; and Joseph Peters as Jimmy Winston.
The Small Faces encapsulated all that is Mod, a unique blend of taste and testosterone, neat, clothes obsessed, and streetwise. But these cult sophisticates shared another passion, their dedication to 'Rhythm and Blues'.
All Or Nothing celebrates the unique sound of the iconic Mod band, and is packed with timeless hits including Whatcha Gonna Do About It; Tin Soldier; Lazy Sunday; Here Comes The Nice; Itchycoo Park; and of course, All Or Nothing.
Carol Harrison is an award-winning actress and writer, well-known for her theatre and TV work. Carol is probably best known as the exciting, fiery and passionate Louise Raymond in EastEnders. The storyline between her and son-in-law Grant Mitchell gripped the nation, and it was for this storyline that EastEnders won its first BAFTA for Best Soap. The musical is also directed by Carol Harrison.
For seven years Carol played the incorrigible Gloria in popular TV series Brushstrokes, and she starred opposite Ray Winstone as sassy Loretta in the comedy series Get Back. She also starred as Dorothy in two series of London's Burning. Her latest TV movie Martha, Jac a Sianco for S4C won six BAFTA awards.
Writer and actress Carol Harrison commented: "It's a real honour to be able to bring the extraordinary world of The Small Faces back to the fans and to a brand-new audience, young and old. Audiences have embraced the chance to enjoy a bit of Mod nostalgia and the critics have all acknowledged the vivid underground vibe on stage as we bring the Sixties scene into sharp focus. Our live band and cast tell the story of the rise and fall of the band, a journey as colourful as their sound, and get to showcase an amazing catalogue of music – hard edged R&B.
"This is music which influenced a generation of musicians from Paul Weller and The Jam to Oasis, Blur, The Verve and The Arctic Monkeys, not to mention millions of fans. We've found an amazingly loyal fan base and are thrilled to be bringing the show back on tour. Book now – it's truly an experience of a lifetime!"
Chris Simmons plays Small Faces band member Steve Marriott. He is probably best known for playing the role of DC Mickey Webb for over 12 years in the long running ITV police drama series, The Bill. He has also appeared in EastEnders as Mark Garland, a love interest for Kat Moon, and in the Tracy Beaker spin-off CBBC show, The Dumping Ground.
Russell Floyd first came to public attention as market inspector Michael Rose in EastEnders, a role he played from 1996 to 1999. He later played DC Ken Drummond in The Bill from 2002 to 2005. He also starred in Jonathan Ford's 2016 movie Offensive.
The show is endorsed and supported by many of those who feature in its story including singer P.P. Arnold, and Steve Marriott's daughter Mollie Marriott, who is the show's vocal coach.
The talented cast also features Daniel Beales, Sophia Behn, Melissa Brown-Taylor, Daisy Darvill, Fran Dearlove, Katie Faye, Alexander Gold and Danielle Johnson.
Tickets range from £16.50 to £26.50. Storyhouse has a dynamic pricing policy on the majority of shows, ensuring that the earlier you book your tickets, we guarantee you of the cheapest and best seats available.
Website: www.allornothingthemusical.com
Twitter: https://twitter.com/AONthemusical
Facebook: https://www.facebook.com/AllOrNothingTheMusical/?fref=ts
LISTING INFORMATION
ALL OR NOTHING
Storyhouse
Hunter Street, Chester, CH1 2AR
Wednesday 27th September at 7.30pm
Thursday 28th September at 7.30pm
Friday 29th September at 7.30pm
Saturday 30th September at 2.30pm
Saturday 30th September at 7.30pm
Tickets: £16.50 to £26.50 (Dynamic Pricing: Book early to guarantee cheapest and best seats)
HOW TO BOOK
Online: Visit www.storyhouse.com
By Phone: Call 0844 815 7202
In person: Visit the Ticket Kiosks at Storyhouse or visit Chester Visitor Information Centre.
Photo: Phi_Weedon