Red Ladder Theatre Company are offering a trip back to the techno-thumping 1990s to join The Shed Crew in Ashtrayland or - as it better known - home of the damned.
The radial theatre company have teamed up with playwright Kevin Fegan to adapt Bernard Hare's ground-breaking Urban Grimshaw and the Shed Crew, which is his dark and funny memoir about former social worker 'Chop' and his remarkable bond with The Shed Crew.
When Chop meets charismatic Urban – an illiterate 12-year-old but with a real talent for words, but with a penchant for glue-sniffing and firebombing, he's brought into the inner-circle of The Shed Crew.
The Crew are a posse of dispossessed kids, runaways and joyriders all seeking sanctuary in a shed away from the mean streets of their inner-city estate. When mum's a junkie, your dad might as well be dead and grown-ups are all nonces, grasses and greedy-bastards then The Crew is the only family you need. This is how they described their world:
'We were totally off the lead, we took care of our own needs and we grew like rampant weeds in the financial flower-bed of the North. Yes, we were Thatcher's illegitimate bastards but we didn't need saving, we were children of the rave scene and we knew how to party in the graveyard of Leeds.'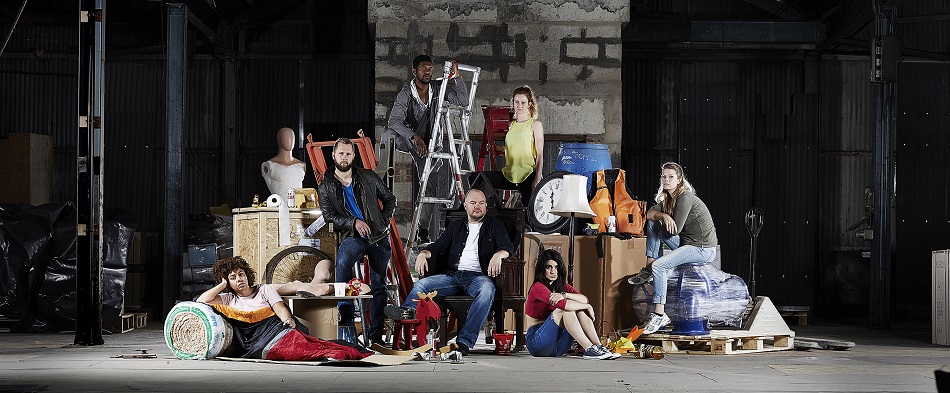 Fegan has created a stage play in verse for an immersive large-scale performance unfolding all around the vast Albion Electric warehouse in Leeds from Thursday 21 September to Sunday 1 October.
"Chop and Urban's relationship is like a buddy movie: a strange pairing of a middle-aged man and a 12-year-old boy who go on a wild trip, with the Shed Crew as its chorus," says Kevin Fegan.
"Their story explodes like a firework, and I needed to capture the energy of these feral kids. It's the warts and all honesty that I most admire, and the humanity that you warm to - Bernard Hare tells the good and the bad in his book because that's the truth; he includes himself in that.
"It's not about how we can go marching in and help – it's what we can take from these kids and their experiences. There's a lot in The Shed Crew for the rest of us to learn."
The Shed Crew is directed by Red Ladder artistic director Rod Dixon and performed by a company of eight northern actors. Red Ladder are working with Leeds Poverty Truth Commission and partnering Simon on the Streets to work with communities and start a conversation about extreme poverty. An artistic outreach programme is taking place and Red Ladder are making the performances as accessible as possible, tailoring some performance times around the specific needs of community groups.
"There have been massive leaps forward and huge changes since Bernard Hare's book was written, and we're not looking back to the past in bringing this incredible artwork to the stage," notes Rod Dixon. "As one of Britain's leading radical theatre companies this story is one that Red Ladder still needs to tell - as vast sections of society across Britain exist in extreme poverty; forgotten communities living parallel lives in austerity against the glossy veneer of commerce and consumerism."
Tickets for The Shed Crew can be booked through West Yorkshire Playhouse on Tel: 0113 213 7700 / www.wyp.org.uk. Performances: September 21, 22, 23, 26, 27, 29, 30 – 8pm. 1st October time TBA. Tickets: £20/£15 concs.