Straight from their critically acclaimed performances in Australia, The Farm presents the first UK tour of Cockfight, an exhilarating duet of extreme physical theatre that explores male behaviour and intergenerational conflicts.
Cockfight comes to Storyhouse on Saturday 7th October at 7.30pm, in association with Performing Lines & NORPA (Australia) and Dance Touring Partnership. There will also be a post show question and answer session.
Touring this Autumn, Cockfight opens at Laban Theatre in London on Tuesday 3rd October, then heads to Chester, Canterbury, Poole, Doncaster, Oxford and Nottingham before concluding at DanceEast in Ipswich on Friday 27th October.
We think dance is a young person's game. What happens when someone higher up the food chain weakens and is ready to be taken down? Cockfight is a work for two performers – Gavin Webber and Joshua Thomson – developed by The Farm in partnership with guest artist Julian Louis. A powerful and dangerous physical performance, the duet is woven around the lives of two men from different generations, trapped in an all too familiar and universal environment – the office.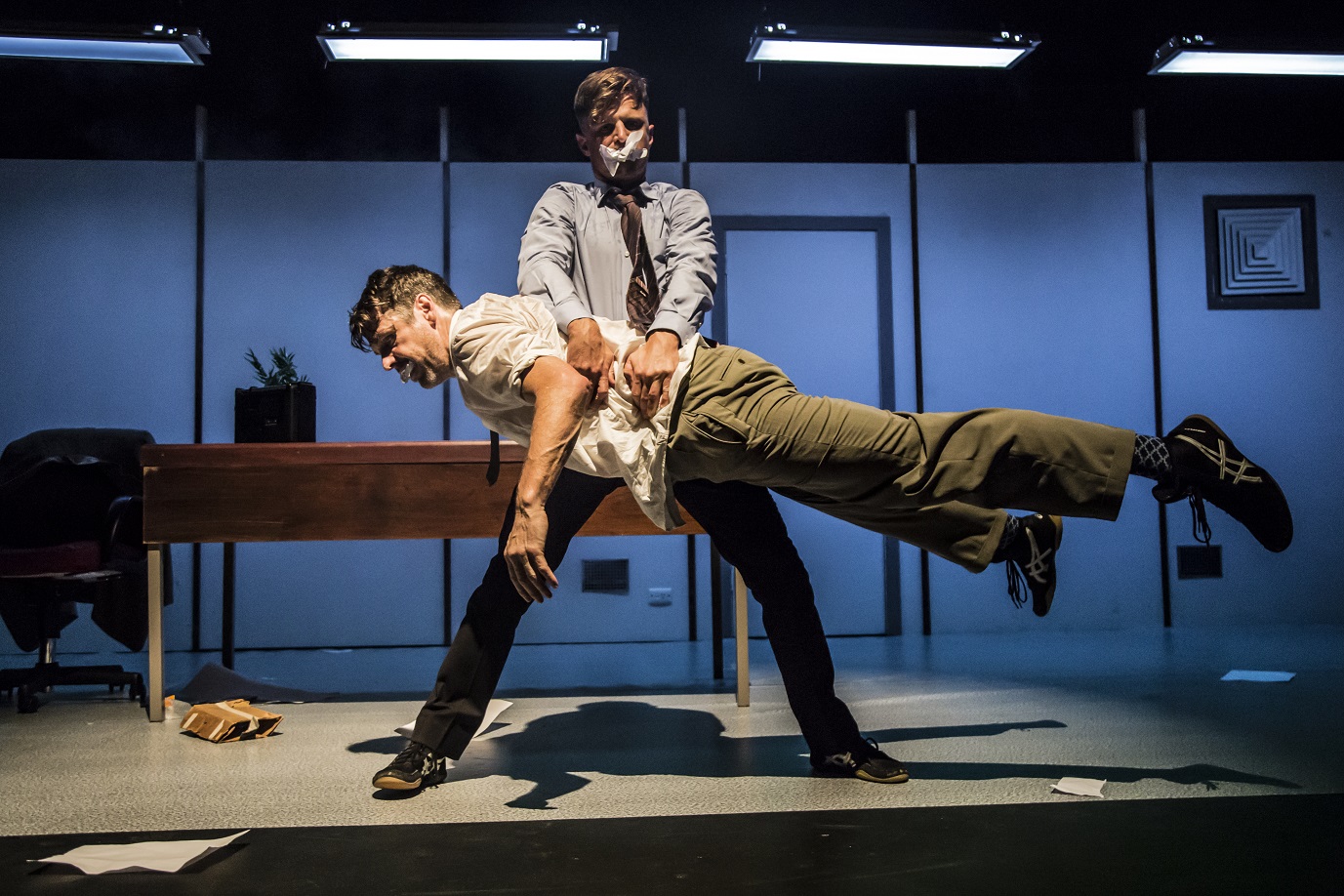 The Australian described the production as "the work is physical theatre at its most extreme".
In Cockfight the two men exist side by side, share space, resources, time and responsibility and justify their existence in relation to each other. Their physical action is underpinned by a fierce co-dependency in a duet of slow-motion fight sequences, interlocking rolls and tackles and Buster Keaton-esque battles of supremacy.
Cockfight is born out of a very real relationship between performers Joshua Thomson (aged 33) and Gavin Webber (aged 50). Thomson joined Webber at Dancenorth in Australia in 2005 and they have continued to work together ever since. Their relationship has developed over the years, and these shifts in their shared physical and performance history are evident in the trust and danger of Cockfight's choreographic language.
Based in the Gold Coast, with roots in Berlin, The Farm is an international network of highly respected artists, ranging from choreographers and independent dancers to musicians and designers. The artistic direction of the company is led by Gavin Webber and Grayson Millwood who have been making work together for the past 15 years across four continents.
Kate Harman, Julian Louis, Joshua Thomson and Gavin Webber co-direct Cockfight for The Farm. Lighting design is by Mark Howett, sound design by Luke Smiles, and set design by Joshua Thomson with consultation from Joey Ruigrok.
Originally commissioned by NORPA and supported by Dancenorth, Townsville; the Centre for Contemporary Arts, Cairns (COCA); Arts Queensland and the Australia Council for the Arts, and toured by Performing Lines. The Farm is supported by the Gold Coast City Council. The UK tour is funded by the National Lottery through Arts Council England.
Tickets start from £16.50. Storyhouse has a dynamic pricing policy on the majority of shows, ensuring that the earlier theatregoers book tickets, the better and cheaper seats they'll get.
LISTING INFORMATION
COCKFIGHT
Storyhouse Chester
Saturday 7th October 2017 at 7.30pm
Post show Q&A
Tickets: From £16.50 (Dynamic Pricing: Book early to guarantee cheapest and best seats)
Show suitable for aged 14 plus
Running time 70 minutes (no interval)
HOW TO BOOK
Online: Visit www.storyhouse.com
By Phone: Call 01244 409 113
In person: Visit the Ticket Kiosks at Storyhouse, Hunter Street, Chester, CH1 2AR
Visit Chester Visitor Information Centre.
Photo: Darcy Grant