The words and music of Ian Dury was always going to be a natural fit for Graeae Theatre who put deaf and disabled actors centre stage.
Their musical Reasons To Be Cheerful written by Paul Sirett and based on Dury's clever wordplay - backed by the musical muscle of long time collaborators the Blockheads - was a smash hit when Graeae debuted it in 2010. Now it's back on the road coming to West Yorkshire Playhouse until Saturday 14 October.
For the company's artistic director Jenny Sealey this show about the efforts of die-hard fans Vinnie and Colin on a mission to see the band play Hammersmith Odeon in 1979 is worthy of another national tour.
"Reasons To Be Cheerful is about love, it's about family, it's about education, it's about friendship, about flirting, it's about bosses who are totally awful. But, fundamentally it's about love and family," says Jenny.
"So, even if you don't really like Ian Dury, it doesn't really matter. Honestly it doesn't matter because if you are part of a family and most of us are, thankfully part of families, you get it. It's for anybody who has ever, ever fallen in love, and hopefully everyone has at some point fallen in love, they get it.
"Anybody who has ever suffered loss, death, and we've all. It has so many of those human, human things, that's what the play is about and that it has got the complete anarchy of Ian Dury's songs in and around it."
Dury contracted polio as a seven year old before becoming one of the first disabled performers to appear on Top of the Pops in the late 1970s, and certainly the most confrontational as he genuinely didn't give a damn what ignorant people might think. For millions of young disabled people they saw a vivid performer on their TV that they could really identify with at a time when disability rights was still a taboo subject.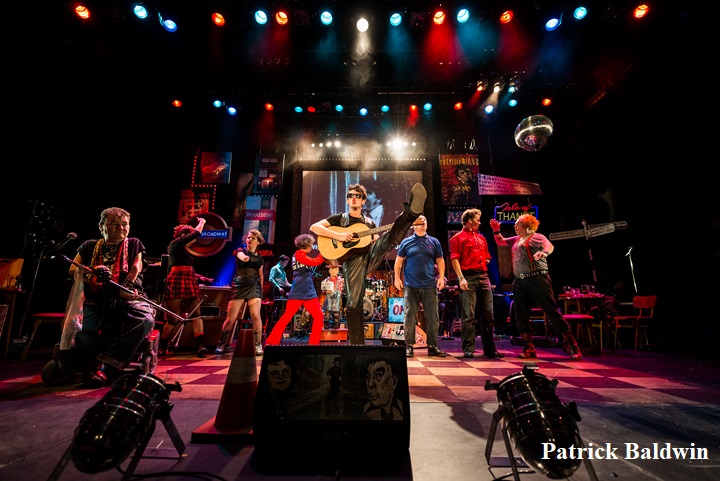 "As a young person, I did love Ian Dury because he looked so different," recalls Sealey. "He never, never apologised about who he was, disabled, gears up "I can be whatever I want!". So, for you, growing up deaf or disabled, not having any real role models, seeing him was just like "Wow! Oh wow! He's brilliant!".
"My sister used to write down the lyrics for me so that I could access the words. My dad hated him, so, of course, I was going to love him even more! He was a Graeae patron, so he has given the company a lot of support and when he died my partner at the time said 'You really need to do something to honour him', and that's why we have Reasons."
Dury's numerous catchy hits like his number one single Hit Me With Your Rhythm Stick, Sweet Gene Vincent and What A Waste are on the radio all the time, but creating a show around them was tricky as his adult children and the Blockheads rightly needed to be sure his rich legacy was being respected.
"The Blockheads gave us their absolute endorsement from the start and so did the Dury family Jemima and Baxter. They have just been there for us and so to have that real endorsement feels like such a responsibility to get it right.
"When they finally came to see it, I sat just behind them so all the Blockheads were there and I was thinking "Oh, please…please…please!" and then they were drumming, singing along underneath it and at the end of it they were up and it was like "Thank you…Thank you!".
"Jemima said "Jen, thank you so much! You know, I have always said to my dad Hit Me should be sung by a woman!" and in our show, it's Janine who sings it and it's so sexy, it's wonderful! So, getting that form of endorsement from her really did mean something."
In fact, the Blockheads liked it so they got together with Graeae performer John Kelly to write a new song If It Can't Be Right Then it Must be Wrong for the show.
Reasons To Be Cheerful will be performed by an inclusive cast of 14 actor/musicians using the company's signature integration of sign language, captioning and audio description, which has helped them build up bigger and bigger disabled and non-disabled audiences.
"When I first started we were in really wonderful small venues, and then as more venues became more accessible, physically accessible and more importantly attitudinally accessible, we had more playing spaces," notes Sealey. "Bigger playing spaces, bigger audiences, bigger connections. Now, what's happening is the Arts Council are funding disability arts very, very well.
"So, there's a lot more of us; more companies out there, which is brilliant! So, the word is getting out there. Actually, as a community we are not a community that sits still and waits for things to happen we are very, very proactive and we are all fighting for full change and I think in theatre it's happening."
Reasons To Be Cheerful is at West Yorkshire Playhouse until Saturday 14th October. To book 0113 2137700 or www.wyp.org.uk
For other tour dates go to www.graeae.org