Box of Tricks are crowdfunding so they can offer 10% of all tickets to hard-to-reach audiences for free on the 2018 tour of their hit show Chip Shop Chips.
The Manchester based company's pay-it-forward crowdfunding effort means they can offer free tickets, engagement activities and relaxed performances on a tour heading to village halls, pubs, libraries and community centres across the UK.
They first toured the heart-warming tale of love, loss and redemption in a Northern chip shop in 2015 and tickets come with a chippie supper thrown in. That tour of offbeat venues attracted a lot of first time theatre lovers, but the company know finding the money for even a low cost show this can be tough.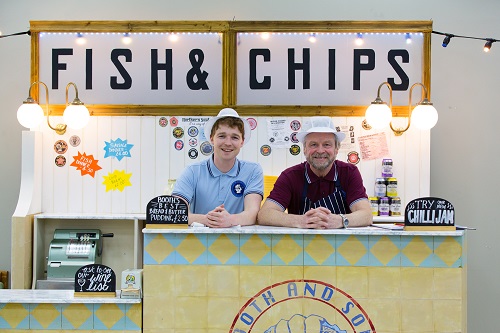 On this tour the company will be offering free tickets to two groups at The Edge in Chorlton to engage them with the show, The Booth Centre Charity who work with people who are homeless or at risk of homelessness in the Manchester area and Expressive Edge Theatre Company who are made up of adults with learning disabilities. Box of Tricks are holding relaxed performances for those groups at a venue familiar to them so the company is able to engage them with a fun and novel theatrical experience.
Box of Tricks will also be holding a bespoke performance for Chorlton Good Neighbours elderly friendship group at their regular venue, Wilbraham Road St Ninian's URC. The group is for over-60's living locally, but is primarily made up of people over 80. The group provides regular social activities and the bespoke afternoon performance will enable us to reach an older, more isolated age group who would not feel able to attend an evening performance at an unfamiliar venue.
The company will be completing Dementia Friends training through the Alzheimer's Society do they can offer a supportive and suitable experience for audience members living with dementia and their carers. There will be two dementia-friendly performances across the tour bringing members of dementia support groups and their carers to a bespoke performance.
If you want to chip in and pay it forward to buy a ticket or two then visit the company's crowd funder page at: https://mydonate.bt.com/events/chipin2018/ or on their website: http://boxoftrickstheatre.co.uk/support-us/chip-crowdfunding-campaign/